Do you need a little extra lighting on your walkway? Having sun jars in your yard is fine, but they don't always get enough sun exposure, thus...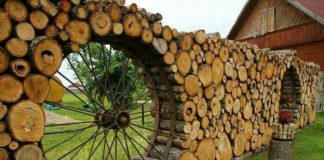 Want to add some privacy to your yard? Here's an interesting idea for a fence that you might want to consider! It's an inexpensive project for...
Now here's a great idea for an outdoor kitchen or garden! Turn a wooden cable spool into a kitchen sink to make your outdoor...
Want an out-of-this-world backyard project? Well, this one's hard to top if you're building one in your backyard - your very own hobbit house as...
Have you ever wanted to take your smoker with you on road trips or outdoor camping activities? Or maybe you live in an apartment where a...
CUBBIES, WORKSHOPS AND TOOLSHEDS
Is there any child who doesn't like a fort or cubby house to play in? This western saloon would surely never go empty! This fort was...
It's always nice to find good timber that we can save and use for future projects. But what's NOT nice is if our lumber pile starts...
Here's a nice little project for all the DIY-ers out there - a DIY drill press that costs only $20! Every builder would agree that it's more...
Are you a persistent DIYer? One who's always working on one project or another… or perhaps a few at the same time?  In order...
PORTABLE AND OUTDOOR KITCHENS
Thinking of ways to enhance your backyard? Then build an outdoor kitchen! It will encourage you to get outdoors more and there's every chance that...