Are you expecting a new addition to the family anytime soon? Well, making or building is better than buying if you want to make...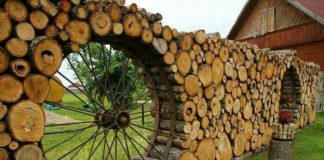 Want to add some privacy to your yard? Here's an interesting idea for a fence that you might want to consider! It's an inexpensive project for...
Now here's a great idea for an outdoor kitchen or garden! Turn a wooden cable spool into a kitchen sink to make your outdoor...
Plastic bottles are probably not top of mind when you think of building materials. But this recyclable material actually has a number of advantages that make...
Have you ever wanted to take your smoker with you on road trips or outdoor camping activities? Or maybe you live in an apartment where a...
CUBBIES, WORKSHOPS AND TOOLSHEDS
It may look like an unimportant item to have in a workshop, but a multi-roll tape dispenser is a big help if you want to work faster and more...
It's every kid's dream to visit Disneyland. But how many of them ever thought about having their own Disneyland at home? We didn't realise it...
Have you got kids and a some time on your hands? Do you want a fun project that won't cost a lot to do? Then why...
Here's another quick project to help organize your workshop! This time we're talking about storage for drills. PVC pipes make good, easy-access holsters for all your cordless...
PORTABLE AND OUTDOOR KITCHENS
Here's a clever project that can cook your food in an emergency situation when no alternative fuel is available. But why wait? You can build one just...