What's outdoor entertaining without a bar? If you don't have one in your backyard or patio, then this DIY outdoor bar with built-in cooler...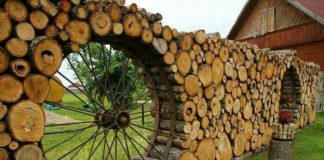 Want to add some privacy to your yard? Here's an interesting idea for a fence that you might want to consider! It's an inexpensive project for...
Now here's a great idea for an outdoor kitchen or garden! Turn a wooden cable spool into a kitchen sink to make your outdoor...
This interesting structure is an earthbag dome. Earthbags, sometimes called sandbags, were originally used by the military as protective shelters, or for flood control....
A fire pit made from a tractor tire rim is one of the easiest fire pit ideas that you can do in your yard! All you...
CUBBIES, WORKSHOPS AND TOOLSHEDS
Here's another quick project to help organize your workshop! This time we're talking about storage for drills. PVC pipes make good, easy-access holsters for all your cordless...
A shipping container can make a wonderful shed, office, hobby room, or even a home. They are a strong and cost-effective material to build structures with....
Need a strong and sturdy shed that you can also take down in the future if you need to? Get an old trampoline frame to...
It's always nice to find good timber that we can save and use for future projects. But what's NOT nice is if our lumber pile starts...
PORTABLE AND OUTDOOR KITCHENS
Thinking of ways to enhance your backyard? Then build an outdoor kitchen! It will encourage you to get outdoors more and there's every chance that...