Ever thought about what you can make with horseshoes? Well, there are lots of ideas out there and this list shows just some of the...
Beautiful landscapes have always impressed me. I can't help but fall in love with my neighbor's landscape which she regularly changes every quarter. Admittedly,...
Want an out-of-this-world backyard project? Well, this one's hard to top if you're building one in your backyard - your very own hobbit house as...
More and more people are using rocket ovens nowadays. For one, they're relatively inexpensive than regular ovens. To add to that, they are also...
CUBBIES, WORKSHOPS AND TOOLSHEDS
Need a proper storage for all your garden tools? Here's an easy, inexpensive and unique idea for you - a whimsical garden tool shed! While most...
It's always nice to find good timber that we can save and use for future projects. But what's NOT nice is if our lumber pile starts...
Here's a nice little project for all the DIY-ers out there - a DIY drill press that costs only $20! Every builder would agree that it's more...
Here's another quick project to help organize your workshop! This time we're talking about storage for drills. PVC pipes make good, easy-access holsters for all your cordless...
PORTABLE AND OUTDOOR KITCHENS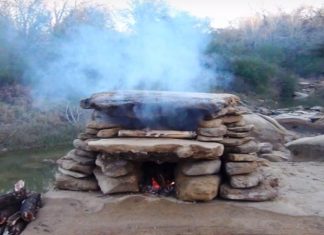 How would you like to have your very own stone oven? Back in the old days when gas/electric stoves weren't yet available, people were innovative....