There aren't many homes that can't use some additional storage space. If you have a large family and a small home, you'll know just how...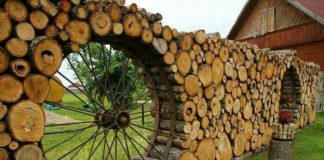 Want to add some privacy to your yard? Here's an interesting idea for a fence that you might want to consider! It's an inexpensive project for...
Now here's a great idea for an outdoor kitchen or garden! Turn a wooden cable spool into a kitchen sink to make your outdoor...
Having purchased a small vacant block of land I was keen to find an affordable and comfortable solution to make use of the beautiful...
Are you looking for a nice outdoor cooking idea for your backyard? Why not build a fire pit grill! There are many great reasons to...
CUBBIES, WORKSHOPS AND TOOLSHEDS
Using a coffee table as a work desk is extremely uncomfortable and, when done regularly for long periods of time, can cause chronic back pain that...
Are you a persistent DIYer? One who's always working on one project or another… or perhaps a few at the same time?  In order...
It's always nice to find good timber that we can save and use for future projects. But what's NOT nice is if our lumber pile starts...
Want an out-of-this-world backyard project? Well, this one's hard to top if you're building one in your backyard - your very own hobbit house as...
PORTABLE AND OUTDOOR KITCHENS
Thinking of ways to enhance your backyard? Then build an outdoor kitchen! It will encourage you to get outdoors more and there's every chance that...