Don't like sleeping in total darkness? A bed canopy with lights would help. It doesn't just serve as a nightlight, it's a beautiful decor for your bed...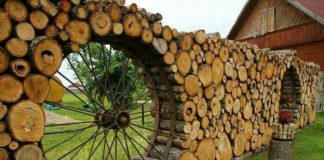 Want to add some privacy to your yard? Here's an interesting idea for a fence that you might want to consider! It's an inexpensive project for...
Now here's a great idea for an outdoor kitchen or garden! Turn a wooden cable spool into a kitchen sink to make your outdoor...
Are you the kind of homeowner who's always on the go? Then a mobile home is your best option. They're very unique, affordable, and...
Why buy an expensive, decorative fire pit for your yard when you can have something as impressive by upcycling an old (cheap) washing machine drum? Take...
CUBBIES, WORKSHOPS AND TOOLSHEDS
This is a perfect  project for DIYers who don't have the luxury of a spacious workshop. having used his kitchen table for various projects,...
Using a coffee table as a work desk is extremely uncomfortable and, when done regularly for long periods of time, can cause chronic back pain that...
Need a strong and sturdy shed that you can also take down in the future if you need to? Get an old trampoline frame to...
Have you got kids and a some time on your hands? Do you want a fun project that won't cost a lot to do? Then why...
PORTABLE AND OUTDOOR KITCHENS
Anybody who has this kind of kitchen in their backyard will want to host backyard barbecues every weekend! This DIY kitchen is sure to make...