Setting up a really large patio umbrella at home is a great idea for providing shade in your outdoor area. It's quick, easy and it's temporary – you can move it anytime or bring it with you in case you move to another place.
Ideally, a patio umbrella should not just make your outdoor space more enjoyable, it should also make your little outdoor oasis beautiful. Whether you need a sturdy table umbrella to keep you and your guests cool while you eat or something more elaborate to provide relief from the sun, there are countless configurations available.
But instead of buying a base that might not even be strong enough to hold your large patio umbrella, you can opt to build your umbrella stand. This will ensure you have a strong and stable umbrella base. It's also an opportunity to add beauty to your outdoor area since it can serve as a planter!
Our Pick
16" Whiskey Barrel Planter
High-quality barrel planter, accented with metal bands that hold the barrel together and make the design very solid.
Buy on Amazon
We earn a commission if you make a purchase, at no additional cost to you.
08/09/2022 10:15 am GMT
You can use half of a wine barrel just like what you will see in the tutorial below, but you can also use a different container like a large terracotta pot. If you want, you can also create your concrete container. Any container will do for as long as it's large or deep enough to hold the umbrella securely in place and it's attractive enough for your patio.
With a DIY patio umbrella base, you can enjoy your outdoor area without having to worry about it toppling over. The plants beside you will not only look good, but you can get some fresh air from them!
Is this going to be your next weekend project?
Click on any image to start the lightbox display. Use your Esc key to close the lightbox.

Materials:
1/2 Oak Barrel
1 2″ PVC Pipe & Fittings
2 80 lb Bags of Concrete
Potting Soil & Plants
Paving Bricks (optional)
Tools:
Straight Edge
Marker
Cordless Drill
Garden Spade
PVC Cutter
Steps:
Assembly of pipe: The pipe assembly is composed of a toilet flange, a 3″ to 2″ reducer, and a 2″ PVC pipe.
I used a straight edge a little smaller than the diameter of the bottom of the barrel to mark lines. This lets me estimate the center of the barrel. I then screwed the flange down in the center and glued the other pieces together.
Concrete: I wasn't sure how much concrete I would need. I bought four bags but ended up using two.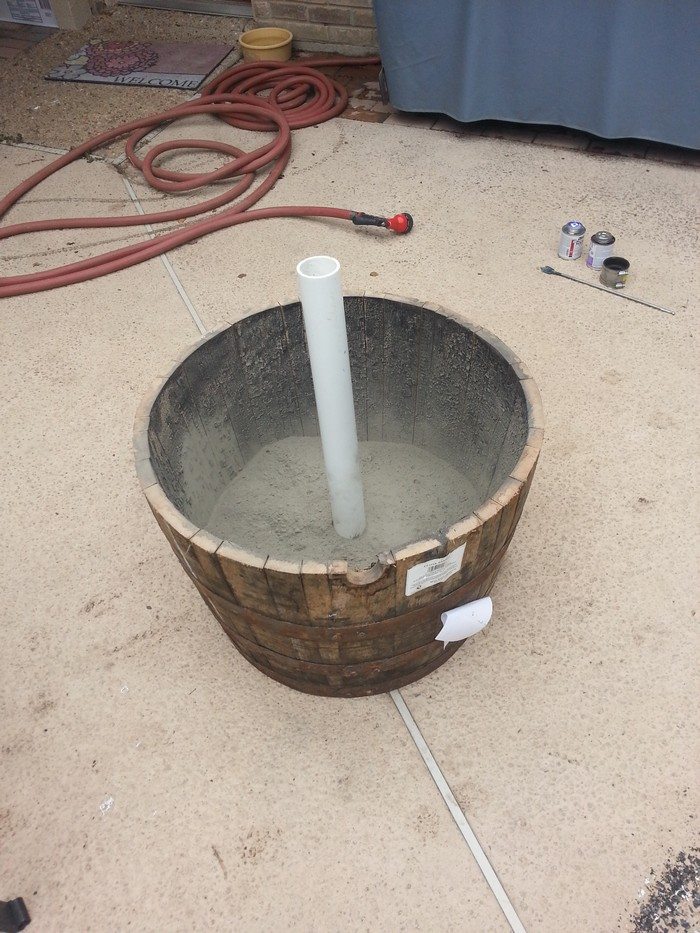 I didn't have a large container to mix the concrete in except for the barrel itself, so I decided to mix the concrete in the barrel. If I were going to do this again, I would mix the concrete elsewhere, and pour it in.
I used a mixer paddle on a drill. That got the concrete partly mixed until my drill overheated. I ended up using my hands and a small garden spade to finish mixing the concrete.
Plants: After waiting for 24 hours for the concrete to set, we put the garden in.
I missed one step here. I had planned on drilling some holes at the edge of the concrete to help the soil drain. Since I forgot, we'll see how it goes, and if necessary I'll add them later.
This is pretty typical: potting soil and plants. My wife had the great idea to put in a couple of bricks to give a place to set your drink when sitting next to it.
Thanks to geek65535 for this great project!