Whether you're doing a full remodel of a small bathroom or just looking for ways to freshen up the look, it can be challenging to find design ideas that maximize the space and offer a luxurious feel. You will probably be tempted to stick with tried-and-true small bathroom design ideas, but the truth is that there is so much potential for a beautiful and functional small bathroom.
This blog post will explore the best small bathroom design ideas that will help you create a space that feels larger than it actually is. From custom shelving to statement tiling and more, there are countless options that will help you make the most of your bathroom's space.
So, let's get to it – it's time to give your small bathroom a refreshing makeover that will leave you feeling inspired and excited each time you step into the room. If you're ready to take your small bathroom up a notch, these eight brilliant small bathroom design ideas will help you make it all a reality.
1. Install a skylight
Installing a skylight is one of those small bathroom design ideas that you will instantly be thrilled with. It's a quick, easy, and relatively inexpensive way to completely revamp the look and feel of your bathroom.
This spectacular addition will create an open and airy feeling in a small bathroom, allowing natural light to bounce off the walls and create a warm, inviting atmosphere. Imagine how the sunlight will glisten off of the faucets and fixtures, creating a radiant and luxurious ambiance.
Skylights are among the most strongly regarded small bathroom design ideas. One of the primary advantages of installing a skylight is that it makes a small bathroom appear larger and more spacious. Not only does it provide more natural light, but it can also make the room feel larger and more open due to the reflection of light off the walls.
If you're worried about privacy, you can buy tinted skylights or even have a remote-controlled opaque shade installed. With this option, you can easily adjust the opacity of your skylight to block out all kinds of outside light. Not to mention, you won't have to worry about irksome neighbors peeking in anymore. Plus, the remote-controlled shade can also add an interesting look to your home, giving it an extra bit of style!
2. Use light colors
When it comes to creating a bright, airy atmosphere in a small bathroom, the colors you choose are key. One of the best tips for making a small bathroom appear bigger and more inviting is to use light colors. From soft pastels to light neutrals, these colors help make the room feel more spacious and open. Also, use lighter colors as accents on your walls, in your tilework, and in your fixtures.
This simple design trick can help create the illusion of a room with greater depth and spaciousness than it actually has. By introducing visual lines in the small bathroom space, you can create an illusion that the walls are further apart than they really are. This is one of the most recommended small bathroom design ideas from interior designers.
You can even strategically place furniture, such as a tall bookshelf, to create the effect of a longer space. There are many different ways to use design to create the illusion of more spaciousness in a room.
3. Add a vanity mirror
Not only is a vanity mirror a practical item for a bathroom, but it can also be a stylish addition to the space. Consider placing a full-length mirror on the back of a door, on an empty wall, or as part of a vanity.
Not only will it help reflect light throughout the room, but it will also give you a better view of your outfit in the mornings. Plus, you can use it to check your makeup and hair before you head out the door, making sure your look is perfect for whatever occasion you plan to attend.
Using a bathroom mirror is one of the most inventive small bathroom design ideas. It is both functional and aesthetically pleasing. Whether you want to make your bathroom look bigger or just add some personality, the bathroom mirror is an important part of achieving a distinct look.
4. Reorganize storage
Reorganizing storage can make a big difference in the feel of a small bathroom. By finding space-saving solutions, like wall-mounted cabinets, medicine cabinets, and over-the-toilet shelving, you can maximize the storage potential of your small bathroom.
These options are a cinch to install and can give you a spacious spot to store all of your bath and body necessities. Installing a variety of shelving and drawers is one of the most practical small bathroom design ideas. And, you can add decorative baskets and bins to store items that don't fit in your cabinets. Not only will you have more convenient storage, but you'll also give your small bathroom a more organized look.
Our Pick
Freestanding Pantry Cabinet,
Freestanding, sturdy, and stackable - store Canned foods, storage containers, cookbooks, cleaning supplies, and more.
Buy on Amazon
We earn a commission if you make a purchase, at no additional cost to you.
12/01/2022 04:59 pm GMT
5. Incorporate decorative tiles
Decorative tiles are just the thing to add vibrancy and visual interest to any small bathroom. Even the most petite of bathrooms can feel more spacious and inviting with the help of decorative tiles. One of the invaluable small bathroom design ideas is incorporating decorative tiles.
Beyond the myriad of colors and patterns available, the tiles can be used to form tile art and create interesting walls and surfaces, making the most of the space you have. Whether you're looking for a subtle hint of color or a bold statement piece, decorative tiles are the perfect way to put your own spin on a small bathroom.
If you have a small window in the bathroom, consider using tiles as a border around it to draw attention and give it dimension. Decorative tiles are also great for covering up existing wall tiles that are probably outdated or discolored. With the right combination of tiles, you can give your small bathroom an entirely new look.
6. Choose a floating sink
Having a small bathroom doesn't mean you have to sacrifice style or design. Making a few smart design choices for your small bathroom can make a world of difference! Even in a tiny space, you can still create an area that looks and feels inviting. One of the top recommended small bathroom design ideas is to add a few well-chosen pieces of décor and furniture that will make the room feel more homely.
One design option to consider is a floating sink. Floating sinks are a great solution as they don't take up any floor space. It's one of the most creative small bathroom design ideas, providing a modern upgrade that adds a unique touch to your space.
7. Utilize multipurpose furniture
One of the best ways to maximize the storage and style of your small bathroom is to use multipurpose furniture. A dresser with deep drawers is a great way to add storage to a small bathroom. It can be used to store all kinds of things, from towels and toiletries to extra linens and supplies. Not only does this provide much-needed extra storage for a small space, but it also adds a touch of style and sophistication to the room.
Deep drawers also make it easier to keep things organized, so you can find what you need when you need it. This is one of the small bathroom design ideas that is sure to make a big effect on the look and feel of your room.
A bench with a removable seat can provide extra seating, while also giving you a place to store extra towels and linens. A tall shelf can serve as a vanity, and it can also provide additional storage space. By using multipurpose furniture, you can ensure that you make the most of the limited space in your small bathroom.
Our Pick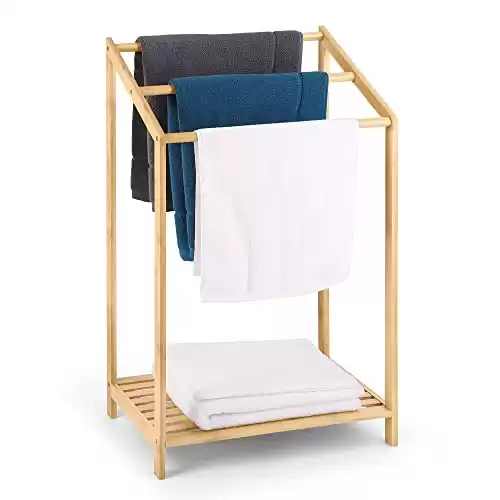 8. Utilize the walls with wall-mounted fixtures
If you're looking to maximize the space in your small bathroom, wall-mounted fixtures are a great way to do it. Wall-mounted fixtures are an ingenious way to maximize vertical space while also adding extra storage to your bathroom. This is how to organize when you live in a tiny home.
Whether it's cabinets, shelves, or even hangers for towels, you'll be able to fit more into your small bathroom and take up a small floor space. So, if you're looking for a way to spruce up your small bathroom, wall-mounted fixtures are one of the top small bathroom design ideas to consider.
Add wall-mounted shelves, towel bars, and even floating vanities to make the most of the walls. For an added touch, try adding wall-mounted sconces to help create a relaxing atmosphere. Whether you're looking for a way to add style to a small bathroom or just need to make the most of the space, these small bathroom design ideas provide the perfect solution.
The Takeaway
All in all, small bathrooms can still be beautiful and inviting if you take the time to design them in an effective and creative way. Whether you opt for a bold color scheme or a unique storage solution, there are plenty of ways to make the best of your small bathroom. When dreaming up small bathroom design ideas, the possibilities are infinite.
With the right design elements, you can create a stylish and functional bathroom that you and your guests will love. There are plenty of unique small bathroom design ideas that are sure to turn your space into a cozy and stylish oasis! Are you a creative DIYer looking to add some charm and sophistication to your small bathroom?