Giving gifts has become very challenging nowadays. I have several friends with young kids and I stress myself out thinking about what to give them during special occasions. Naturally, I didn't want to keep on giving the same gifts. My husband took pity on me and decided to help me out.
Our Pick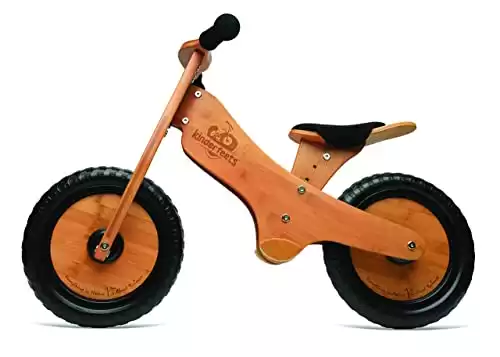 Wooden Balance Bike | Sustainable and Eco-Friendly
Handmade with wood from fast-growing birch trees, EVA airless tires, an adjustable seat, non-toxic handlebar grips, and harmless adhesives and paints, these balance bikes benefit both children and the planet.
Buy on Amazon
We earn a commission if you make a purchase, at no additional cost to you.
12/01/2022 12:50 am GMT
My best friend's five-year-old son wanted a bike for his birthday. I thought, okay, that's one less problem for me, I know what he wants. But it turns out, he still doesn't know how to ride a bike. So instead of giving him a real bike, I thought I'd give him something to train on before he actually transitions to the real thing.
Fortunately, my gem of a husband came across a DIY project for a balance bike. Our son had outgrown his bike and it has been sitting in our garage for ages. My husband used that one and converted it into a balance bike. Believe me, the results are exceptional!
Materials:
An old kid's bike
Spray paint
Tools:
Chain tool
WD-40
Dremel
Metal cutting disc
Drill with drill bits
Wrenches
Click on any image to start the lightbox display. Use your Esc key to close the lightbox.
Build your own balance bike today! Watch this tutorial video to learn how.