For as long as I can remember, I have always wanted my own garden. I wanted to own those collapsible and extendable trellises.
In my dreams of a perfect garden, there are always trellises. They bring to mind quaint little fairy tale cottages. Of course, you need trellises in a garden for purely decorative purposes. There are many plants that are best grown on a trellis.  And there are as many reasons to grow them that way.
Our Pick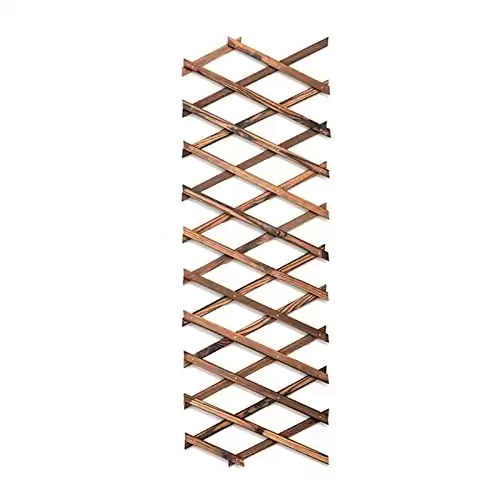 Expandable Garden Trellis for Climbing Plants
Expandable Design: Our wooden lattice wall planter is expandable, you can adjust it to any size you want and meet your different needs for various occasions. It is 17.32*9.06inch and adjustable to expand to the largest size.
Buy on Amazon
We earn a commission if you make a purchase, at no additional cost to you.
12/01/2022 11:29 am GMT
Gardens are beautiful places to find peace, shelter, and food if you're a small creature. It's become one of those best escapades or perfect locations that's hard to find in life. But if you're a garden owner, these small victories can be a battleground. These creatures can ruin or be the death of your yard. Don't let these freeloading critters ruin your hard work without the need to harm them. With this nifty garden trellis device, it's a stylish barrier that still allows your plants to breathe through while keeping intruders out.
However, just the thought of buying and spending cash for trellises makes me flinch.
I am a really thrifty person. My husband secretly hates it. He knows it'll all boil down to one thing: me taking advantage of his carpentry and painting skills.
I looked for DIY trellises and found these collapsible ones. It's a DIY project which I immediately showed him. He did them over the weekend and they were exactly what I wanted – collapsible and inexpensive! I'm so excited to start planting again!
Materials:
Tools:
Click on any image to start the lightbox display. Use your Esc key to close the lightbox.
Thanks to haakon.k for this great project. You can get step-by-step instructions here…
Here's a quick video tutorial…