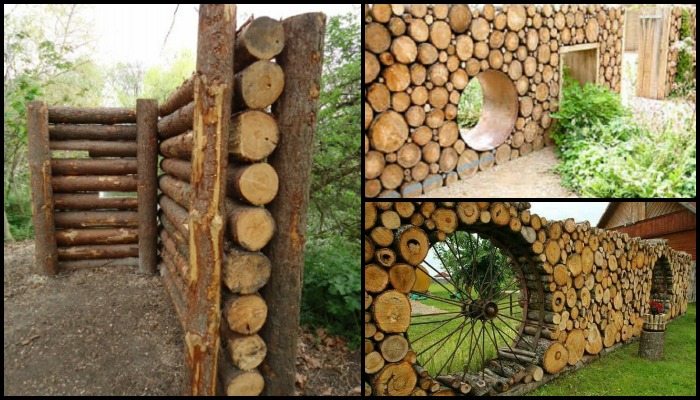 Want to add some privacy to your yard? Here's an interesting idea for a fence that you might want to consider!
It's an inexpensive project for those living near or out in the woods. It's also a great option for those who want a truly unique design. You can create images/portraits with it (like these) and it allows for curvy layouts!
You can call it cordwood, log-end, or stack wood fence. And just as it can be called a few different names, there are also various ways to build one. It all depends on your location, your design preference, budget, and the type of wood available to you.
If you are going for the really strong and permanent kind, then you can build one with the use of mortar, just like the walls of these cordwood homes.
On the other hand, if you are considering the possibility of having to take it out in the future, dry stacking would be the better option for you. As the name implies this method does not use mortar for reinforcement. You basically just place log ends on top of each other like you would with puzzle pieces. This is also the best option for those living in moist or rainy areas as mortar/concrete tends to trap moisture and speed up the decaying process of wood.
Now regardless of where you are and what exact building method you use, it is important to always use rot-resistant wood for this project! Cedar, Osage Orange, Redwood, and Black Locust are some of the good choices. If you want, you can even use Bois d'arc which is one of the hardest hardwoods out there!
Have a look at some examples from our album below for cordwood fence design ideas and be inspired to build your own! :)
Is this the perfect fence for your yard?
Click on any image to start the lightbox display. Use your Esc key to close the lightbox.