Don't you just love lazing around on a comfortable sofa? More so after a tiring day at work. With a good book in hand, I have fallen asleep on my sofa many, many times. My husband used to joke that I should just turn it into a bed. So I thought, why not?
Our Pick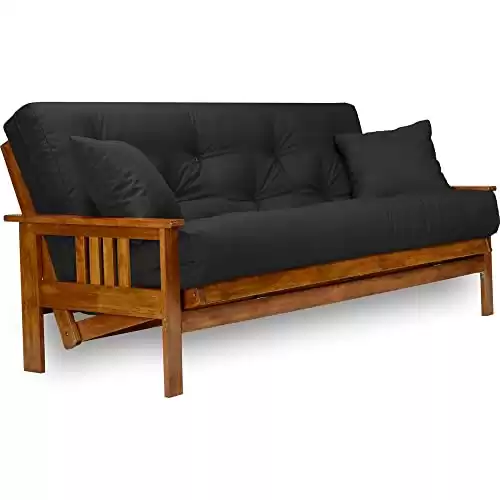 Futon Set - Queen Size, Frame, 8" Mattress, Twill Black Cover
100% solid hardwood futon frame - finished seat and back decks.
Three position frame easily goes from upright to reclined to bed.
Complete futon set - futon frame and made in USA solid covered futon mattress.
Buy on Amazon
We earn a commission if you make a purchase, at no additional cost to you.
12/01/2022 05:49 am GMT
If you have a nook or an empty space that's screaming for something, this project is perfect.
This sofa/futon/bed frame combination is actually a good idea. It's tri-fold so it doesn't take up too much space when not in use. And if you're anything like me, I love a good project that allows me to save money. For this one, the savings was a little over $100.
Materials:
12 pcs 1200mm x 95mm wooden planks (20mm thickness)
2 pcs 770mm x 70 mm wooden planks (20mm thickness)
2 pcs 700mm x 70 mm wooden planks (20mm thickness)
2 pcs 690mm x 70 mm wooden planks (20mm thickness)
stain, oil, or wax
46 pcs 40mm screws (4mm head)
4 pcs 6mm bolts (6mm is the diameter: length needs to be no less than 45mm, 50mm is ideal)
4 pcs 6mm wingnuts (or regular nuts))
Tools:
Pencil
Ruler (graduated in millimeters)
Set Square (or similar)
Protractor
Electric Screwdriver/Drill
2.5mm drill bit
6.5mm drill bit
Manual Screwdriver
Saw
Medium Grade Sandpaper
Rasp or planer
Click on any image to start the lightbox display. Use your Esc key to close the lightbox.
Thanks to All About Quilts for this great project. You can get step-by-step instructions here…