Playing darts is a fun past-time activity for many. It's also a great way to bond with family and friends. But there isn't always a place for it in the house. So, we thought we'd share with you a quaint, little project that'll allow you to play the game outdoors.
By building your own outdoor dartboard stand, you won't have to take up space in the house. You also won't have to worry about hitting things that you shouldn't.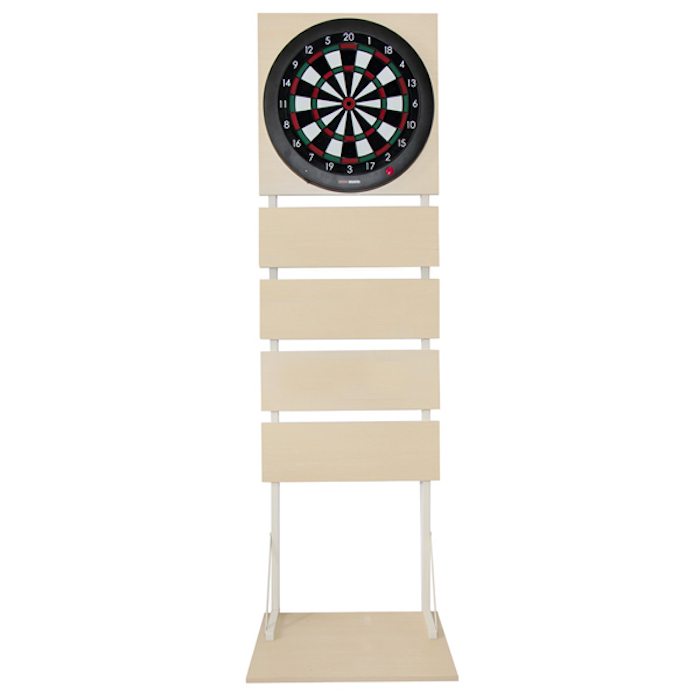 Easily build this outdoor dartboard stand according to your needs in terms of height. The good thing about this project is that it is fully mobile so you can move it anywhere you want.
You can add lockable wheels and add hooks to hang some stuff. The possibilities are endless and the only limit is your imagination.
Keen to know how to build your own outdoor dartboard stand? Stick around and you'll know how step by step!
DIY Dartboard Outdoor Stand Made Simple!
So, want to make a cool dartboard stand for your backyard? Here's an inside scoop on a super easy DIY project that'll have your friends and fam totally impressed. Follow along as we walk you through the steps to create a totally rad stand that'll take your dart game to the next level.
1. Materials & Tools
2 6-foot of wood
8 16.5-inch of wood
A dart board to mount
Bolts and nuts to mount the dartboard
Wood glue
Wood screws
Stain or paint (colour of choice)
Hammer
Screwdriver
Paintbrush
Saw (if your wood materials are not pre-cut)
There are many ways to make this. Look at these photos for some ideas you can use to create your very own outdoor dartboard stand…
'Click on any image to start lightbox display. Use your Esc key to close the lightbox. ?'
2. Steps
Want to build this? Find the step-by-step instructions from Timbo's Creations…
A heartfelt thank you goes out to Timbo's Creations for generously sharing this remarkable endeavour. Prepare to ignite your imagination and breathe life into this captivating outdoor dartboard stand project!
3. Extra Tips
Here are some additional tips to make the building process of your outdoor dartboard stand even easier:
1. Choose the Appropriate Materials
Be sure to select sturdy and weather-resistant materials such as pressure-treated wood or PVC pipes that can withstand outdoor conditions. These materials have the inherent ability to endure various weather elements such as rain, humidity, and temperature fluctuations, ensuring the longevity and durability of your outdoor dartboard stand.
By making the conscious decision to utilize such durable materials, you significantly enhance the structural integrity of your stand, guaranteeing that it will remain steadfast and capable of withstanding the test of time.
2. Double-Check Leveling
Be sure that before finalizing the assembly of your dartboard stand, it is level and properly balanced. Taking the time to achieve a level surface will play a pivotal role in guaranteeing accurate dart throws and preventing any undesirable wobbling or instability during gameplay.
A level dartboard stand provides an optimal playing field, allowing the darts to glide smoothly towards their intended targets.
By meticulously checking and adjusting the balance of your stand, you create a solid foundation that promotes consistent and reliable darting performance, enhancing the overall enjoyment of the game.
3. Finishing Touches
Give careful consideration to applying an adequate weather-resistant finish or sealant to your outdoor dartboard stand, as it serves the dual purpose of protecting and enhancing its overall quality. By utilizing a suitable finish or sealant, you create a protective barrier that shields your stand from the potentially damaging effects of the elements.
Rain, sunlight, and other environmental factors can take a toll on the appearance and structural integrity of the stand over time. A weather-resistant finish acts as a safeguard, preventing moisture penetration, UV damage, and other forms of deterioration.
This not only preserves the aesthetic appeal of your outdoor dartboard stand but also increases its durability, ensuring it remains in prime condition for an extended period.
4. Test and Adjust
Upon completing the construction of your dartboard stand, it is highly recommended to conduct a thorough test run to validate its functionality. This involves carefully assessing the positioning of the dartboard to ensure it is set at the appropriate height for optimal gameplay.
By conducting this evaluation, you can determine if any adjustments are required to achieve the ideal dart-throwing experience. It is essential to ensure that the dartboard is positioned at a height that allows comfortable and accurate throws, enabling players to hit their targets with precision.
If necessary, make any needed modifications to the height or alignment of the dartboard to fine-tune your stand for optimal gameplay. Take the time to perform the test run and make adjustments as needed for an enhanced dart-throwing experience. Ensuring that your stand provides the perfect platform for countless hours of enjoyment.
By following these extra tips, you'll be well-equipped to tackle the construction of your outdoor dartboard stand with ease and confidence. Prepare yourself for an abundance of exhilarating hours, engaging in the thrilling pursuit of outdoor dart-throwing!
Creating Outdoor Fun!
Creating outdoor fun with a DIY dartboard stand offers a thrilling and customizable experience. By crafting your own dartboard stand, you can tailor it to your preferences and skill level.
Follow the suggested materials, tools, steps, and extra tips so you can confidently build an outdoor dartboard stand that is not only easy to construct but also durable, stable, and ready for endless hours of dart-throwing fun.
Enjoy the excitement of playing darts in the great outdoors, engaging in friendly competitions and making lasting memories with friends and family. Whether you're a novice or a seasoned player, the DIY approach allows you to build a stand that perfectly suits your needs.
So, grab your tools, embrace your creativity, and embark on the journey of creating outdoor fun with your very own DIY dartboard stand. Elevate your dart-throwing skills and have a blast in the fresh air!