If you have a sandbox in your backyard, this little toy will make playtime more fun! Look at this great and fun idea to build for your kids – the DIY sandbox excavator.
It may seem quite a lot of woodwork to build this. But really, it'll take about a day, or perhaps two. This could be a weekend project for you. While you're at it, ask your child to help out even with just the most basic tasks. It will be a great bonding activity.
Our Pick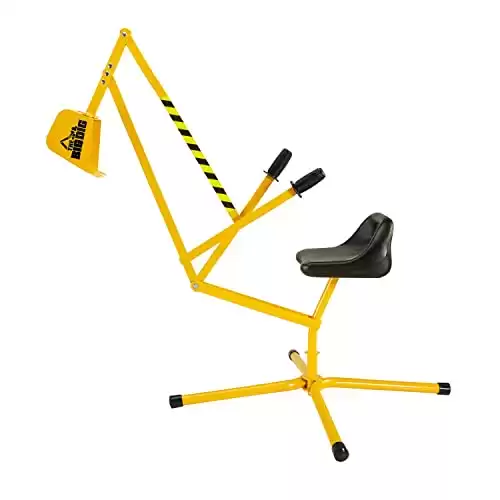 With only a few wooden pallets, nails, glue, and time, any parent can assemble this great toy. It'll keep any kid entertained. If you don't have a sandbox to use this with, maybe you can build one, too! It beats having them watch TV all day.
Let's get some woodwork done and build something our kids can enjoy at the sandbox.
You'll need these materials:
1 – 2 pallets (heat treated)
3/4″ galvanized pipe flange
12″ length of 3/4″ threaded galvanized pipe
Three 1″ L brackets
Waterproof Wood Glue
Cheap office chair
Assorted lag screws and bolts
Paint (color of choice)
Cording (optional)
Coil spring (optional)
And these tools:
Wood clamps
Circular saw
Hand drill
Band saw
A set of wrenches
Table saw
Too complicated? There are simpler designs you can follow. Check them out below…
'Click on any image to start lightbox display. Use your Esc key to close the lightbox. ?'
It might take a while, but this project is definitely worth the work. Read the step-by-step instructions here…