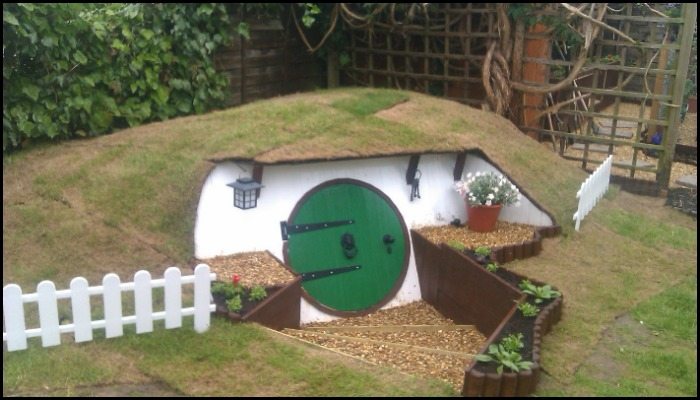 Want an out-of-this-world backyard project? Well, this one's hard to top if you're building one in your backyard – your very own hobbit house as your personal refuge!
This hobbit house serves as a reading nook for its owner-builders. They also plan on installing a projector and a drop-down screen, making it a tiny tiny 'home theater'.
Our Pick
If you don't have a spare room in your house for a personal retreat then this might be ideal for you!
You might be thinking 'How strong is this structure against bad weather?' Quite sturdy in fact, as Owner-builder, design, and construction expert, Ashley Yeates explains it in his article:
"With the hole big enough to cater for the basic internal shape designed, we created a strong internal wooden frame which was hugely over-engineered… The corrugated iron was used to seal everything in and the panels were all seam welded from top to bottom once in position and then finished with plenty of waterproof barriers. The base concreted with waterproofer and finished with further waterproofing and finally a leveling compound so there was a lovely clean finish inside."
Good quality boards were also used for the roofing so that they can still mow the lawn without destroying the hobbit house!
We're quite sure J.R.R. Tolkien fans would like, nay, to love this idea! What do you think?
Is this a DIY project you would like to tackle next in your backyard?
Materials:
Lots of Timber
Strong Roofing Boards
Corrugated Iron
Hurricane Tie
Concrete
Exterior Paint
Polyurethane
Screws and Nails
Door And Cabinet Hinges
Door Knob and Cabinet Pulls
Tools:
Excavator (or lots of friends to help you dig a deep hole!)
Shovel and Trowel
Welding Machine
Cordless Drill
Concrete Mixing Set
Sander
Nail Gun
Click on any image to start the lightbox display. Use your Esc key to close the lightbox.

Thanks to Ashley Yeates for this great project. You can get step-by-step instructions here…