Ahh, a very relaxing hanging daybed! Is there anybody who doesn't want to have this piece of furniture in their outdoor area?
Building a hanging daybed isn't exactly a quick weekend project! But anybody who's simply willing to squeeze in a couple of hours every day can make their own hanging daybed swing in a week! This DIY project doesn't require any special tools or skills.
However, if you are thinking of taking on this project we recommend you consult a professional builder or carpenter (unless you already are one ;) ) to assess your ceiling joists first. It's a necessary step to ensure that everything is strong enough to carry the weight of both the daybed and its occupants!
As long as you've sought advice from a professional and have taken your time in building a strong and sturdy daybed frame, you'll be able to enjoy many relaxing and super-comfortable hours in your DIY hanging daybed swing.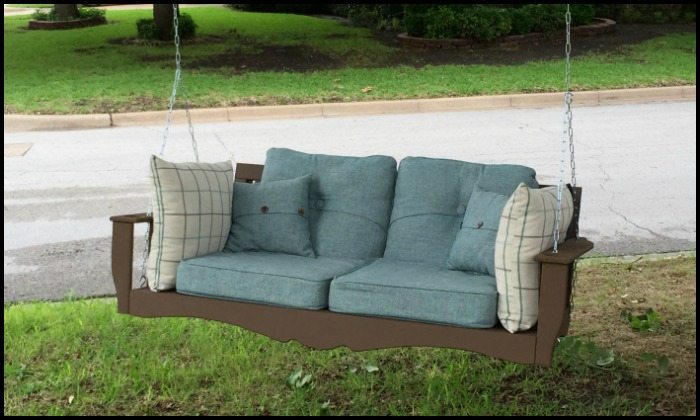 Just imagine getting your much-needed afternoon nap or reading a great book on your hanging daybed! It sure is worth the time and all the work needed, isn't it? :)
Be inspired by taking a look at our album of hanging daybed swings below, and learn how to build one by heading over to the step-by-step tutorial by Jordan Valley Home and Garden Club.
You'll need these materials:
6 – 1 x 6 x 8 Pine Boards
8 – 1 x 4 x 8 Pine Boards
2 – 1/4″ x 3″ Carriage Bolts
2 – 1/4″ x 2″ Carriage Bolts
4 – 1/4″ Washers
4 – 1/4″ Nylon Nuts
2 – 3/8″ Eyebolts
2 – 3/8″ Nylon Nuts
4 – 3/8″ Fender Washers
2 – Large S Hooks
2 – Small S Hooks
Paint
30′ Chain – rated at 340 lbs
And these tools:
Measuring Tape
Miter Saw
Band Saw
Jigsaw
Cordless Drill
Sander
Paintbrush
Router
Wood Clamps
Click on any image to start the lightbox display. Use your Esc key to close the lightbox.

You can watch the step-by-step instructions from April Wilkerson here: