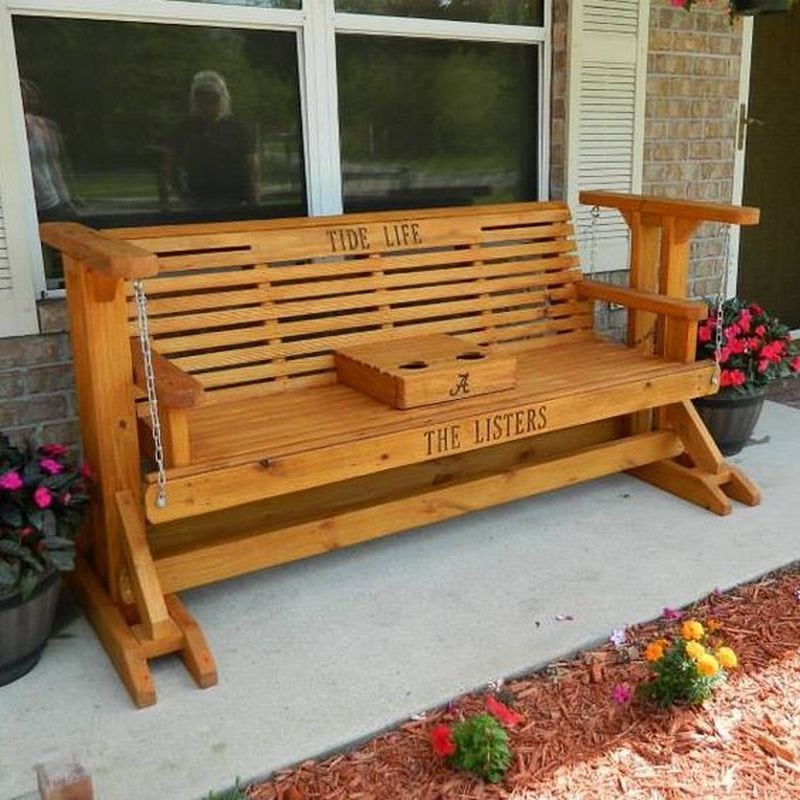 There's no better time to get ready for summer living. You can maximize your outdoor lounge time by transforming your backyard space into a relaxing retreat.
But before you start, you need to find the perfect seating to match your style and your space. So, get ready to rock those lazy summer days with the ideal backyard escape!
Our Pick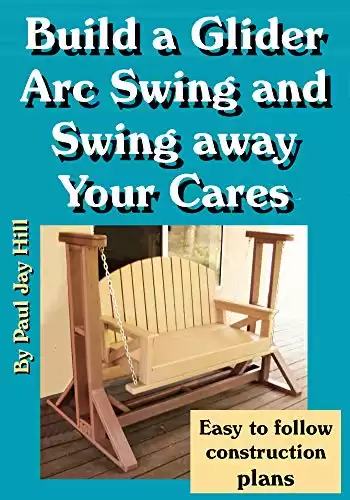 Build a Glider Arc Swing and Swing Away Your Cares: Easy to follow construction plans
Start now and you will be enjoying sunsets and peaceful, stress free swings from this beautiful piece of outdoor furniture. Pick your spot where you want to swing away your stress. That could be your yard, your deck, or by your pool. Or, maybe you would like to swing inside in your fun room.
Buy on Amazon
We earn a commission if you make a purchase, at no additional cost to you.
12/01/2022 11:24 am GMT
There's nothing like being able to inhale the crisp, fresh air of the outdoors. It's relaxing and rejuvenating, really. For me, lazy days mean time spent on the porch with a good book in hand. Other times, it's where we entertain family and friends.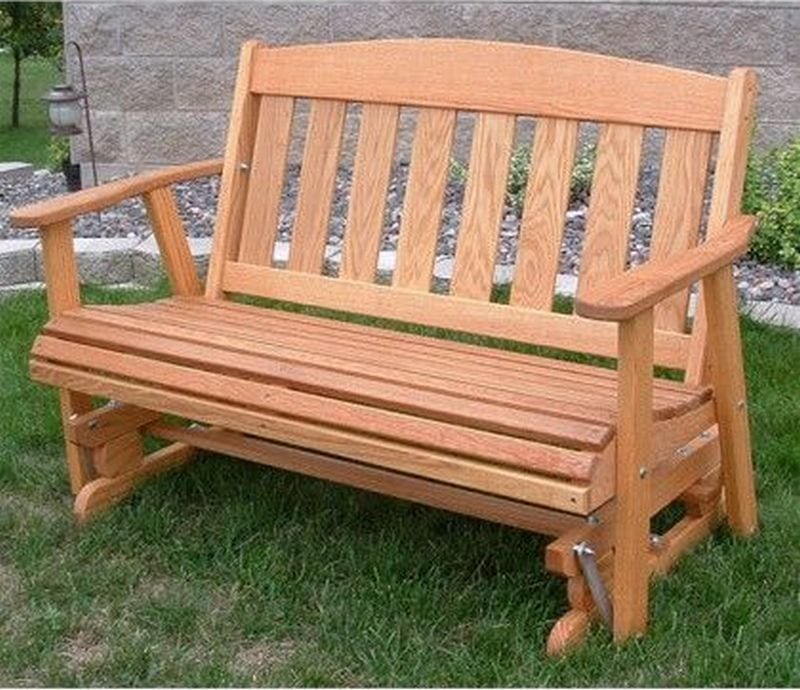 One of the most common seating options nowadays is a glider. Unlike a rocking chair that moves up and down, a glider moves you back and front. Its base is fixed on the ground and not suspended or hung like those in swings.
This unique design provides a stable and soothing experience, allowing you to enjoy a moment of relaxation or engage in pleasant conversation. Whether placed on a porch or in a garden, a glider adds an element of charm and tranquillity to any outdoor space.
If you have decent woodworking skills, you can build this DIY glider swing by yourself. It won't take you long to finish, probably a day or two. Additionally, it's not that expensive, too. Just make sure you choose high-quality materials to ensure longevity.
How to Make a DIY Glider Swing for Your Porch
Follow this easy-peasy guide and let your woodworking skills take flight. You'll be swinging in no time and turning your porch into the ultimate chill-out zone.
Materials
4 pc – 2×4 lumber – 32 1/4″ long (legs)
2 pcs – 2×4 lumber – 22 1/4″ long, 2 pieces – 30 1/4″ long (frame)
4 pcs – 2×4 – 14 1/4″ long, 2 pieces – 5 3/4″ long (braces)
2 pcs – 2×4 lumber – 70″ long (supports)
6 pcs – 2×4 lumber – 8′
100 pcs – 2 ½" screws
Tools
Hammer
Tape measure
Framing square
Level
Miter saw
Drill
Screwdriver
Sander
Post hole digger
Concrete mixer
Safety gloves
Safety glasses
Click on any image to start lightbox display. Use your Esc key to close the lightbox.
Steps
My Outdoor Plans deserves extra recognition for delivering this amazing DIY project. They have provided step-by-step instructions to walk you through the full process.
If you prefer visual guidance, you're also covered. Here's a quick video tutorial that demonstrates the key steps involved in building the glider swing…
Additional Tips
In addition to the steps outlined in the instructions, here are some additional tips to consider when building your DIY glider swing for your porch:
1. Choose the right materials
Make sure to choose only weather-resistant materials that can withstand outdoor conditions. Opt for sturdy wood or metal that can provide the necessary support and durability for your swing.
Get ready to soar high with your very own DIY glider swing that's built to last! Don't settle for anything less than top-notch quality that will keep you flying high for years to come.
2. Prioritize safety
Ensure that your glider swing is structurally sound and secure. Prevent any potential accidents or mishaps during use. Check all connections and fasteners to keep them snug and secure.
If you want to improve the stability of your swing, you might think about adding reinforcement or braces to provide extra support.
3. Apply a protective finish
Consider putting a protective coating on your glider swing to protect it from the elements and extend its lifespan. This could take the shape of a varnish, paint, or stain made expressly for outdoor use.
Applying a protective finish to your swing not only improves its appearance but also protects it from potential damage due to sunshine, dampness, and other environmental variables. The correct finish will offer an extra layer of protection, preventing fading, cracking, and warping of the wood.
4. Add cushions and pillows
To enhance comfort, consider adding cushions and pillows to your glider swing. Choose weather-resistant and easy-to-clean materials that provide both support and coziness.
You can choose from a variety of colours, patterns, and textures to match your personal style and complement the overall aesthetic of your porch. Whether you prefer vibrant hues that add a pop of colour or subtle tones that create a serene ambience, the right choice of cushions and pillows will contribute to the overall comfort and inviting atmosphere of your glider swing.
5. Regular maintenance
Maintain the condition of your glider swing by inspecting it on a regular basis for signs of damage. Clean them often to prevent dirt and debris buildup.
Avoid the collection of dirt, dust, and debris. Gently remove any filth or grime that has developed over time with a mild cleanser and a soft cloth. Cleaning your glider swing regularly will keep it looking good and help avoid future damage and extend its longevity.
By following these extra tips, you can make sure that your DIY glider swing looks nice and provides a secure and comfortable seating experience for you and your loved ones on your porch.
Take a Seat and Unwind!
Enhance the vibe on your porch with a DIY glider swing! This artful addition combines beauty and functionality, allowing you to relax and enjoy the outdoors in style.
By following the comprehensive instructions provided by My Outdoor Plans and incorporating valuable tips, you can embark on this creative endeavour with confidence. With meticulous craftsmanship and the use of high-quality materials, your glider swing will not only serve as a captivating centrepiece but also offer a luxurious and comfortable seating experience.
The choice of cushioning and upholstery will further enhance the comfort, allowing you to relax and unwind in style. Whether you're enjoying a quiet afternoon alone or hosting gatherings with friends and family, your glider swing will provide a cozy and inviting seating option.
Let your artistic skills shine, and create this beautiful addition to your porch.