Anybody who has this kind of kitchen in their backyard will want to host backyard barbecues every weekend! This DIY kitchen is sure to make gatherings a lot more fun for everyone! And it's made entirely from upcycled materials including the ubiquitous (yet very humble) pallet!
You know the scene… you're the host, everyone's having fun and you're stuck in the kitchen getting the drinks and food! If you're lucky, a friend brings you a drink and a smile while everyone else is outside having a great time! Option # 1 would be to bring everyone into the kitchen, but that's hardly practical. Option #2 is to take the kitchen to the party. Yes – problem solved!
This backyard kitchen brings everyone closer together — literally and figuratively ;) It's a kitchen that allows you to cook while you talk with your families and friends, face to face! This setup also makes it more convenient for your guests. Here they won't have to stand up from time to time to refill their plates.
Want to know what comprises this cool kitchen? It's made of two modular units, a hot unit and a prep unit, which feature:
Charcoal grill and turkey fryer
Butcher block countertop
Cold water sink
Fold-out/removable tables (seating for 6-10)
Storage shelving
We know you want to do this for your backyard now, so keep reading for this great tutorial by Adam!
Materials:
Pallets and other reclaimed wood
Grill
Sink
Turkey Fryer
Markers
Magnets
Wood Glue
Polyurethane Varnish
Wood Screws
Hinges
Tools:
Kreg Jig
Drill
Wood Clamps
Table Saw
Planer
Miter Saw
Measuring Tape
Hammer
Nail Gun
Paintbrushes
Basic Plumbing Tools
Steps:
Because I chose to work almost exclusively with reclaimed materials, I found that it was impractical to do a complete design of the project first – I couldn't count on there being enough of a given component to complete the design. But I also didn't want to go grabbing materials willy-nilly, because I have a limited amount of storage space. In reality, the designing-sourcing cycle looked something like this:
Concept: I knew I wanted an outdoor kitchen made of several units, where the faces folded out to be tables, and I thought I wanted this to include a prep area, dish rack, sink, grill, smoker, turkey fryer, and chest cooler. That was enough to start.
Constraints: I already had certain materials (grill and leftover butcher block), so the units would have to be designed to incorporate those. In addition, I wanted the units to be able to be moved into my basement during the winter, so their width could not exceed that of the basement door (about 32″).
In terms of their length, they'd need to approximate a small 6-person kitchen table (about 48″). The height of the units would need to be close to a standard countertop (about 36″), and the fold-out tables would need to be close to a standard table (about 29″).
Using the concept and constraints, I started making rough designs of the project, eventually deciding that incorporating all of the things I thought I wanted would be WAY too much work. Instead, I chose to focus on the grill, turkey fryer, sink, and prep area, knowing that I could expand the units in the future.
With this design roughed-out, I started sourcing materials.
With the broad concept in mind, I began collecting materials on the weekends.
We have a construction re-use depot called Construction Junction here in Pittsburgh, where I happened to find a small sink (the dimensions of which then became part of the constraints).
Additionally, I set up two alerts on Craigslist, one for free wood and the other for a turkey fryer. Doing this early was essential; it took only a few days to get some good structural wood from leftover garden timbers, but several weeks to find a turkey fryer.
After identifying these sources of reclaimed materials, I would check them on a regular basis for new and useful materials, until I felt I had collected enough to begin working on the project in earnest. Before designing the final project, however, I needed to create consistent stock from the materials I had sourced.
Many projects I see that use reclaimed materials (especially pallets) end up incorporating materials without much modification, creating a hodge-podge aesthetic. I wanted a cleaner look for my project, and because I was using half-lap and tongue-and-groove joints, I needed wood of consistent sizes.
The pallet wood and garden timbers make up the carcass of the units – they're the "bones," and therefore were the pieces where consistent dimensions would be most essential. The important dimensions for consistency were width and thickness; since I didn't have a complete design yet there was no reason to cut boards to a specific length, and I knew I could join boards to make them longer if necessary.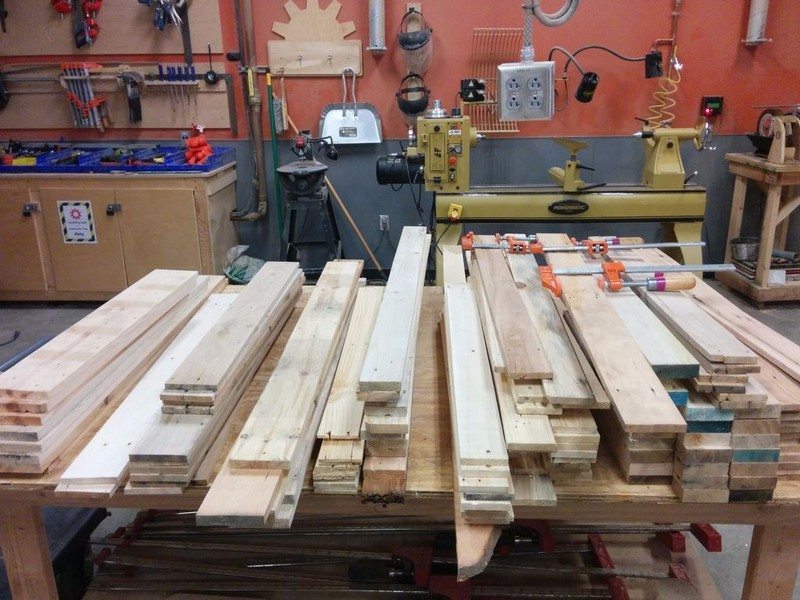 Continued Page 2…