Does your living room have a huge flat-screen TV? Is it dominating the room? Wouldn't it be nice if it was out of view when not in use?
Here's a great solution to make that flat-screen TV disappear when it's not in use. And you can do it with the hit of a button! This great looking cabinet will hide the television using a lift mechanism and universal remote control.
What's great about this cabinet is that it looks so natural, you won't even know that it hides that television, unless you're aware of its purpose. It also stores and hides your remotes, DVD players, game consoles, and other home entertainment items.
Do you want your TV to magically disappear when not in use? Then learn how to build this DIY TV lift cabinet!
Click on any image to start the lightbox display. Use your Esc key to close the lightbox. ?
Materials:
1 Firgelli Lift FA-TVL-170-24-36 (includes IR detect and remote)
5 sheets of 3/4″ Birch Plywood
1 sheet of 1/4″ Birch Plywood
4 Hinges – soft close
4 rolls of Birch Edge Tape
1 bottle of Wood Glue
20 feet of 1.25″ x 3/4″ Wood Panel Molding
30 feet of 1″ x 1/4″ Wood Panel Molding
5 pairs Drawer Slide
1 Piano Hinge
1 IR repeater to hide components and IR receivers
4 Drawer Pulls
2 Door Pull Knobs
4 Bolts, Nuts, and Washers for the Firgelli Lift
1 pack of strong Velcro
Tools:
Table Saw
Jig Saw
Compound Mitre Saw – or Mitre Box
Drill Press
Electric Drill
Clamps – assorted
Tape Measure and Small Steel Ruler
Right Angle Square
Orbital Sander – with 60 and 100 grit Sand Paper
Sanding Block and loose 60 and 100 grit Sand Paper
Iron – for applying edge tape
Sharp Box Cutter – for edge tape trimming
Drill Bits and Forstner Drill Bits
Countersink Drill Bit – for drywall screws
¼" – ½" Dowel Center Transfer Plugs and a few 1/4″ Dowels
Nail Gun and Compressor – to hold the wood while the glue dries.
Putty Knife – for spackling
Socket Set
Screwdriver
Hammer
Steps:
How the Lift Cabinet Works
This is a video showing the TV Lift cabinet in action.
This video shows how to remove the front panel for access to the inside of the TV Lift Cabinet.
The following Word document contains a top, front, and side views of the TV Lift cabinet.   It also contains a list of wood parts that should be cut.  Some of the parts are 3/4″ plywood.  Some are 1/4″ plywood and some are trim molding cuts. https://docs.google.com/file/d/0B9NRwEqGVuzmMm1sNkZJdUhRREE/edit?usp=sharing
There is also a plywood cut sheet with recommended cuts from each sheet of plywood to allow the maximal efficiency of your plywood panels.  The sheets can be pre-ripped in your lumberyard or home center for easier carrying in your car.   Of course, all measurements should be double-checked for your application and may be converted to metric.
The documents are in Word so that you can easily modify them for your needs if your application or installation is different.
When choosing your plywood sheets, be sure that they are not warped or bent.  Line each one up and sight it with your eye.  Reject the warped pieces.
Cutting large sheets of plywood can be tricky.  If you have access to a panel saw with a good plywood blade, you are golden.  If not, there are some tricks.
– The first is somewhat dangerous and you need a helper.  Set up your table saw outside with the fence and guards removed.  Mark your lines on the wood and pass the large sheet of plywood through the table saw blade with you pushing and your helper catching.  Go slowly and accurately.
– The second method is to lay some 2 x 6 pieces on a smooth floor.  Lay your marked plywood on the floor and slowly cut your lines with a skill saw with a plywood blade installed.
– Please double check ALL the measurements and dry fit your parts before drilling, nailing, or gluing.
– You may find it useful to cut parts from the larger plywood sheets as the project progresses.  It gives you a better ability to check for errors.  The downside is that you have to set up the table saw each time.
Assembly:
You'll need a helper for this first assembly step.  Most of the other ones can be done solo.   Reference the top view drawing.
Before you start assembling the carcass, make sure that you will have enough room and a plan to get it to its final location.  It is 26″ wide which should fit through any doors BUT it is 87″ long so it may be tough to get around corners.
– Lay the Bottom piece "G" on a flat work surface.  I use an old door on adjustable sawhorses.  Set it up so the back and right side are hanging over the edge of the work table.  You will be shooting nails up into this area.
– Put Glue on the bottom of the back piece "Back" and get your helper to hold it in place.
– Put Glue on the right side of the "Back"  where piece "E" will connect to it.
– Put Glue on the bottom of the right side piece "E"  and get your helper to hold it in place against the back piece.
– Shoot 3″ framer nails to secure the right piece "E" to the "Back" piece.  Shoot nails from underneath into the bottom to secure the Back and piece "E" to the bottom.  Your helper is done!
– On the back of the carcass, mark 42.75″ from the right edge and draw a vertical nailing line on the back.  Drill a few small holes through this line to carry through your vertical nailing line to the inside.
– Put glue on the back and bottom of "C2" and center it on these nailing holes you just drilled.    Check with a square that "C2" is 90 degrees square to the back and the bottom.  Nail through the back to secure "C2".
– Put Glue on the front of "C2" and the bottom of "C1".    Center "C1" on the front of "C2" and nail through "C1″ into C2".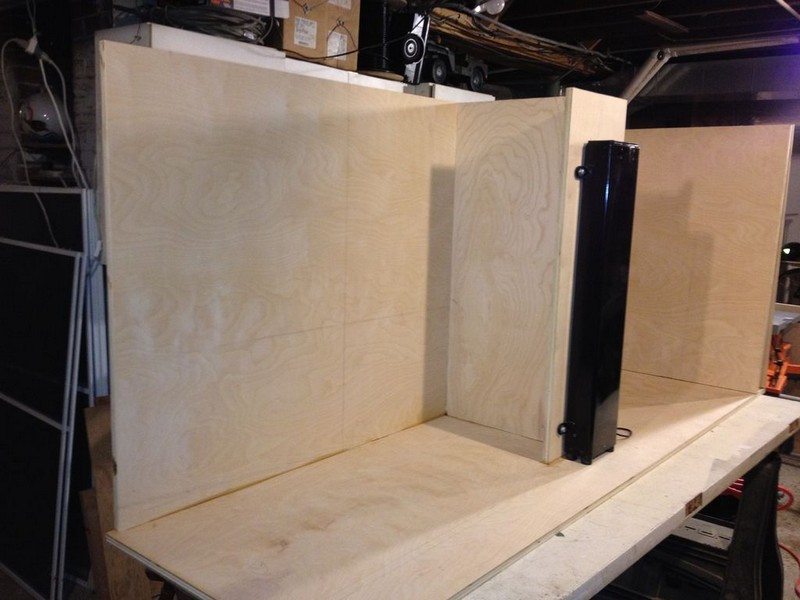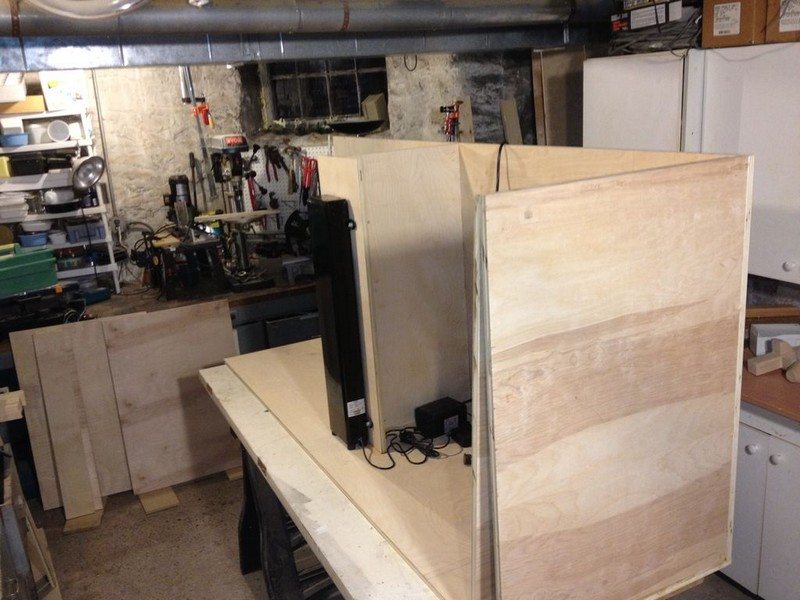 Continued Page 2…