Silverware organizers have been around for as long as people have used cutlery to transport food into their mouths. Knives were among humanity's earliest tools. In Europe, during the Middle Ages, they served a dual purpose: they cut and stabbed both people's food and – well – helped to settle the occasional dinnertime dispute.
So, you might argue that some of the first-ever flatware organizers came in the form of a dagger's sheath attached to a man's belt – and you would not be entirely wrong.
Of course, today, silverware organizers are far more elaborate, far more specialized storage accessories. Unlike the simple dagger's sheath of the Middle Ages, they accommodate more than just one tool, too.
In fact, silverware organizers are a kind of a central hub in the modern kitchen, keeping the homeowner's all-important flatware and cutlery tidy and accessible at all times. And because modern kitchens are as diverse as the homeowners who oversee their day-to-day routines, today's silverware organizers run a gamut of sizes, shapes, and configurations.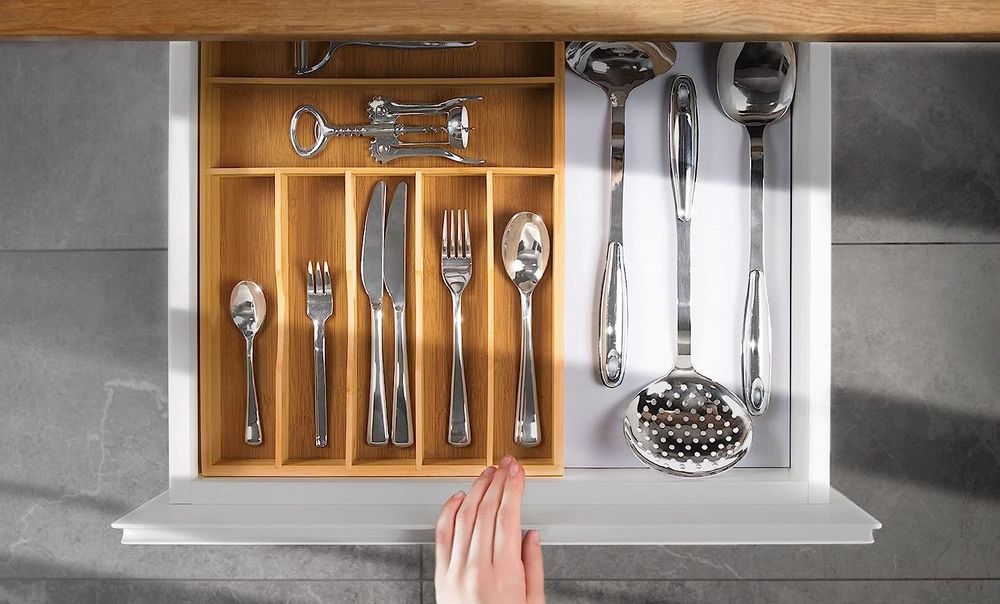 The 8 Best Silverware Organizers of 2023
Given the vast variety of silverware organizers out there, finding what's best for you is not as easy as it sounds. Every household is different. Every kitchen is different. What works best for your neighbor, or your friend, may not work for you.
After spending 160 hours researching and inspecting dozens of silverware organizers, we have arrived at a list of the most outstanding options available in the market for you. Read on to learn more about our choices for the seven best silverware organizers in the market this year. We're pretty sure you'll find one that suits your needs.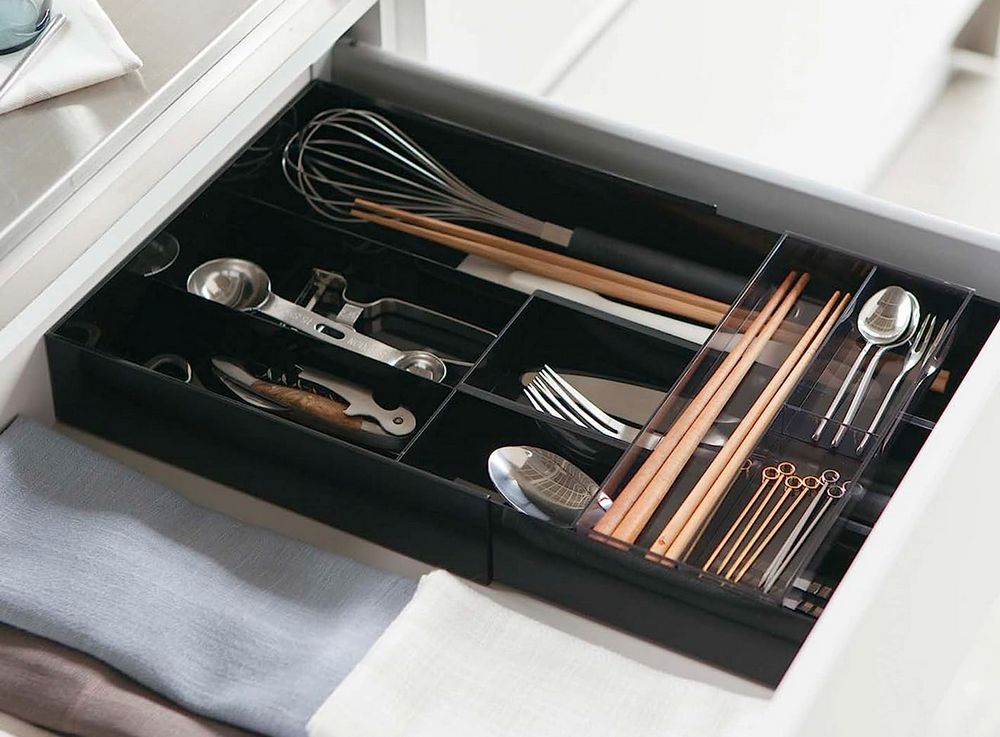 1. JULY HOME Kitchen Drawer Organizer
If yours is home to a big family, then you likely deal with a massive amount of cutlery at mealtimes. You might get away with throwing them willy-nilly into a side drawer somewhere for a little while, but that will last only as long as the first time you need to wade through all those implements looking for one dessert fork. 
The JULY HOME Kitchen Drawer Organizer is a convenient way to keep your silverware and kitchen cabinets organized and tidy. This expandable plastic silverware organizer offers eight spacious compartment slots that are 2.5 inches deep. That should be enough to permit ample room to store a variety of utensils and serving wear.
The organizer allows for an additional two storage compartments, too, giving you the option to use extra space in your kitchen drawers the best way possible. The side wings can be adjusted from 11.4 to 19 inches. That is a good amount of extra storage space and will fit kitchen implements and tableware like spatulas and serving spoons.
This July Home silverware organizer is waterproof and roomy enough for more than just your kitchen drawers. You can also use it to store an array of craft items, makeup, office supplies in your home office, and other essentials.
The tray is equipped with a sturdy base and non-slip adhesive feet stickers, which prevent the storage unit from shifting around your kitchen drawer. It is also dishwasher safe, which makes maintenance easy and convenient.
All that makes the July Home Kitchen Drawer Organizer our top pick for this list. Of course, nearly 80 percent of the people who have bought this silverware organizer on Amazon agree with us on that score. 
"It's a great way to keep my silverware organized and easy to find," reports one satisfied homeowner on Amazon. "The slots are deep enough to hold all of my forks, knives, and spoons, and the organizer is wide enough to fit in my kitchen drawer without taking up too much space."
2. Seseno Cutlery Drawer Organizer
If your home provides the luxury of large kitchen drawers, then you can take full advantage of the space with the Expandable Cutlery Drawer Organizer from Seseno. This silverware organizer features five spacious sections for the typical dining set. You get separate compartments for dinner forks, salad forks, knives, and tablespoons. You also get a top section and two expandable sides for any other utensils that might require proper storage.
The organizer expands from 13″ to 23.75″ wide and should fit easily into roomy kitchen drawers. You simply adjust it to the width of your drawer to accommodate more silverware and an instant custom fit.
This silverware organizer is made from durable, high-quality plastic and has a gray, soft-grip interior lining to keep your silverware in place. It also features non-slip rubber feet to prevent shifting. That's quite a useful feature when you clean it.
The tray is wide and spacious enough so that you can fit just about any small items that require storage. The multiple compartments will fit items like pencils, pens, paper clips, crafting materials, small tech gadgets, accessories, toiletries, beauty products, grooming tools, and the like.
We say this is a good, versatile, and reasonably priced storage tray that requires minimal upkeep and is sturdy enough to last years in your kitchen – and we are not alone.
"What I love about this product the most is that it has all different sizes of slots, so I'm able to fit my regular sized cutlery, then there's a space where I'm able to fit miscellaneous kitchen gadgets …" says one customer review on Amazon. "If you love organization, this is an absolute must!"
3. Oxo Good Grips Expandable Silverware Organizer
OXO is a popular brand known for its innovative and functional kitchenware. Established in 1990, the company has gained a strong reputation for producing high-quality products, and the OXO Good Grips Expandable Utensil Organizer is an excellent example.
This silverware organizer is made of easy-to-clean plastic and is available in two sizes. You can get a tray that is 9.75 inches or 15.5 inches wide. The unit provides three sections for forks, knives, and spoons. But, like the Seseno organizer, you can expand this OXO silverware organizer to fit the space in the kitchen drawer.
Now, this is a helpful feature, but it has become run-of-the-mill for most organizers. What makes this OXO silverware organizer special are the removable rubber sections in the molded plastic.  These small rubber prongs help keep your silverware stacked.
While most organizers permit the cutlery to roll around loosely within the section, OXO's rubber prongs grip onto the handle of the silverware to them in place.
"Most silverware storage either can't fit the shape of the forks or knives or leave too much empty space," says one satisfied homeowner. "This allows you to customize and literally double your storage. Ended up buying another."
4. Joseph Joseph DrawerStore Compact Cutlery Organizer
Small kitchens are quite the rage these days. We can understand why. A small kitchen promotes efficiency and convenience and minimizes clutter. That's exactly what makes the simple, affordable DrawerStore Compact Cutlery Organizer from Joseph Joseph perfect for small kitchens with small cabinet drawers.
Small drawers are not an issue for this silverware organizer. This tray is only about 4 ½ inches wide, making it a perfect fit for most narrow side or multi-use drawers that store other utensils.
How can you fit all your silverware into such a small tray? The answer is simple. By angling and layering each compartment on top of each other, this silverware organizer allows you to store your cutlery set in less than half the space of a conventional cutlery tray.
The tray has five sections. Each has its own cutlery icon for easy identification. However, because of the design of this silverware organizer, your silverware can easily get caught if it's too close to the counter.
The organizer itself is only about 2.25 inches tall, but since your silverware will likely just be over the tray, it may get caught on the overhang of the drawer. If your drawers are shallow and narrow, make sure to measure them before you make this purchase.
That said, this is a favorite among homeowners who put a premium on space. And its design does permit a surprising number of silverware pieces.
"I fit 12 little spoons in the top slots, 12 big spoons in the next slot, 12 big forks in the next slot, and 12 little forks in the front slot," says one customer on Amazon.  "I put my table knives in a separate basket."
5. Royal Craft Wood Luxury Bamboo Silverware Organizer
Most manufacturers use plastic for silverware organizers because it's cheap to produce. Consumers like it because plastic is easy to clean. That said, not everyone likes it. If you happen to be one of those who prefer more sustainable kitchenware, we recommend the ROYAL CRAFT WOOD Luxury Bamboo Kitchen Drawer Organizer.
This silverware organizer is a more natural version of the classic drawer organizer design. The tray measures 16.3 inches in length by 12.3 inches with seven large capacity slots to store your kitchen cutlery just the way you like it. 
The base is reinforced for durability, so you don't need to worry too much about the daily wear and tear. You can choose from four neutral hues, too. You can get this silverware organizer in natural bamboo, black, gray, and white.
The tray isn't adjustable, but all things considered, we think the price is more than reasonable, given the quality and long-lasting design. We liked the elegant look of this silverware organizer, in particular, although we wish the dividers were just a little taller. That said, the neat, clean-looking lines make for a wonderfully minimalist aesthetic.
"Super happy with this storage solution," says one review. "Measurements exactly as described. Product arrived well packaged and ready out of the box."
6. OXO Good Grips Stainless Steel Rotating Utensil Holder
There are utensils you keep in a drawer and then there are utensils that you want within immediate reach in the kitchen when you are cooking. Many homeowners who like to keep a tidy kitchen use larger utensil holders like Good Grips Stainless Steel Rotating Utensil Holder from OXO for spatulas and other cooking utensils by the stove.
Of course, that is not to say that you can't use this tray as a silverware organizer, especially if you simply don't have space in your kitchen drawers anymore. The tray features an easy-to-clean and durable stainless-steel finish, which we liked.
The organizer is about 6 ½ inches tall, which we found sufficient for most kitchen utensils and tools. It will hold around 15 large-handled tools in three compartments, too. But what we really liked about this organizer is the rotating base, which gives easy 360-degree access to whatever utensil you need.
Even better, this silverware organizer is dishwasher safe, which means cleaning and maintenance won't be too much of a hassle. The contoured bottom will keep your kitchen utensils, cutlery, and, tools upright, even when the holder isn't full. It will not tip over even when it's not full, either.
"I wanted a pretty utensil holder that was functional…," says one reviewer. "All in all, I am pleased with this utensil holder, and I would purchase this again."
7. Madesmart Mini Silverware Oranizer
For something small but not too small, we recommend the Madesmart Mini Silverware Oranizer. This tray is 13 inches long, 9 inches wide, and 2 inches deep. It's compact but roomy enough to organize even the most crowded of kitchen drawers.
This silverware organizer looks good, so you can even situate it on a shelf if you can no longer spare any space in your kitchen drawers. You can sort your forks, spoons, and knives within the five compartments of this silverware organizer. Four of these are in a line, and one in the back of the organizer and could be a great place to put serving utensils or dessert fork.
This affordable silverware organizer is made of smooth plastic and has rubberized feet to keep it from moving around and rattling inside your drawer each time you pull it out.
With this tray, you get 5 spacious compartments with branded icons which make it easy to organize your various kitchen cutlery and utensils by size and type. The inside of the tray is covered with a soft-grip surface lining to prevent slipping and shifting.
The tray is easy to wipe clean with a damp cloth. There's also an antimicrobial version available, which is treated with Actifresh to keep bacteria and odors at bay.
"I had been looking for a silverware holder for a very small drawer forever and finally found this," remarks one pleased customer. "After moving, our other one didn't fit. Couldn't find a single one small enough for the drawers in our new home. This one is perfect!"
8. Yamazaki Expandable Cutlery and Silverware Organizer
Inspired by "small-space living" in Japan, the Yamazaki Expandable Cutlery and Silverware Organizer is an elegant-looking, mindfully designed silverware tray that will accommodate all your standard silverware neatly in their own place and still have room for larger items such as spatulas and scissors.
Yamazaki's innovative design makes this silverware organizer stand apart. While most expandable silverware organizers have additional horizontal slots, this Yamazaki cutlery tray expands vertically to accommodate the various-sized drawers.  
The tray keeps your kitchen drawers and countertops organized with slots that divide spoons, knives, forks, and cooking utensils. A nested tray is included for smaller items, and it slides along the top, permitting easy access to the utensils below.
The tray expands from 9.625 inches to 17.75 inches in total length and will fit into drawers 9.75″ wide. It features 8 compartments in all. Five of these are in the main tray and 3 in the transparent nested tray that sits on top. This silverware organizer makes it easy to stack cutlery in its various expandable compartments.
Made from BPA-Free ABS plastic, it's durable construction and easy-to-clean surface will ensure that you will be using it for years to come.
"Our drawers were really skinny and wouldn't fit a normal silverware holder," says one five-star review on Amazon.  "This one is a perfect fit and plenty big. The top piece is removable. It is plastic and very easy to clean.
Choosing Your Silverware Organizer
Choosing a silver organizer requires a bit of pondering. Take a moment to assess your kitchen space. Do you have a dedicated drawer for your cutlery, or do you need a countertop organizer? Measure the available space to ensure that the organizer you choose fits snugly. You don't want it taking up unnecessary room or being too small to hold all your utensils.
Silverware organizers come in various materials, each with its own charm and benefits. These days, the most common options are plastic. Plastic organizers are lightweight, affordable, and easy to clean. Bamboo organizers add a touch of elegance and warmth to your kitchen, while metal ones are durable and can withstand heavy use. Be sure you consider your kitchen's aesthetic and maintenance preferences when selecting the material, as well.
Then you have to think about how you want to organize your silverware. Do you prefer separate compartments for each type of utensil, or would you rather have a single, large compartment for everything? Divided compartments help keep your silverware organized and prevent them from getting tangled, while open compartments offer flexibility and allow for easy customization.
Silverware organizers are available in a range of price points. While fancy and elaborate designs might catch your eye, those may not necessarily be the best fit for your budget. Assess your needs, set a reasonable budget, and explore options within that range. You'll find plenty of functional and stylish organizers that won't break the bank. The list above should be a good starting point.
Which one do you think suits your kitchen best?
---