Does your outdoor patio need a new look for the season of barbecues and sun tanning? Gear up for the months ahead by giving your outdoor space a refreshing transformation.
These ideas prove that it doesn't take much to upgrade your outdoor patio.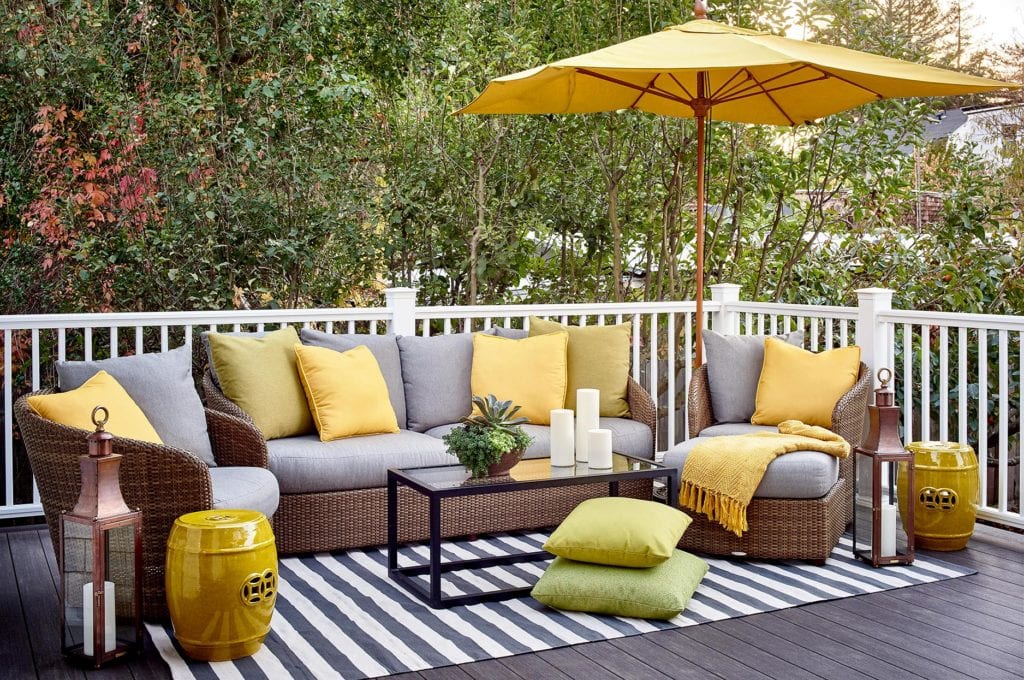 New Pillows
Comfy new pillows are a great way to perk up an old and dated patio without spending a lot on new furniture.
Play around with different styles of pillows and different colors. Or you can opt to have them in one color palette for a sleeker modern look.
For your outdoor patio pillows, choose outdoor fabric that can withstand the elements much better. Simply apply water and sun shield spray to keep them clean and fresh.
Heat It Up
A fire pit turns an ordinary patio into a warm and inviting place to hang out. Paired with your comfortable pillows and outdoor furniture, you might even find your patio to be the most relaxing place at home.
Go for an open wood fire if your locality allows it. Or you could set up a natural gas fire pit that simply switches open to heat your outdoors.
Lights
Good lighting checks off multiple items from your list of outdoor patio needs:
Beauty – check!
Better visibility – check!
Safety and security – check!
Go for LED lights that use up to 90 percent less energy.
Plants
Plant lovers, rejoice! One of the best decor for your backyard is a green lively plant. Not only do most plants thrive best in this outdoor space, they also make it so much more dynamic.
Plant some on the ground and put some in pots or vases too.
Make sure a lot of sunlight is available for plants that love it, and the shyer ones are shaded.
Water Features
Bringing both excitement and serenity to the outdoors, a water fountain is a great focal point.
Rock column fountains are popular among homeowners for being low-maintenance and safe.
Birdbaths are also a great way to bring nature's lovely little helpers into your space.
We hope these ideas help you create a wonderful outdoor space. Have a great summer ahead! (With a warm and nice patio, it's always summer.)
Which of these changes would you apply in your outdoor space?