I haven't really paid much attention to our rugs. For me, as long as they serve their purpose, I'm good. If ever an old rug needs to be replaced, I go to the nearest store and buy the same kind. After all, they're all the same, I thought.
But, boy, was I wrong.
When my daughter had a recycling project in school, I was pleasantly surprised. She shared with me that one of her classmates was able to convert an unused broken hose into a rug. I can't imagine it at first, but she showed me this DIY tutorial about making one. I decided to give it a try.
In all fairness, turning a broken hose into a rug is actually a good project. It benefits me greatly since 1.) we do not have to buy new rugs now and then, and 2.) we have a number of broken hoses at home.
This not only saves a considerable amount of money but also contributes to a sustainable and eco-friendly lifestyle.
Additionally, the presence of multiple broken hoses in the household provides the perfect opportunity to embark on this project. Instead of discarding them, these hoses can be transformed into functional and visually appealing rugs, adding a unique touch to the home decor.
The combination of these factors makes this project an ideal choice, allowing for both practicality and resourcefulness. Perfect!
Our Pick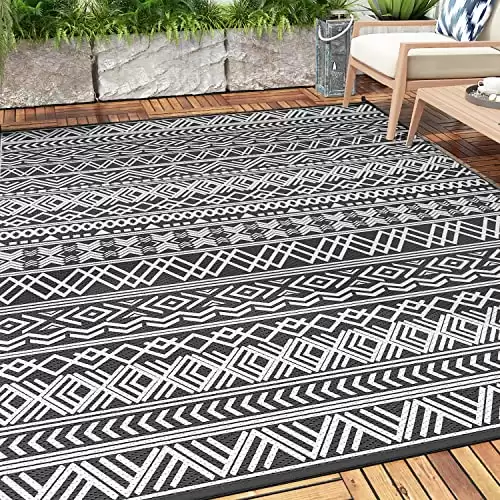 3 Essentials for Making Stylish DIY Hose Rugs
Instead of discarding those worn-out hoses, why not repurpose them into something useful and visually appealing? By following a few simple steps and using your imagination, you can transform neglected broken hose into a rug that is unique and eye-catching, impressing your guests and bringing a touch of creativity to your space.
Explore the three essentials that will help you master the art of turning a broken hose into a rug. Dive in and discover the endless possibilities that await!
1. Materials and Tools
Scissors
Flush cutter or scissors
Click on any image to start lightbox display. Use your Esc key to close the lightbox.
2. Steps
Gather up those old garden hoses and start turning them into rugs! In the video below, you'll discover step-by-step instructions on how to repurpose unused broken hose into a rug and give it a new lease on life.
Watch as skilled crafters walk you through the steps of changing a broken hose into a rug that will lend a unique touch to your home decor. The video is likely to inspire and fuel your creativity, whether you're a seasoned DIY enthusiast or just getting started.
3. Extra Tips
To take your project of turning a broken hose into a rug to the next level, here are some additional tips and tricks for you:
Consider Hose Colours
Take advantage of the different colours of your broken hoses to create unique patterns and designs in your rug. You can create stripes, circles, zigzags, or any other shape you want. Don't be afraid to mix and match colours to add more visual interest to your rug. Turn your broken hose into a rug that's totally unique!
Use a Non-slip Backing
To prevent your rug from slipping or sliding on the floor, be sure to add a non-slip backing. This will help keep your rug in place and provide added safety, especially on smooth or slippery surfaces.
Whether you're placing your rug in a high-traffic area or want to create a cozy corner in your home, the non-slip backing ensures that your rug stays put, even during vigorous activities or when pets and children are around.
Experiment With Weaving Techniques
Explore weaving techniques as you turn a broken hose into a rug, and create more intricate patterns. This can be done by alternating the over-under pattern as you connect the hose segments, resulting in a more textured and visually appealing rug.
This technique adds depth, texture, and a unique touch to your rug, making it a focal point in any space. Whether you prefer a simple yet elegant design or want to experiment with complex patterns, weaving allows you to unleash your artistic vision and transform a broken hose into a rug that is truly one-of-a-kind.
Add Padding for Extra Comfort
To enhance the comfort of your rug and create a more pleasant walking experience, make sure to add a layer of padding underneath. The padding will provide an extra cushioning effect, making your rug feel softer and more comfortable underfoot.
With this simple addition, you can transform your broken hose rug into a cozy and inviting mat that you'll love to walk on.
Maintain and Clean Your Rug
Regularly vacuum or shake out your hose rug to remove dust and debris. You can also use a pressure washer for a more thorough cleaning. Depending on the material of the hoses, you may also be able to hose it down for a more thorough cleaning. Always follow the manufacturer's guidelines for cleaning and maintenance.
With these extra tips, you'll be well-equipped to turn a broken hose into a rug that's stylish and functional. Embrace your creativity and have fun with the process, and enjoy the satisfaction of crafting something extraordinary!
Broken Hoses Into Beautiful Rugs!
By harnessing the power of the right tools, employing effective techniques, and embracing your inner creativity, you have the ability to effortlessly revitalize your broken hoses and give them a new purpose as charming, one-of-a-kind rugs. Not only will you be reducing wastage, but you'll also be engaging in eco-friendly rug-making that contributes to a sustainable lifestyle.
So, unlock your DIY skills as you embark on an exciting journey of turning your broken hoses into captivating rugs. With the three essentials discussed, the artistic possibilities are endless. Let your creativity soar and transform ordinary hoses into special rugs that will make a statement
Breathe life back into your materials and create rugs that will infuse any space with irresistible charm and style!