My husband and I grew up in the late '80s. We know very well how fun it is to play outside with friends. Back then, we played a lot of backyard games.
Our Pick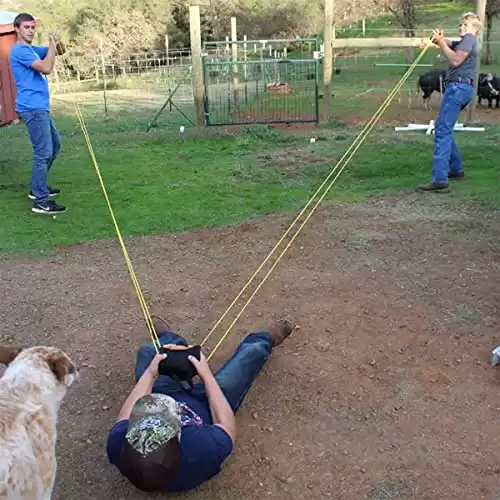 3 Man Beast Slingshot with 500 Biodegradable Water Balloons
Super reliable and durable water balloon launcher: The improved new product uses a large diameter, strong elastic cord and double-wrapped Oxford cloth,To provide long-lasting horsepower output and long-term reliability!
Buy on Amazon
We earn a commission if you make a purchase, at no additional cost to you.
In our home, we have a strict rule on gadgets: no more than an hour each day. We believe that they shouldn't be missing out on real human interaction. So we highly encourage playing outdoors.
To encourage the kids to play outside with friends, we decided to surprise them with a backyard slingshot. They're having lots of fun with it! Admittedly, my husband and I play with it, too. It's a really good bonding activity for the whole family.
Materials:
2 pcs – Exterior Hooks
Water Balloon Launcher
2 pcs – 3/8″ Wing Nuts
2 pcs – 3/8″ Washers
2 pcs – 3/8″ x 3″ Carriage Bolts
2-1/2″ Exterior Wood Screws
2 pcs – 2 X 4 X 10′ Treated Lumber
2 pcs – 5/4 X 6 X 10′ Treated Deck Board
Tools:
Drill
Miter Saw
Jig Saw
Tape Measure
Pencil
Safety Glasses
Hearing Protection
Click on any image to start the lightbox display. Use your Esc key to close the lightbox.
Make your very own backyard slingshot and have loads of fun! Watch the video below to learn how…