Bring more life – and cheer to your garden by making a cute DIY stone birdhouse!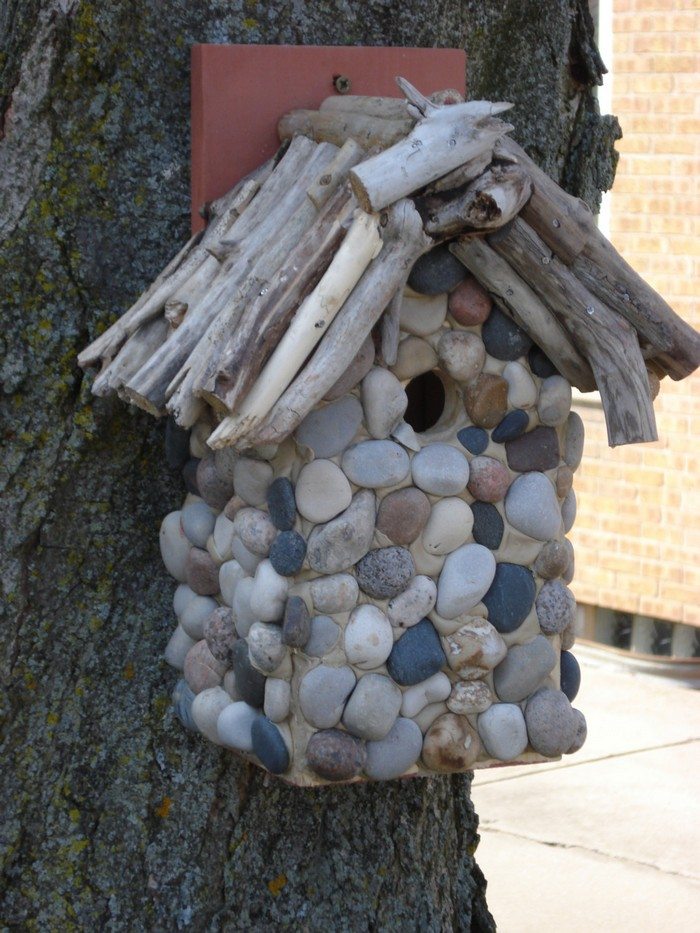 Stone birdhouses bring that fairy tale feel to a garden. Plus they are easy to make! They also last longer than other birdhouses. So if you're looking for great and unique decor for your garden, then you'll surely love this little project.
All you need is a wooden base and the right adhesive to cover it with stones!
Now the way to build a stone birdhouse is to think with the end in mind. This means that the first step is to decide on how you want your stone birdhouse to look. Because once you've laid out the stones in place, it would be virtually impossible to undo them in case you change your mind about the design. So think ahead – what would be the color and texture of your stone birdhouse? How do you plan to arrange the stones?
Another important thing to consider is the base structure of your birdhouse. As much as possible, choose the simplest wooden birdhouse frame that you can find – you wouldn't want to have a difficult time decorating it with stones! You should also make sure that your frame can hold the weight of the stones.
Also, would your stone house be mounted on a tree, a wall, or do you plan to put it on a pedestal/stand?
Deciding on these things before actually working on the project is important so that you can prepare the doors, windows, and mounting hardware that are required before decorating it with stones. Again, once the stones are set any change would be next to impossible – or risk destroying your birdhouse!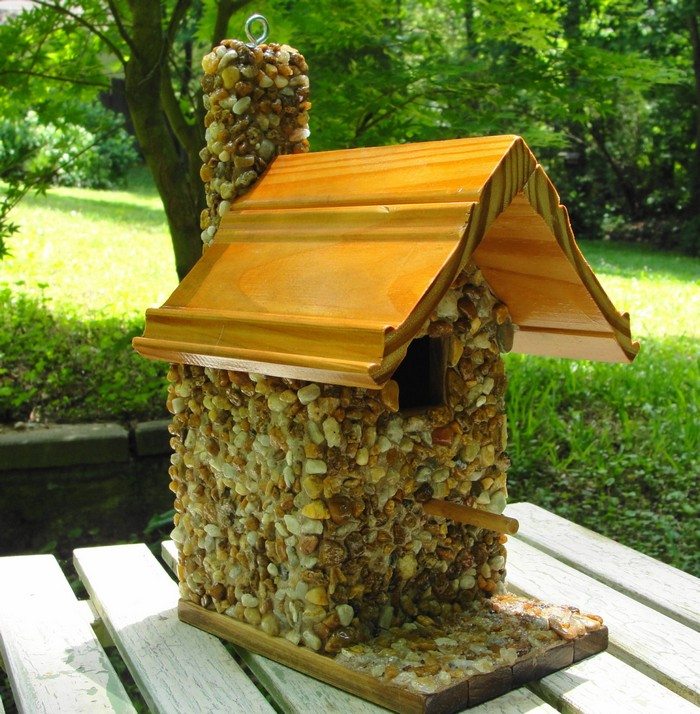 Now, do you need a stone birdhouse inspiration? Our album below shows various beautiful examples! We've also linked a step-by-step tutorial below it if you need more detailed instructions. :)
Do you know someone who will love this idea too?
Materials:
Wooden Birdhouse
Exterior Wood Primer
Exterior Grade Polyurethane
Silicone Sealant Adhesive
Stones
Roofing (twine, metal funnel, cedar shingles, buttons, cedar twigs, copper leaf, sheet metal)
Protective Gloves
Acrylic Paint
Tools:
Caulking Gun
Paintbrushes
Hammer / Drill
Click on any image to start the lightbox display. Use your Esc key to close the lightbox.

Thanks to Empress of Dirt for this great project. You can get step-by-step instructions here…