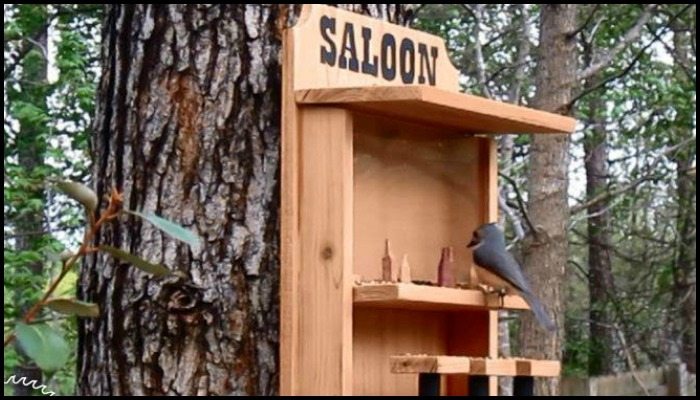 Looking for a scrap timber project? Here's a really nice project that would make the day for the birds in your place – an awesome saloon bird feeder!
Building a saloon bird feeder is indeed a great idea for making use of scrap timber. You're making a useful thing out of something that's considered "useless". And what makes it more special is it serves a meaningful purpose – feeding the hungry birds around you!
Now this bird feeder is not only for birds; it also invites squirrels to eat in it, it's not a squirrel-proof bird feeder. But that's alright if you don't have a vegetable garden and if you don't mind those bright eyed and bushy tailed guests in your yard! :)
This project is easy as there are no definite measurements required for you to follow. You can modify depending on the scrap timber that you have. The video tutorial below is a great guide that you can use when you build your saloon bird feeder.
By having this cool addition in your yard, the cute little wildlife around you are surely going to thank and love you more!
Do you want to make new feathered friends in your beautiful yard?
You'll need these materials:
Untreated Fence Boards
Dowel Rod
Plexiglass
Hinges
Water Resistant Wood Glue
Black Spray Paint
Exterior Screws
And these tools:
Measuring Tape
Circular Saw
Speed Square
Table Saw
Bandsaw
Sander
Cordless Drill
Cutter
Click on any image to start lightbox display. Use your Esc key to close the lightbox.

You can watch the step-by-step tutorial from Steve Carmichael here: