Why raise ducks? Most duck raisers will tell you that the eggs from their own ducks taste a good deal better than store-bought eggs. Ducks are fun and easy to raise, too. They are cute and they provide you with a steady supply of eggs. And yes, you can even raise them in small spaces.
Thinking of raising ducks in your backyard but don't have a pond or access to any small body of water? Then build your ducks their own pond in your backyard with this easy duck deck project that you can DIY!
If you don't like the idea of doing a heavy project and a permanent build, this duck deck is definitely for you. Unlike creating a pond, this project doesn't require digging a large hole in your yard. It only involves basic woodwork.
Our Pick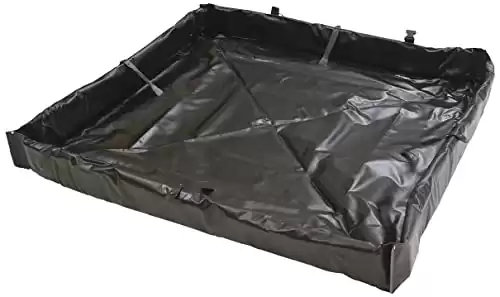 Compared to sinking a water trough in the ground, this is definitely easier to clean. You simply drain the water by opening the spigot at the bottom of the tub and that's it. (Now that's a way to water parts of your lawn at the same time too!) You can also easily take out the tub if you need to do some thorough cleaning.
This duck deck is a nice way to prevent your ducks from making a muddy mess as well!
Aside from being easy to build and easy to maintain, this duck deck is an inexpensive project. You can use reclaimed timber or pallets and a used water tub that's large enough for your ducks to swim in. An old bathtub would be great, too, especially since it can accommodate more ducks.
Every duck deck is different. Design and measurements would depend on the size of your backyard and the shape of the tub. It would also depend on the ducks themselves – some ducks are clumsy. :p So when designing and building your duck deck make sure that all your pets will be comfortable using it, especially with the ramp.
To further improve this idea, we recommend adding a roof to the design. This is important to protect your ducks not just from intense heat, but also from predators such as hawks and eagles.
Have a look at our album below to help you come up with your own duck deck design.
As we've said, this project is really simple, easy, and inexpensive, and anybody who has ducks in their backyard can build it!
So is this going to be your next project?
Materials:
Reclaimed Wood
Plastic Water Trough
Plastic Spigot with Nut / Bathtub Plug
Wood Screws
Tools:
Measuring Tape
Saw
Cordless Drill
Sander
Click on any image to start the lightbox display. Use your Esc key to close the lightbox.

Thanks to mcraghead for this great project. You can get step-by-step instructions here…
Here's a quick video…