A greenhouse made from straw bales? It's certainly interesting but many would be doubtful about this idea.
Yes, it's affordable (even money-saving for some), environment friendly and provides good insulation. But is it strong enough?
The good news is a straw bale greenhouse is just like any other construction project – it could either be a disaster or the best greenhouse you'll ever have. It all depends on how you build it and how intense the weather conditions can be in your area!
But there are large straw bale greenhouse constructions that prove this build is one great option you can consider. With enough research, proper design, and quality build, a straw bale greenhouse should work just as well as the more common greenhouses that people DIY.
The example that you see above is a nice start, BUT it's an unfinished project.
Here are a few general points to keep in mind when building a straw bale greenhouse:
Make sure to protect the straw bales from the weather by plastering them. Leaving them exposed will cause them to eventually rot, which you obviously do not want. There are many sources for a plaster recipe out there. You can also find one that includes cement to make your straw bale walls more water-resistant.
Do not forget to include operable windows in your greenhouse design. Having them will allow you to release excess moisture that builds up. This will help protect the straw bale walls in the long term.
Our Pick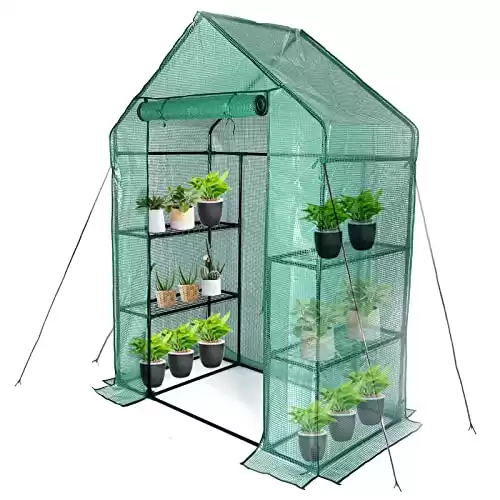 Mini Walk in Greenhouse with PE Cover, 3 Tiers 4 Shelves
The portable greenhouse is designed to protect your plants and seeding against rough weather conditions like rain, wind, and snow. It can create the best environment for your plants to grow healthily and is helpful to extend your growing season!
Buy on Amazon
We earn a commission if you make a purchase, at no additional cost to you.
12/01/2022 05:39 am GMT
Last but not the least, use polycarbonate greenhouse sheets if possible – for your ceiling and non-straw bale walls. Polycarbonate sheets are a strong, double-wall, lightweight material that provides great light transmission but filters out harmful rays at the same time. It's a perfect complement to your relatively light straw bale walls as well as great for your plants!
Now as mentioned earlier, building a good straw bale greenhouse will depend on many factors – space, location, budget, available materials, weather… If you do not have much building experience, make sure to ask professionals or more knowledgeable friends for help in design and construction. :)
You'll need these materials:
PVC
Timber
Clear Corrugated Roofing Panels
Straw Bale
And these tools:
Cordless Drill
Measuring Tape
Spirit Level
Shovel
Hammer
Table Saw
Click on any image to start the lightbox display. Use your Esc key to close the lightbox.

You can get step-by-step instructions from Tracey Allen over at Simplify & Save…