Trees add beauty to your landscape, increase property value, and provide shade from the hot summer sun. But dead trees can be an eyesore and need to be removed immediately. They are tripping hazards that are likely to attract pests.
But why go through the grueling task of removing a dead tree stump when you can turn it into a cute garden decor?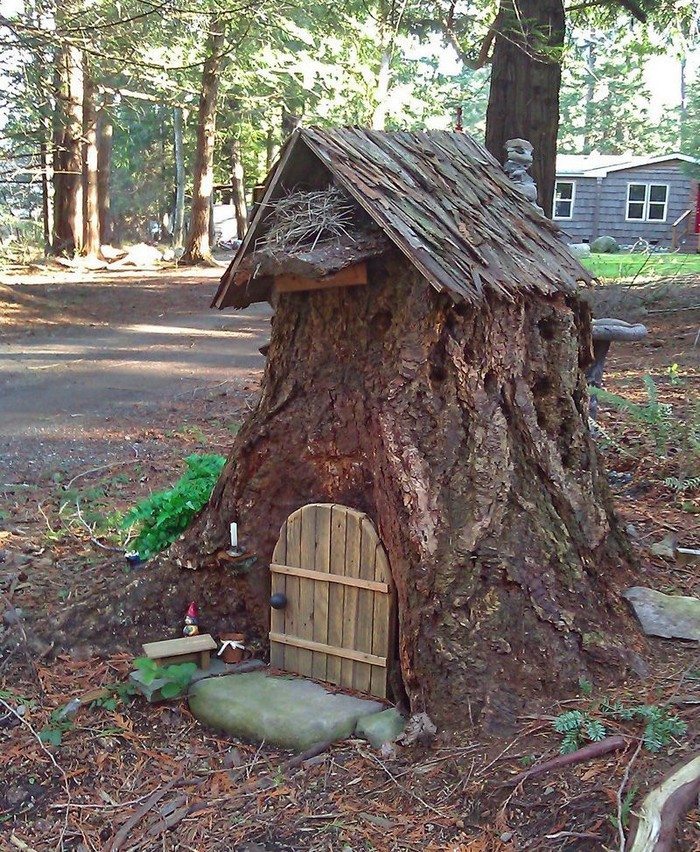 Mimi, the owner of the gnome tree stump house you see above, thought she could do something creative with the dead tree stump instead of having her husband cut it. The tree stump was located near the street, and so the first thing that popped into her head was to build a house – a gnome tree stump house!
It is indeed a great idea. Instead of letting the tree stump become an unpleasant sight in their property, they turned it into a cute fairy house that even the passers-by liked it!
Below is a video that shows how they did it. And although they bought new materials for their project, it should not stop you from making used of scraps that you may have in storage. If you have old toys stashed somewhere, you can also use them in decorating your gnome tree stump house!
Do you have an unsightly stump in your yard that you can turn into a tree stump fairy house? Find out how to turn it into one in the tutorial below. But first, click through our gallery for some inspiration…
Materials:
Plywood
Edge V-Groove Cedar Planking
Scrap Wood
Paint (of your choice)
Weatherstrip Nails
Liquid Nails
Aluminum Right Angle
Miniature Decor Items
Tools:
Click on any image to start lightbox display. Use your Esc key to close the lightbox.

Thanks to Mimi for this great project. You can watch the step-by-step tutorial here: