We all dream of a spacious kitchen with sky-high ceilings and spacious counters.  The fact is, most of us have to make do with a cramped kitchen with little counter space. But it doesn't have to be so bad! 
Kitchen island carts are a great solution for homeowners who need extra counter space but don't have enough room or the budget to build an additional standard kitchen counter.
Here's a great idea that will turn an old dresser into a kitchen island cart that will cost you next to nothing!
Our Pick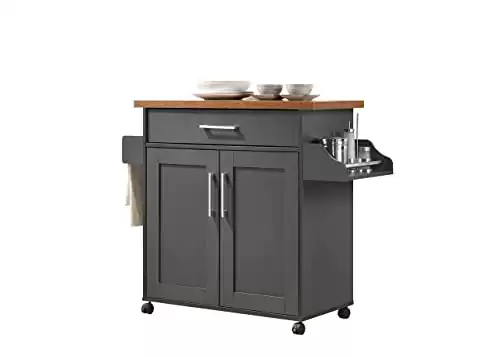 Instead of buying a hundred-dollar kitchen island cart, find an old and ugly dresser and turn it into a rustic kitchen island cart yourself! You can also look for a solid wood top dresser at thrift stores to keep expenses low.
It's easy to do since it only needs a few modifications – provide open shelves if you want, attach the solid wood top, and casters and give it a new finish. And that's it – you have a new but inexpensive and unique kitchen island cart!
If you're unsure how to modify drawers to have open shelving, this project from cfreeman8 is a good guide to follow.
Could you use an additional counter space in the kitchen?
Click on any image to start the lightbox display. Use your Esc key to close the lightbox. ?
Materials:
Old Dresser
Solid Wood Counter Top
Extra/Leftover Timber and Boards
Paint Stripper (optional)
Wheel Casters
Drawer Handles
Wood Screws and Nails
Clear Coating
Tools:
Jigsaw
Belt Sander
Nail Gun
Drill
Steps:
Finding the materials: Our neighborhood had bulk trash pickup and people were throwing out furniture left and right. We found this ugly children's dresser that we thought had potential as a base. Once we had secured the base we went looking for a top.
We liked the look of a butcher block counter but didn't really want to spend the money. We found this coffee table with a solid wood top that we thought would do the trick.
Stripping down the finishes: The first thing we had to do was strip the finishes off the existing pieces. The yellow dresser was hideous. I sanded off the top and one side but thought it was taking to long so we went out and got paint stripper. After two strips I decided I kind of liked the distressed look that had remnants of the paint. I also liked the way the yellow played off of the blue on the crate drawers.
For the top I just sanded it down to take the flower detail and varnish off.
Resizing the crates: The crates were not the size I needed to replace the drawers. The two "Net Weight" crates were too tall and the wine crate was too wide and to tall. I used a jig saw to trim about an inch off the top.
For the wine crate I popped off one side, cut it down and then used a nail gun to reattach it. I really liked these crates that we had lying around the house and am glad I got to use them for this rustic kitchen island, I think they really elevate the piece.
Re-configuring the insides and adding shelves: I disassembled the inside of the dresser in order to reconfigure it for my needs. I reused the two pieces from the top drawers and created a third from scrap wood around the garage.
Using leftover boards from another project we made planking for open shelving.
Adding strength and a place to put casters: We added these two corner pieces to the bottom in order to strengthen the piece as a whole and to have a place to put our casters. We were going to use two by fours but had this piece left over from another project and figured it would work better. We capped it on the back with a piece of poplar and also added a small strip to act as a stopping mechanism for the drawers.
Finishing: We added the casters, bought them at home depot for about eight dollars a piece. We found some salvaged brass hardware in the garage to put on the drawers. We then screwed the top on and added two coats of clear coat.
I sanded in between with a fine piece of sand paper. We decided not to add polyurethane to the crates because they had some decals on the side that we didn't want to mess up. Hope you all liked the project and are inspired to keep making!
Thanks to cfreeman8 for this great project!