How would you like to have a great-looking above-ground swimming pool in your own yard this summer? As with all things, the quality of the swimming pool that you can have depends on your budget. If you simply want to escape the summer heat, you can make this DIY cheap pallet swimming pool.
But if you want to make it the main feature in your yard, that would require a fortune. Contemplating about having the standard, in-ground swimming pool in your yard? You can read this article to help you decide if it's worth your time and money!
Now if you're looking for a swimming pool that offers the best of both worlds, this idea is for you – build yourself an above-ground pool with a deck using the cheapest materials available!
Our Pick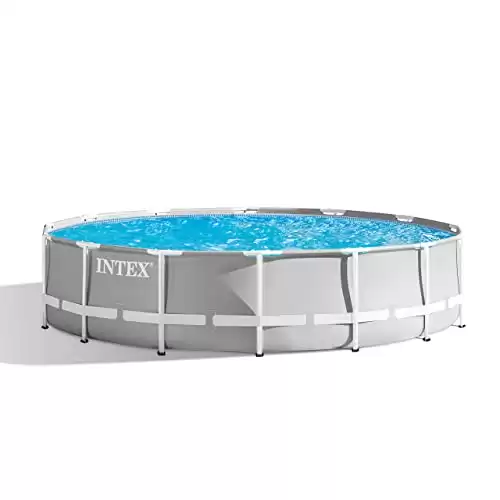 Intex Frame Pool Set, Light Grey
Your purchase includes One Intex Round Prism Frame Pool Set | 110-120V Krystal Clear cartridge filter pump, one pool ladder, ground cloth & pool cover.
Buy on Amazon
We earn a commission if you make a purchase, at no additional cost to you.
12/01/2022 01:24 am GMT
Above-ground swimming pools require less time, effort, and money than an in-ground type. You also have the option to 'remove' the pool anytime you want or need to. There are lots of ways and materials you can use for an above-ground swimming pool such as shipping containers or hay bales. But for this project, getting a frame pool set is your best option.
Now you would need a deck to make it a beautiful feature in your property and the best way to keep your expenses low is to use pallets or reclaimed timber. Sure, it would require a lot of work, but it's still definitely easier than building a standard pool!
It may not be an under-a-hundred-dollar project but if you're going to choose from the variety of options you have for a swimming pool, this would be the cheapest but the most beautiful choice!
Need some inspiration? Check our gallery of swimming pools with decks below!
You can also learn more about how you can build it by heading over to the step-by-step tutorial in the link below.
Materials:
2×4 Timber
2×6 Timber
Lots of Pallets
Lag Bolts
2 1/2-inch Screws
Concrete
Tools:
Pallet Breaker
Measuring Tape
Circular Saw
Cordless Drill
Shovel
Spirit Level
Click on any image to start the lightbox display. Use your Esc key to close the lightbox. ?
Thanks to 101 Pallets for this great project. You can get step-by-step instructions here…