Want to give your little kids a unique bed? Here's a DIY project you can do that they might just like!
Build your kids a cute little cabin bed! This DIY bed, though requiring a number of woodworking tools, is a simple structure anyone can definitely create. It is installed using metal threaded inserts for easy disassembly in the future.
Our Pick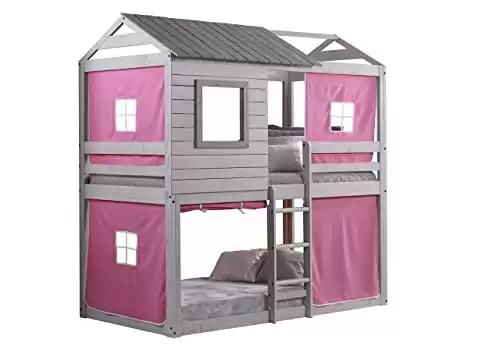 Bunk Loft Bed - Light Grey
This bed also has a mattress-ready slat system, eliminating the need for a Bunkie board.
Buy on Amazon
We earn a commission if you make a purchase, at no additional cost to you.
12/01/2022 07:04 am GMT
What about changing the sheets on this bed, you say? The nice thing about this design is that its three sides are open. This makes it possible for parents to fix the bed sheet from the outside. But if you want to make it even easier, you can adjust the dimensions of the bed so that it is just slightly bigger than your mattress. This should give you some space for putting clean sheets!
Another solution you can do is to make the front panels openable by installing hinges. It would require a little bit of tweaking from the original plans/drawing, but we're confident you can do it. :)
Think the kids would love to have a cabin bed? Get your inspiration from our album of DIY cabin beds below and head over to the step-by-step tutorial to build one!
Materials:
1 sheet – 8′ long 3/4″ Plywood
17 pcs – 8′ long 2×4 Timber
6 pcs – 8′ long 2×2 Timber
2 pcs – 8′ long 1×2 Timber
1 pc – 4′ long 1×3 Timber
6 pcs – 10′ long 1×6 Timber
3/4″ Self-tapping Screws
1/4″ Finish Nails (or Screws)
2″ Screws
1 1/4″ Pocket Hole Screws
2 1/2″ Pocket Hole Screws
Wood Glue
Wood Filler
Tools:
Measuring Tape
Speed Square
Pencil
Kreg Jig
Cordless Drill
Jigsaw
Miter Saw
Table Saw
Brad Nailer
Sander
Safety Glasses and Ear Protection
Click on any image to start the lightbox display. Use your Esc key to close the lightbox.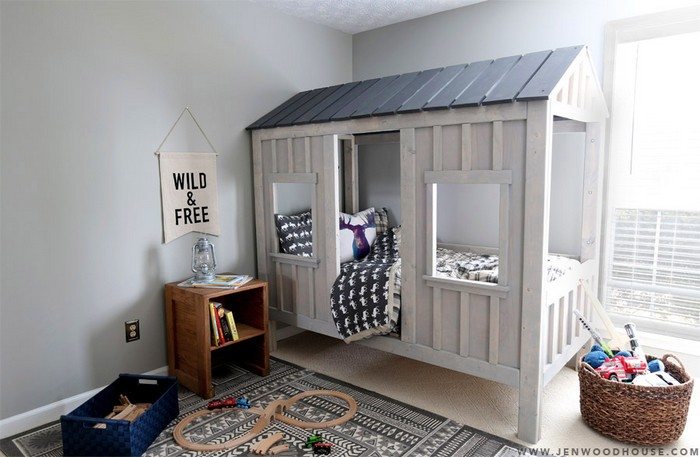 Thanks to Jen Woodhouse for this great project. You can get step-by-step instructions here…