Kids love teepees! Whether it be to play inside or outside, they are great in so many ways. A teepee not only provides your kids with a cozy place to play and hide, but you can also join them there and read a story!
Have your kids been asking you for a teepee tent? Look at buying one in stores and the price can be quite expensive – considering kids will outgrow the tent in no time! Of course, you can build one yourself but not everyone is enthusiastic about the sewing part in making a typical teepee tent…
Our Pick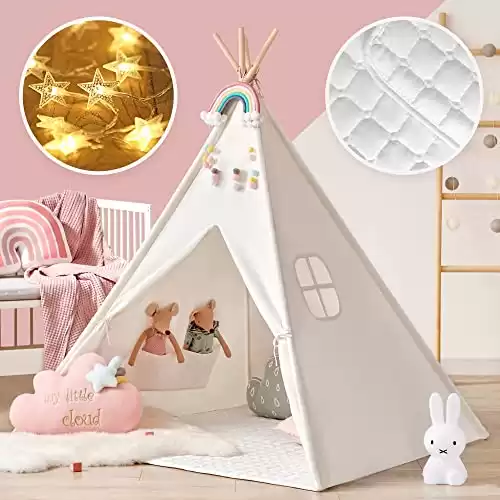 So here's the easiest way to build one… a no-sew teepee tent! And the bonus is, you can make it as large as you want without having to spend largely as well. :)
The beautiful teepee tent featured here is big enough to accommodate three kids at once. Kids can bond and play little games on it. But it's also a nice place to read (even for the adults)!
View our album of teepee tents for more inspiration. And to learn how to make a no-sew teepee tent, you can head over to a step-by-step tutorial linked below!
Is this going to be your next project for the kids?
You'll need these materials:
1 x 2 x 8' Timber
Jute Rope
Lots of different Fabrics (scrap or old ones)
1-2 Drop Cloths
And these tools:
Measuring Tape
Cordless Drill
Hot Glue Gun
Scissors
Click on any image to start lightbox display. Use your Esc key to close the lightbox.

You can get step-by-step instructions from The Handmade Home over here…