Nothing beats fresh, healthy food every day at the dining table. Store-bought vegetables simply can't match the flavor of homegrown produce. Vine-ripened tomatoes have a fuller flavor. Homegrown squash is without scratches. Leaf lettuce is perfectly crisp. Basil is fresh and aromatic. The list goes on.
Aside from making sure the whole family is well-nourished and eating good quality food, it's also a great way to lower grocery expenses.
Our Pick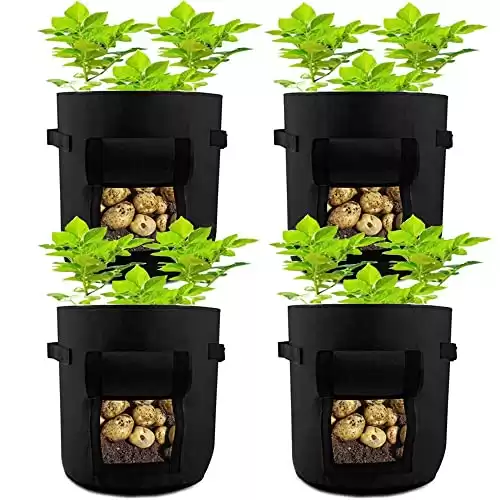 Nonwoven Fabric Potato Grow Bags with Flap (7 Gallon 4 pcs Black)
The potatoes grow bags has designed a visualization Velcro window that can be opened and closed, through which you not only can check whether your plant is mature and you can easily harvest plants through the window without having to dig in soil.
Buy on Amazon
We earn a commission if you make a purchase, at no additional cost to you.
Potatoes, though not expensive in the market, are one of the easiest staples you can grow since it only requires a small area in your backyard. By building a spud box, you can have a good amount of potatoes in just four square feet!
This kind of potato planter is loved for the efficiency it offers. You simply add one level of wood boards and soil from time to time as your plant grows. Its design pushes the potatoes to grow upward, making more areas available for producing more spuds! And when it's time to harvest, you just have to remove the bottom boards to gain access to the bottom soil. It's a no-dig, space-saving vertical garden!
Many gardeners really love this kind of planter for growing their own potatoes. And because of this a few versions have been designed and built to make it easier to harvest potatoes and reattach the wood boards.
Have a look at these slightly different versions by viewing our album below. We hope this inspires you to grow your own potatoes knowing how easy it is to do with a spud box!
If you want complete instructions (from building the spud box up to harvesting the potatoes) you can get the link to a full tutorial below! :)
Materials:
6 pcs 2″x6″x8′ Untreated Wood Boards
2 pcs 2″x2″x6′ Wood Studs (or 1 pc 12′ long Stud)
1 box 2 1/2″ long Deck Screws
Potting Soil
Compost
Finely-chopped Mulch
Tools:
Drill
Table/Circular Saw
Trowel/Shovel
Click on any image to start the lightbox display. Use your Esc key to close the lightbox.
Thanks to Greg Holdsworth for this great project. You can get step-by-step instructions here…
Grow your own root vegetables at home with these Root Vegetable Grow Bags!