Want to have a small greenhouse in your yard to grow some veggies? Then use plastic bottles to build one! Not only are you keeping construction expenses to a minimum, but you are also helping save the environment.
To build a large-sized greenhouse, you'll need around 1,500 pieces of 2-liter plastic bottles. Can you imagine how much waste you're already keeping away from nature with just a single greenhouse project? It surely is a great recycling idea for plastic bottles!
Our Pick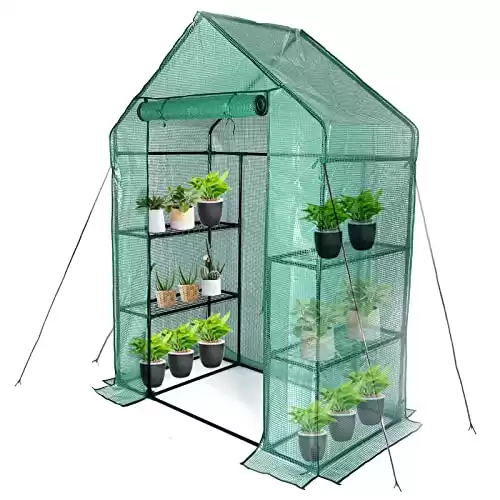 Mini Walk in Greenhouse with PE Cover, 3 Tiers 4 Shelves
The portable greenhouse is designed to protect your plants and seeding against rough weather conditions like rain, wind, and snow. It can create the best environment for your plants to grow healthily and is helpful to extend your growing season!
Buy on Amazon
We earn a commission if you make a purchase, at no additional cost to you.
12/01/2022 05:39 am GMT
Now it might not look like a very strong and effective structure to some, but many DIY-ers have already built their own plastic bottle greenhouse. And still, this project is continually being shared by different people and organizations in their community. Now that's a good sign that this idea definitely works in many places around the world!
If you think this greenhouse idea is perfect for you, then it's time to collect all those plastic bottles that you will need.
What you'll need to build your own plastic bottle greenhouse…
You'll need these materials:
1,500 Plastic Bottles (ideally 2-liter bottles)
4 x 4″ treated Posts
2 x 2″ treated Timber
Garden Canes
Cement Mix
4″ and 3″ Screws
Fencing Staples
Gravel, Slabs, Mulch Matting
Bucket
Soap
Water
Hinges
And these tools:
Measuring Tape
Scissors
Trowel
Hammer
Cordless Drill
Spirit Level
Mitre Block
Spade
Pinch Bar
Step Ladder
Click on any image to start the lightbox display. Use your Esc key to close the lightbox.

You can get step-by-step instructions from REAP over here…