Need a weekend getaway but on a tight budget? Why not build your own cabin!
Getting a contractor to build you a cabin can be very expensive. But by building it yourself, you can significantly cut down costs. Construction might take some time, but worth it for the free vacations it can give you!
This cabin was made by Jim from New York with the help of his dad. It's a simple structure which provides good insulation and soundproofing. Perfect for when you want some time to yourself and simply relax without having to spend a lot of money.
Click on any image to start lightbox display. Use your Esc key to close the lightbox. ?
Materials:
Rafter Board
Facia Boards
Soffit Boards
Reclaimed Lumber
Metal Roofing
Metal Batten Strips
Pencil/Marker
Quick Square
3×3/8 inch Lag Bolts
Nails
Tools/Equipment:
Hole Digger
Mitre Saw
Table Saw
Electric Nail Gun
Electric Screw Driver
Steps:
Here is the 12×20 floor plan showing where the 4x4s and the floor joists would be located.
This is my Ford tractor and my neighbors post hole digger he let me borrow.
This photo shows the post planted and the bottom 2×10 Stringers.
This shows the upper 2×10 x 12 and the 2x10x16 upper stringers being nailed in at 7 foot 8 inches.
This picture shows the center rafter board. I measured over 6 foot to the center. The roof is going to be a 5/12 pitch roof so the rafter board had to be 30 inches to the top of the board.
This picture shows using a quick square, put the pivot point at the top of the board, and turn the square till the 5 on the * COMMON TOP CUT*  line graph lines up with the outside of the board and then draw the line to make the angle ..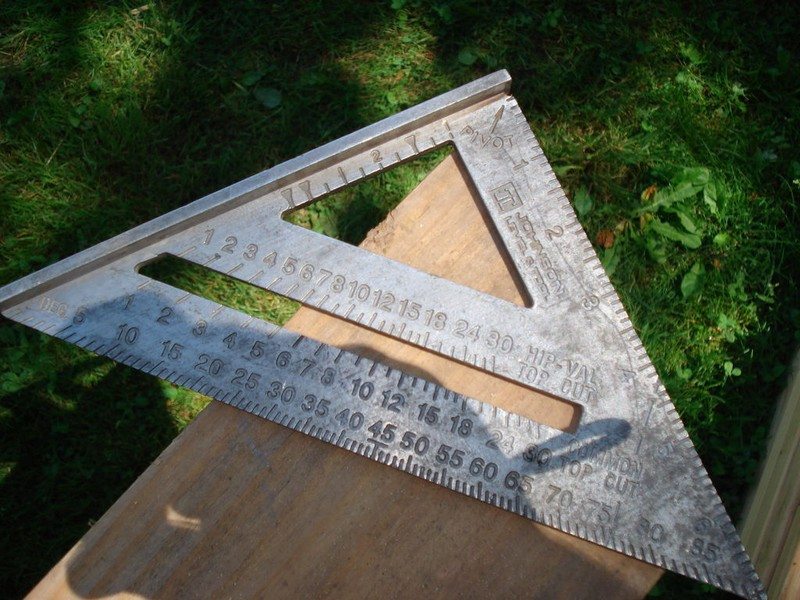 Once you cut your first angle then you have to measure from the tip of your cut down the length of the rafter to get your measurement for the seat cut. Once you have that measurement then you put the pivot point on that mark and turn the square until you get your 5/12 angle again then measure up that angle 2 1/2 inches and draw that line.
Take the edge of the square and lining it up with the 21/2 in line and turn the square until the tip is lined up with the edge of the board. Then draw that line.
Here's the angle seat cut out i just drew.
This shows the rafters being set next .
3rd * pic shows the tails  all cut to 9 inches long  and  shows the steel roofing over hanging the roof by 2 inches  to support the facia boards.
4th and 5th *pics show the roofing installed .
Continued Page 2…