Bibliophile… a lover of books! If that describes you, this has to be the perfect chair (well almost, since there's nowhere to sit your coffee cup)! Indulge yourself by reading for an entire day, sitting on a pile of books! Well, sort of. All you need is a slave (or willing family member) to bring you food and drink as demanded :)
This particular bookshelf chair or biblio-chaise was built by a DIY-er for his wife. We think she's a happy girl after getting this gift!
Though it looks big and wide in the photos, this furniture item actually fits through a standard door opening. In fact, it's about the same size as a regular single seat sofa. But since this chair is also a bookshelf, it's got to be a real winner as great space-saving furniture. Perfect for those running out of shelf space!
What we love even more about this DIY project is that it's easy to build. Read more below to see how DIY-er Darko made his bookshelf chair!
Materials:
2 pcs 4×8′ sheets of 3/4″ Plywood
6 pcs 8′ of 2×1″ Pine Strips
4 pcs 8′ of 2×2″ Pine
2 boxes 1-1/4″ Kreg Pocket Screws
Wood Glue
Tools:
Measuring Tape
Measuring Triangle
Hammer
Marker
Wood Clamps (of various lengths)
Miter Saw
Cordless Drill
Compressor and Nail Gun
Kreg Jig
Click on any image to start lightbox display. Use your Esc key to close the lightbox.

Steps:
I started by creating a base that is cut out of 4×8 sheet of plywood and built sides by using 2 x 2-inch pine. Sides are 29″ tall.
In between 2 x 2's I used 2 x 1-inch pieces of pine.
To secure 2 x 2 and 2 x 1 pieces to plywood platform, I used Gorilla glue and Kreg pocket screws.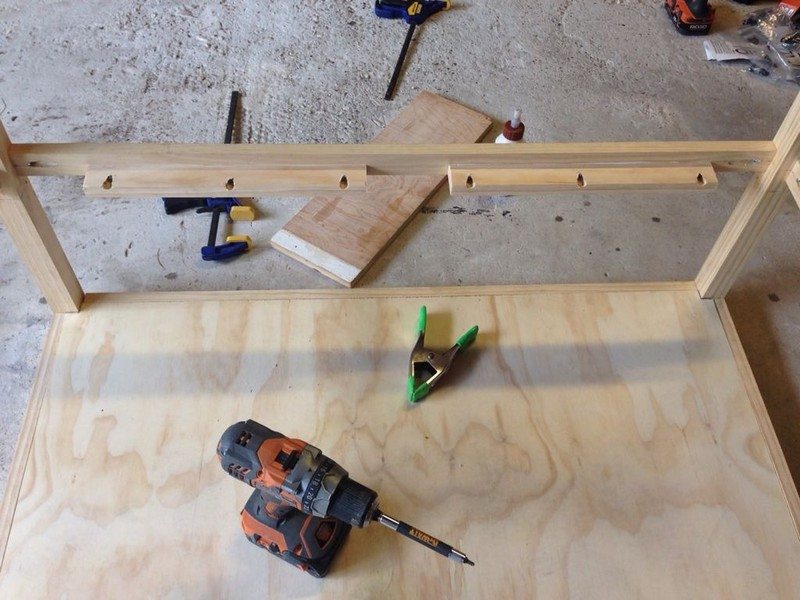 Then I used more 2 x 1-inch pine to create support for a first story piece of plywood and secured it with pocket screws and wood glue.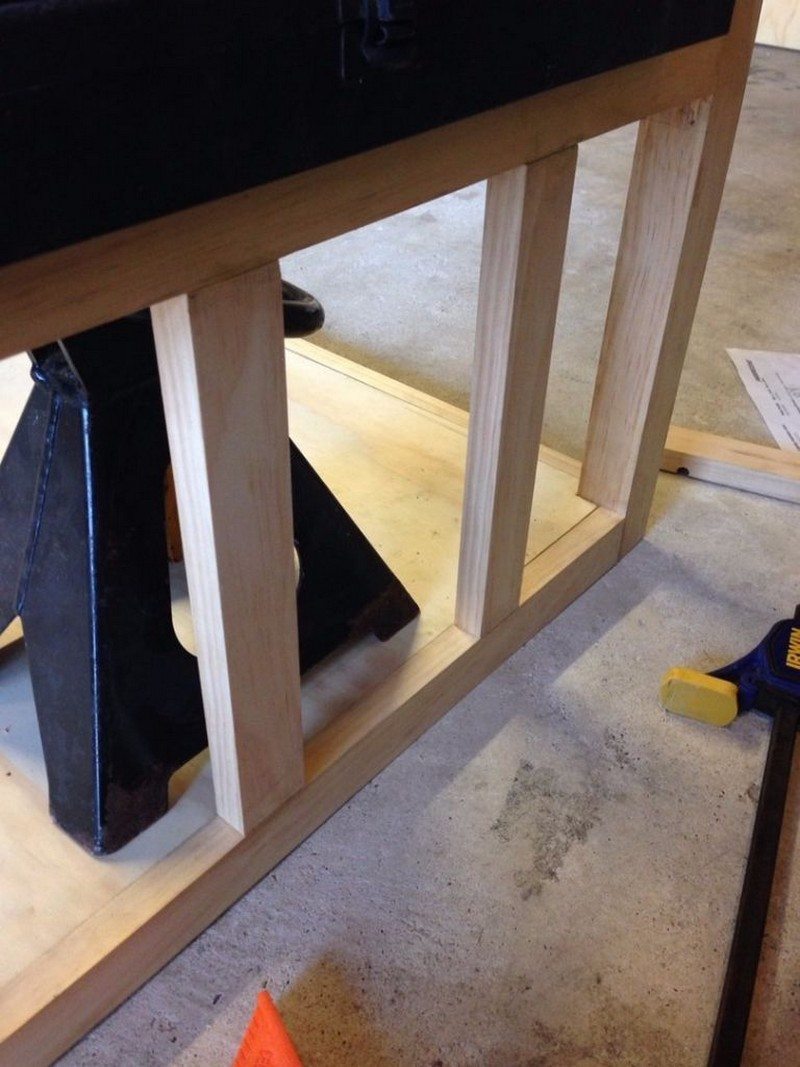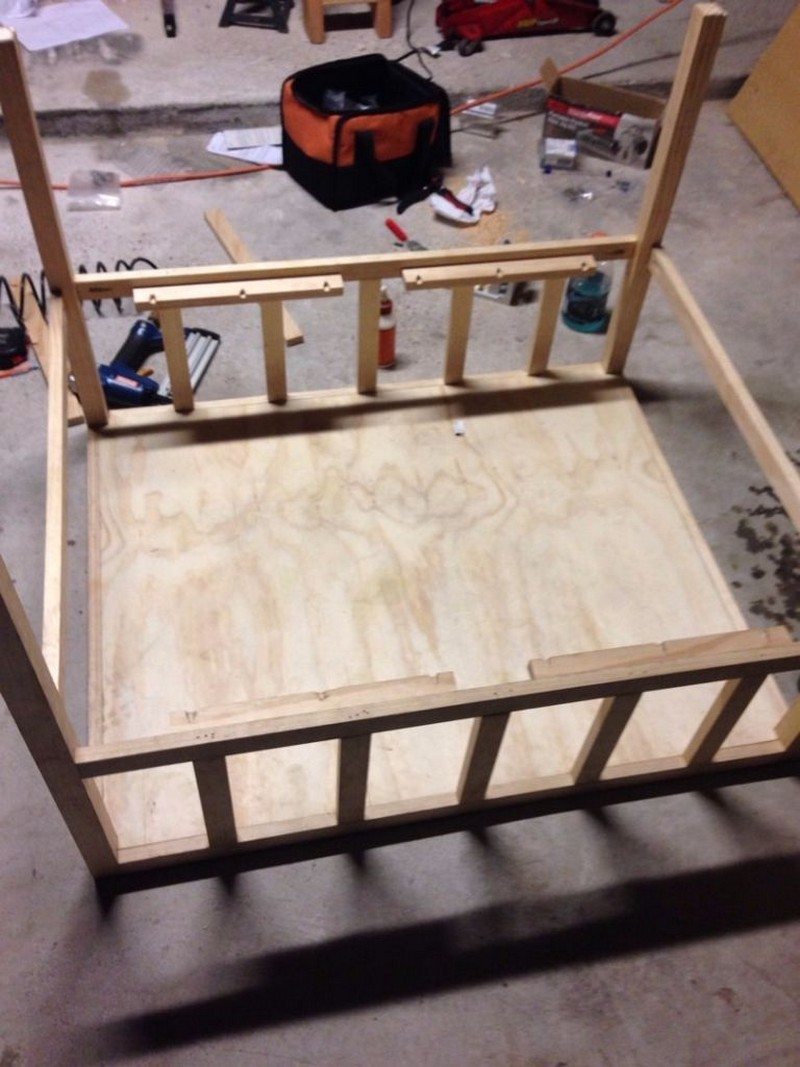 Closeups of completed first level sides.
I did not take any pictures of adding horizontal seating area piece but it is same size square piece of plywood like the base piece and it was glued down only.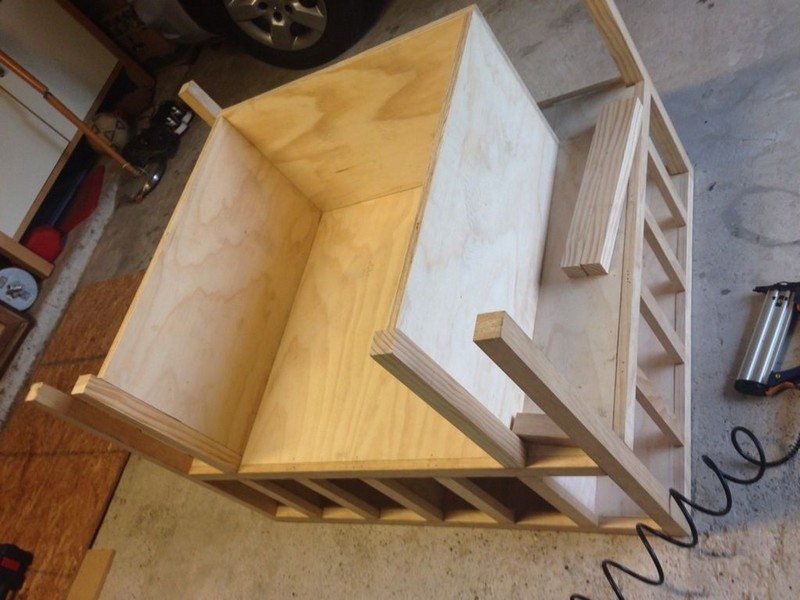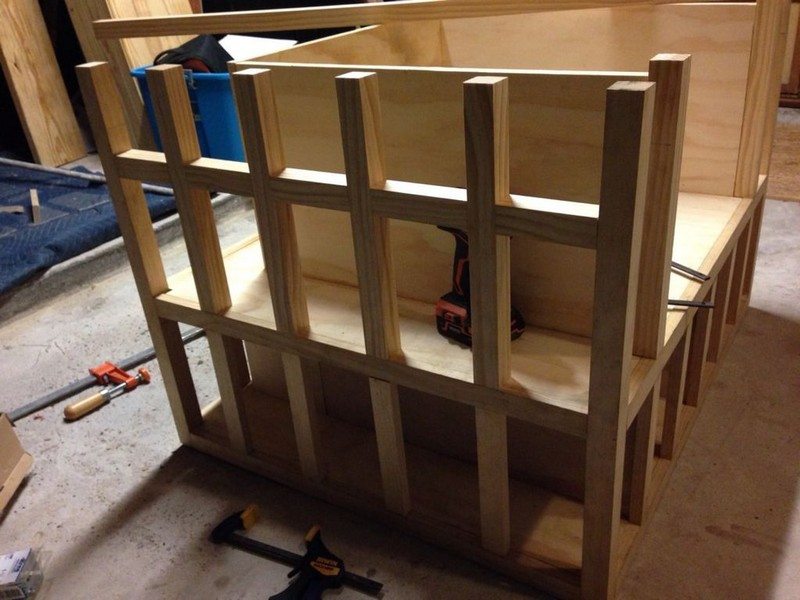 Next I started with upper bookshelf slots with 2 x2 in pines. To secure them I used the same method of Kreg pocket screws and wood glue. The seating area is 28.5″ long and 26″ wide.
Continued Page 2…