Closeup of bookshelf slats and how pocket screws were used to interlock each piece of 2×2 pine to each other.
Top and side view of completed sides.
View of the back as it was built using 2×2.
4. Cut out the plywood to fill in support for all the top three sides of the bookshelf chair. As you see, I used clamps to secure it better to the seating area while wood glue dried.
These are the pictures of the completed unpainted bookshelf chair.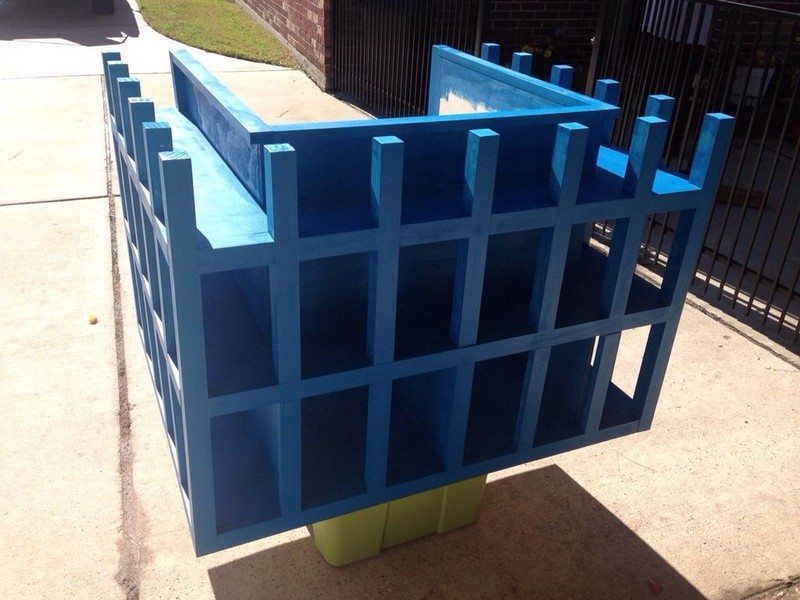 5. Give your bookshelf chair a fresh coat of paint. Consider the existing colour scheme and theme of the room where the bookshelf chair will be placed. Opt for a colour that complements the overall ambience, ensuring seamless integration.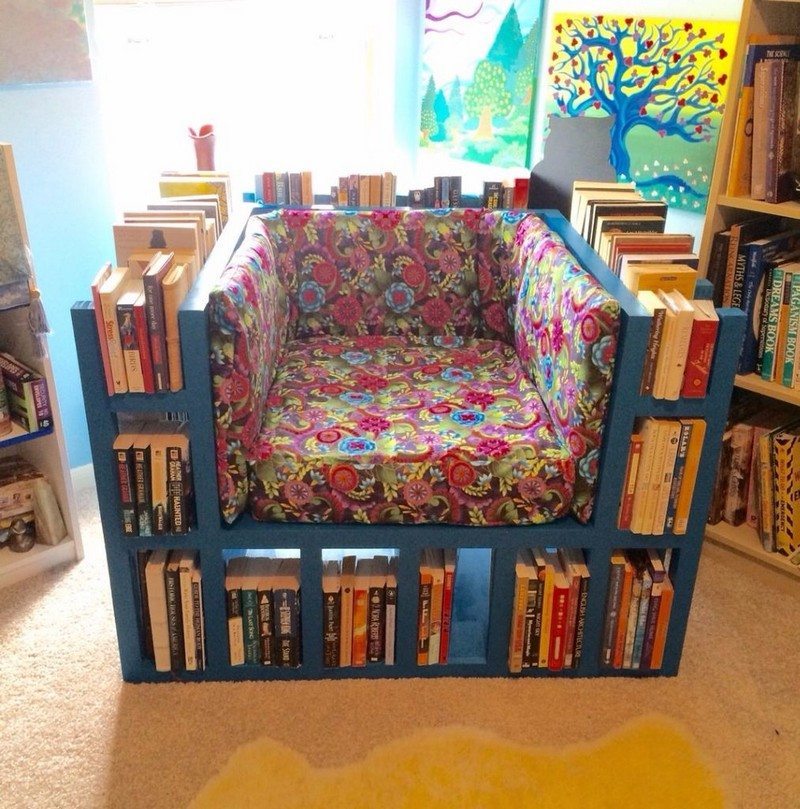 6. Enhance comfort with cushions and more… Now, let the books come forth and indulge in the joy of reading!
Thanks to 
Extra Tips
To guarantee the utmost success of your bookshelf chair project, here are some additional tips:
1. Test the seating. Before fully loading the bookshelf chair with books, sit on it and test the seating area's sturdiness and comfort. This hands-on evaluation allows you to identify any potential issues and make necessary adjustments to ensure an enjoyable and secure reading experience.
2. Infuse your bookshelf chair with personality by incorporating decals or other decorative elements. Personalize the chair with inspiring quotes, artistic artwork, or delightful decals that celebrate the joy of books and reading.
3. Organize books strategically. When arranging books on the shelves, consider grouping them by genre or size for a more organized and visually appealing display. By thoughtfully organizing your books, create a harmonious and functional system that caters to your reading preferences.
4. Consider ergonomics. If you plan to spend long hours reading on the chair, ensure it provides adequate back support and comfortable seating to avoid strain or discomfort.
5. Maintain the chair. Regularly inspect and clean your bookshelf chair to keep it in excellent condition. Dust the shelves and cushions, and check for any loose screws or parts that may require tightening or replacement.
Remember, building a bookshelf chair is both a creative and practical endeavour. Take your time, enjoy the process, and revel in the satisfaction of creating a beautiful and functional piece that will enrich your reading experience for years to come.
Feeling even more inspired? Take it a step further and explore building a tree shaped bookshelf!
Page-Turner's Haven
Unveil your inner craftsman and start a creative journey to construct a captivating bookshelf chair in just 5 easy steps. Embrace the joy of woodworking as you gather top-notch materials, meticulously assemble the base and bookshelves, and add a comfortable seating area.
With a personalized touch, this unique piece of furniture becomes a cozy sanctuary for book lovers, where literary adventures await and cherished reads to find a home.
Let your passion for DIY flourish and revel in the fulfillment of crafting a bookshelf chair that combines utility and artistic flair. Happy building!