If you're thinking of growing strawberries, then making this easy and expensive planter is the perfect way to start.
The owner always wanted to try recycling pallets and turning them into a planter for growing garden produce. However she found that most examples are poorly executed, and are not aesthetically pleasing.
Although not totally convinced with the idea, she tried it out . The result is this clever strawberry planter made from reclaimed pallets. It's very easy to build. Anyone who's comfortable of using a hammer and a handsaw can build one. It's a great looking planter that won't cost you a fortune.
Materials:
1 Pallet – good condition
1-1/2″ and 3" Screws and Nails
Non-toxic Paint
Straw – to serve as an organic erosion barrier
Wire Mesh/Hardware Cloth
Fabric
Tools:
Tape Measure
Jigsaw
Drill
Chisel
Paint Brush
Hammer
Click on any image to start lightbox display. Use your Esc key to close the lightbox.

Steps:
First of all, choosing pallets for DIY projects involves a bit of know-how. You need pallets that are in good condition, without rot, and which have not been treated with chemical insecticides. Most people are probably not aware of this but pallets that cross international borders must be either heat treated or sprayed to stop the spread of foreign pests. Whether you think this is a good idea or not, you certainly do not want pesticide-soaked furniture or objects in your garden let alone your home. Not only can it kill off insects that eat your crops but it can indiscriminately kill all the beneficial insects too. There's also the possibility of your plants absorbing these chemicals into their tissues and into your tasty strawberries!
To help you find the right type of pallet for your project I've put together a diagram of what to look for when you spot one. By international law, a pallet must be stamped twice with certain information which includes whether it's been sprayed. Keep clear of any pallets that have been printed with the letters MB.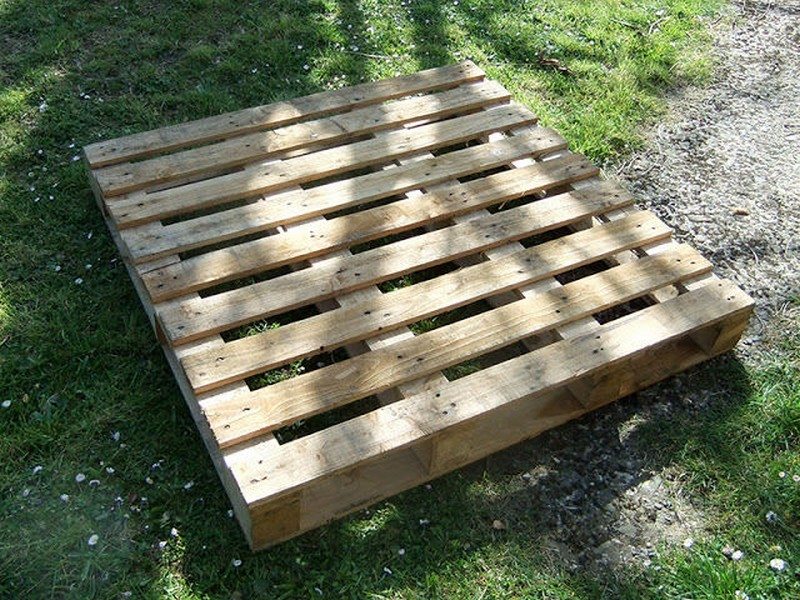 For this project you will also need to look for a pallet that has six or nine planks making up its main surface. The reason for this is that the first major step will be in slicing the pallet up into three equal sized pieces (both six and nine are divisable by three). If there's such a thing as a pallet with twelve planks then all the better because that means you can build an even larger planter.
The easiest way to do this is to cut lay the pallet so that the long planks are in parallel with your own position. If your pallet has nine planks, like mine did, then count over three planks and then saw the wood between the third and fourth planks. Saw right in the middle, to keep things easy and to ensure that all of your proportions remain correct. Continue another three planks and cut again. Remember that you'll have to saw in the exact places on both the front and back of the pallet.
You'll have three pieces of pallet now, all of the same height and width. Two of the pallets will be formed from the top and bottom and will have chunky blocks securely fixed to them between one of three planks on the front side and the single one left on on the other. You'll want to trim off the excess wood jutting up from each one of these wooden blocks. Please refer to images for step one and two. Though I chose not to do it in this project, you could also remove that single plank on the back side. If you do this then you could have a deeper planter – it's up to you.
Continued Page 2…