If you love wine and repurposing, we have just the idea for you! Not only is this project beautifully rustic, but it's also a clever way to incorporate salvaged wood with a story.
Why not turn an ordinary wine barrel into both a functional and decorative outdoor sink?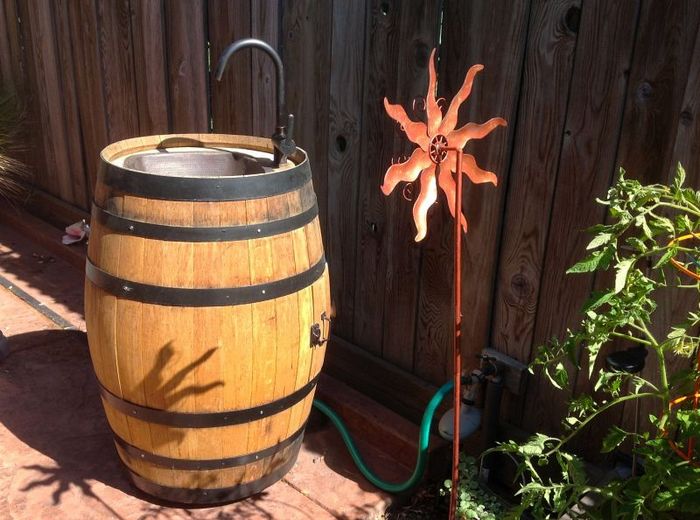 Wine, whiskey, and brandy are stored in oak barrels to both age the contents and to add flavors that are absorbed from the oak staves. After a period of use, the surface has given all the tannins and flavinoids it can, and the staves need shaving back to fresh wood.
But stave shaving can only be done a couple of times before the barrels have given all there is to give. That's the time you see them offered for sale. Amazon is a good place to find used wine barrels.
Granted that you already have used wine barrels, you can now start the conversion. You can use a variety of sinks and fittings that suit your budget and the look you desire.
Click on any image to start lightbox display. Use your Esc key to close the lightbox. 8-)
Materials:
One 55 gallon oak barrel
Bar sink (mine is a 15″ hand-pounded copper sink)
Faucet (I used an oil-rubbed brass single lever faucet)
Copper roofing nails (If using a copper sink)
Silicon sealer (my sink came with bronze-colored silicon)
Sink drain (my sink came with a drain)
Metal support straps to hold the door wood together
Door hardware (hinges, handle and latch)
Water in connectors (this will vary on your water source)
Plastic drain extender
Connectors to go from drain extender to sump pump connector
Hose drain (I used a sump pump tubing)
ABS glue if using the plastic drain to sump pump hose as in Instructable
#8 3/4″ stainless screws to secure the wood staves to the metal rings
000 steel wool to sand the metal rings for painting
Metal paint primer (for barrel rings)
Metal paint (for barrel rings)
Painters masking tape
Deck stain/water repellent (for oak staves)
Paint/stain brushes
Tools:
Electric Drill with titanium drill bits for drilling metal rings and sink if necessary
Jigsaw with a fine-toothed blade to cut oak
Miter or other hand saw with a fine-tooth blade
Screwdriver or screw bit for drill
Pliers for shaping the metal rings and hinges to fit wood curvature
Crescent wrench(s) for attaching hose connectors to faucet
Clamps for securing wood while assembling the door
Steps:
Locate a wine barrel:
If you are lucky enough to live in a region with lots of wineries, you should have no problem locating a barrel, sometimes for FREE. Often, around the time of harvest, wineries will have barrels to unload just call a few wineries to see what their policy is for used barrels.
I bought mine for around $40 from a place that makes all kinds of products from barrels but they also sell them whole.
Choose sink and faucet:
This part is really up to you and what you want to use if for and how much you want to spend. You could go the route of using a stainless steel bar sink and just some galvanized pipe and spigot for your faucet or dress it up a bit like I chose to. I picked up both the sink and faucet on eBay. The sink was $160 and the faucet ran about $80.
Before you can cut any of the wood staves, you need to secure them to the metal rings. The way that the barrel is constructed, if you remove a portion of the vertical boards (staves) the pieces above and below the opening will fall out.
I secured this wood by drilling two different holes through the metal ring and underlying wood. I used #8 3/4″ stainless screws. The hole through the metal was just large enough to allow the screw through but I drilled the wood with a smaller bit to just create a pilot hole to prevent the wood from splitting.
I placed a screw above and below each wood stave that was being removed. I did this process for both the door access and the opening to bring in and remove water at the bottom.
For the door portion, I used a miter saw to start cutting the wood and finished the cuts with a jigsaw. I used the hand saw to just cut through to allow the jigsaw in and complete the cut. I started at about the middle of my total length because I had to cut into about three staves before I cut through one completely.
For the opening for the water access and drain, I didn't care about the wood that would be removed, so I just used a drill to make a pilot hole for the jigsaw to make the cuts. I did however want to save the door pieces, so the hand saw gave me a clean finish.
I used the top and bottom of two of the metal rings to create a clean straight line. Determine the size of your door. Remember that the barrel consists of vertical strips of wood that can vary slightly in width. Before you cut, locate the ends of the staves at the beginning and end of your opening.
Continued Page 2…