Many of us have a fascination with yurts. Maybe it comes from all those tales of Genghis Khan we've read! Yurts have a kind of mystical quality in the same way as the tales do. Of course, Genghis Khan  and his direct descendants created one of history's greatest empires. They did it by travelling at extraordinary speed, even by today's standards.  And they took their homes and families with them. Their homes were the more traditional ger which has a flatter roof than the yurt shown here. They could be dismantled and re-erected in an hour!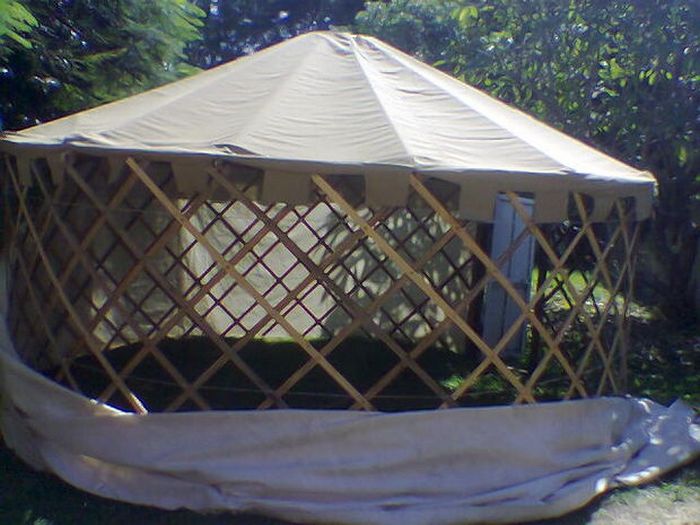 If you're as interested in the opportunities that yurts can provide, from a home office to a totally unique guest room, then this could be the project for you.
Yurts or Gers?
There are two main types of yurts – gers and bentwood yurts. The only difference is their roof. A ger is the older, traditional style of yurt. In fact, "yurt" is a Russian word for what the Mongolian people call ger. The roof of a ger is made of straight poles attached to the circular crown. Gers have a very gently sloping roof.
Bentwood yurts are a later development. Makers of bentwood yurts use steam to bend the roof poles before attaching them to the crown. Bentwood yurts have a steeper roofline and a taller, domed shape.
Click on any image to start lightbox display. Use your Esc key to close the lightbox.
Materials:
70 pieces 2400mm x 6mm x 35mm Pine Timber – for walls
8 pieces 2400mm x 45mm x 35mm Pine Timber – for main roof support
8 pieces 2400mm x 45mm x 16mm Pine Timber – for secondary roof support
Timber – for door frame
Metal
16 meters Proofed Roof Canvas
8 oz Wall Canvas
300 pieces 1-1/2-inch Wall Bolts
Nylon Nuts
Rope
Paint – for marking
Metal Pins – bent 6mm Mild Steel Rod (150mm long with 50mm handle/bend)
Roof Eyelets
Large Calvanised Nails – bent to serve as hooks for tying rope
15mm Rod – for roof hub
3mm Woven Venetian Blind Cord
Tools:
Table Saw
Drill Press
Welder
Electric Drill (with Spade Bits)
Hammer
Sewing Machine
Scissors
Steps:
I used approx 6mmx35mm (1/4″x1&1/2″) cut from 90x35mm pine construction timber.  Using a "thin kerf" saw blade in a standard circular power saw I was able to cut 9 or 10 slats from each 90×35 length, so I cut up 8 lengths into about 80 slats, and this gave me some spares to allow for the more than occasional knot in the timber which weakened the slat and/or caused it to snap.
The structure is quite flexible with such thin slats. It's quite strong enough though, so if you are after a LIGHT and easy to carry wall structure then go for 6mm, a reasonably sized guy (me!) can easily carry my entire wall structure when it's rolled up into one 8′ long 300mm across cylinder.
Length of timber was 8′ because the slats are angled at 45 degrees when setup, giving a wall height of approx 5'6″, which is adequate for anyone 'normal' (if you are 6'6″ tall u might like slightly taller walls).
CALCULATING THE QUANTITY OF SLATS REQUIRED
A number of factors are involved:
1) How many bolt holes (i.e. overlapping slats) you have in each slat.
2) How big you want the finished tent to be, and
3) How many roof supports you want to have.
The number of bolt holes can be between 5 and 10 per slat. I have seen examples of 5, 7, 8 and 10. I used 8 holes, laid out thus:
first hole : 3″(75mm) from one end (the top)
next 7 holes: 1′(300mm) in from the last
leaving : 9″(225mm) between the last hole and the other end (the bottom)
This gives a "grid" when assembled whose sides are 1′ (300mm) in length.
Continued Page 2…