Don't you just love anything that's multi-functional? It's like hitting multiple birds with one proverbial stone. When I buy something, I try to make sure it can be used for several purposes. This way, I know I'm getting my money's worth – bang for the buck, as they say. Plus, I get to save space, too.
Our Pick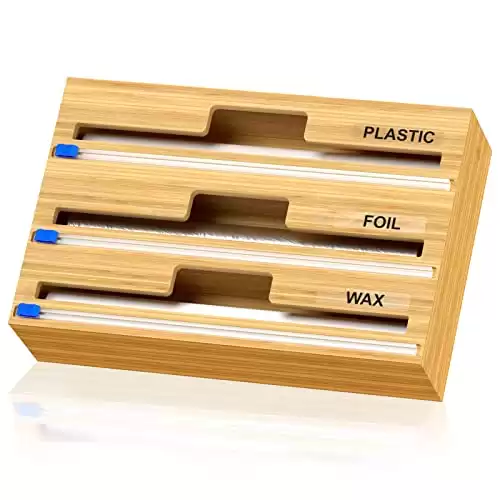 3 in 1 Bamboo Wrap Dispenser
Use the wrap organizer to keep your drawers neat and organized! It is specially designed for your different rolls like plastic wrap, aluminum foil and wax parchment paper.
Buy on Amazon
We earn a commission if you make a purchase, at no additional cost to you.
The same rule applies to my DIY projects. Like this multi kitchen roll holder that I asked my husband to make for me. I love that it can hold several rolls of kitchen supplies – paper towels, aluminum foil, saran wrap, and wax paper.
This project is really good when you're trying to organize things. It's simple, easy to make, and it doesn't cost much. You can make several of these and give them away as presents. You can customize the color and maybe add some other details to personalize.
Materials:
Wood cut to desired size
Wood glue
Screws
Linoleum nails
Dowel pins
Dowels
Decorative knobs
Wood finish
Hacksaw blade
Tools:
Drill with drill bits
Ruler
Pencil
Hammer
Handsaw
Click on any image to start the lightbox display. Use your Esc key to close the lightbox.
Here's a tutorial video to help you build a multi kitchen roll holder.