What kid wouldn't want to have their own playhouse? Now if you're looking for something a bit different for your little ones, why not build them a wooden teepee playhouse!
A wooden teepee tent for kids is lightweight, easy to build, as well as durable. It's perfect for outdoor play in your backyard! It provides great shade and ventilation for the kids during the day, and you won't have to worry about it blowing away when it's windy.
Our Pick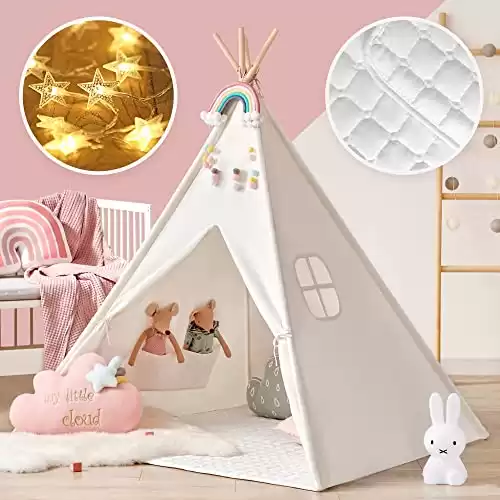 What's also nice about this DIY project is that you can make yours as uniquely as you want them to be. Simply make some minor changes from your inspiration and it will already look very different!
The size of course would depend on the space that you have. But if space is not a concern, then why not build a large one? This way your kids can still use the wooden teepee tent for some other purpose such as a reading nook when they've grown and past the role-playing stage!
Make sure to use cedar timber for this project especially if you are going to build it for the outdoors. Cedar wood is naturally resistant to rot and decay. It's also one of the safest materials you can use for kids projects.
Is this going to be your next project for your little ones?
Materials:
5 pcs 4x4x10 Cedar Fence Posts
4 pcs 2x2x10 Cedar
2 pcs 2x4x10 Cedar
30-40 pcs 6′ Cedar Fence Pickets
1 Stump (20″ circumference)
15 pcs 6″ Hex Screws
2-1/2″ Decking Screws (for base)
1-1/4″ Decking Screws (for siding)
Tools:
Measuring Tape
Miter Saw
Square
Cordless Drill
Click on any image to start lightbox display. Use your Esc key to close the lightbox

Thanks to Killer B. Designs for this great project. You can get step-by-step instructions here…