Before you drag mismatched chairs, old bookshelves, or worn-out sofas to the curb, remember that creative repurposing can give outdated furnishings a second life as useful, even stylish items.
The seating furniture you see here is just one of the many beautiful furniture transformations you can achieve through clever repurposing. 
This nice and simple tutorial will surely inspire you to do this kind of DIY project!
Old dressers make great seating furniture that can be used for different purposes. For instance, you can use this featured old dresser seat as a telephone table or a piece of seating furniture at the foot of your bed. You can also replace its bottom drawers with a shoe rack to use it as a 'boot bench'.
There are many other modifications you can do with this old dresser seat that will suit your needs and wants. The possibilities are endless!
So read this simple but great tutorial to learn how you can turn an old dresser into a piece of seating furniture, and imagine what other purposes this DIY bench can serve.
Don't forget to share your ideas through the comments box below ;)
Click on any image to start the lightbox display. Use your Esc key to close the lightbox. ?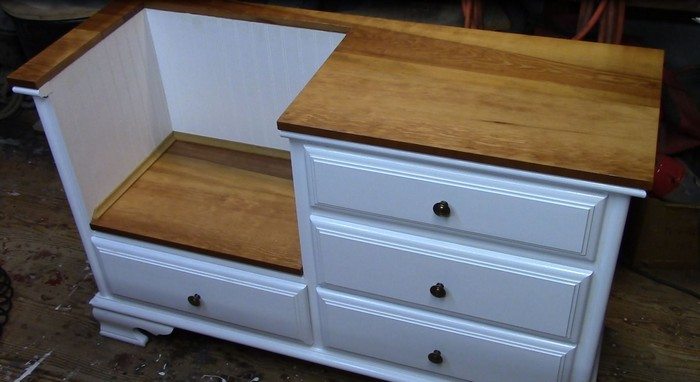 Materials for building seating furniture:
Pine Boards (for the benchtop and seat)
Bead Board
Wood Glue
Molding Wood Trim
Carpenter's Tape
Paint
Wood Stain and Seal
Tools:
Ruler
Screwdriver
Cordless Drill
Cutter
Measuring Tape
Jigsaw
Wood Clamps
Brad Nailer
Steps: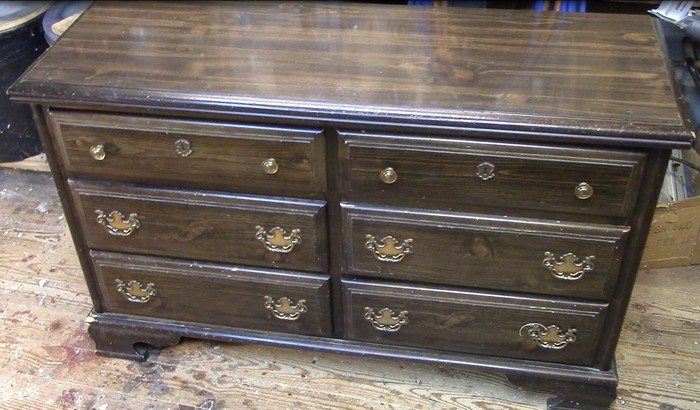 This is what I begin with. It is a youth dresser that my neighbor gave me. His mother wanted me to make it into one of those benches she saw on Pinterest. So here goes…
Reinforcements: Here is where I tore it apart and added all the needed supports for the seat part, and the reinforcements for the top, back, and sides.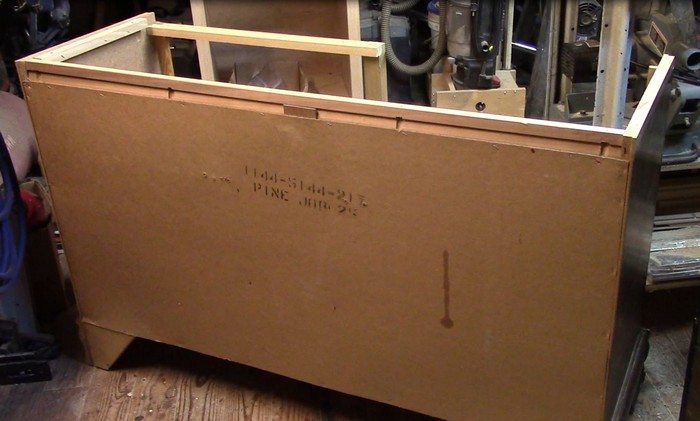 Remove the ugly: I torn the paper backing off to make room for some better-looking beadboard.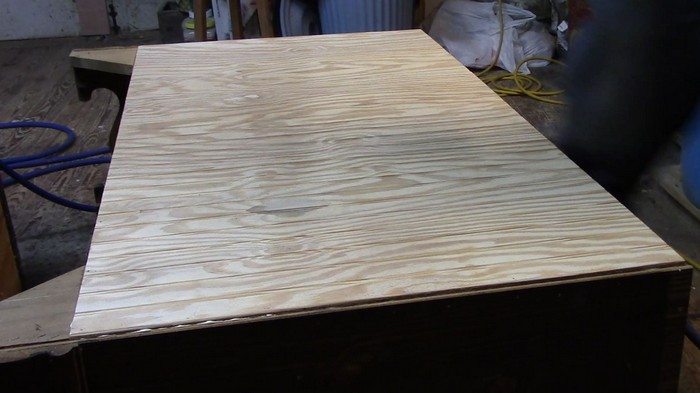 Beadboard: This is the beadboard that covers the back, which will get painted later. The back of this thing will be seen because it is going at the foot of a bed.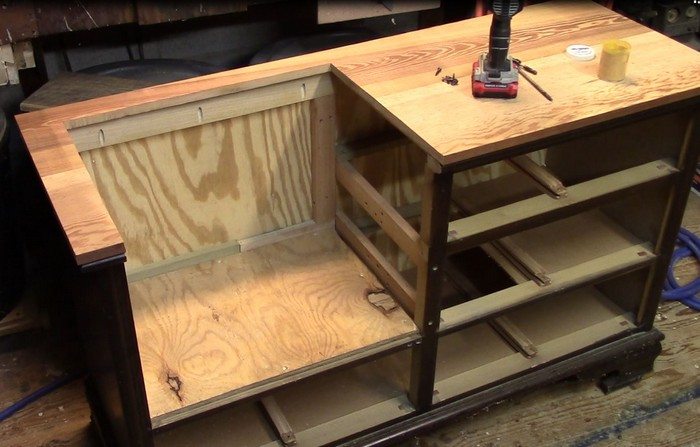 This is a test fitting because I just cut the top to fit the seating area. Also so I could see if I needed to stain the top or leave it natural.
Here I decided that it would look good just with poly on it (well the boss… I mean wife told me to leave it natural) so I taped it off and ready for paint. I got lucky and she let me paint it. Ha!
I almost forgot to show these old pine boards that made the top of the furniture. I found them laying on the rafters of my shop. Best looking pine I've seen in a long time. But hey, they were laying in that shop before I was born!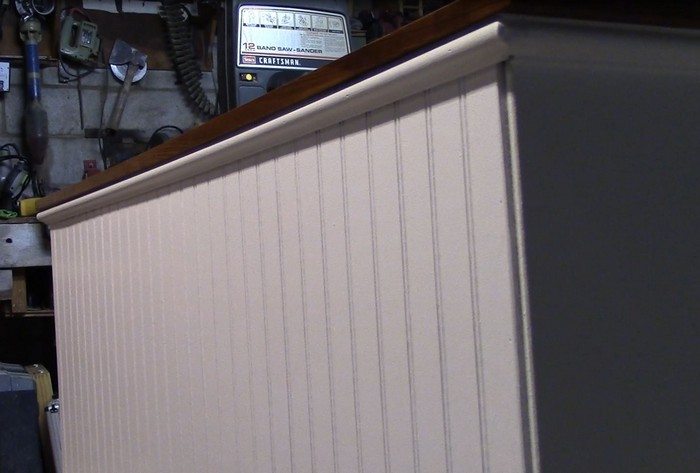 This is the painted beadboard on the back of the furniture and a piece of molding that I made to trim the top.
And this is the finished seat. The drawer pulls are from the drawer that wasn't used and I think they look a lot better than the handles it had.
Hope you liked it!
Thanks to kooler for this great project.