Sitting in your backyard would be so pleasant if you didn't have to stare at your neighbors' garbage cans – or have your neighbor stare at you. The fact is, with growing populations and smaller lot sizes, many of us live closer to each other than we'd prefer.  Fences sometimes do the job but they're not always practical and can cost you more than you'd like to spend.
Our Pick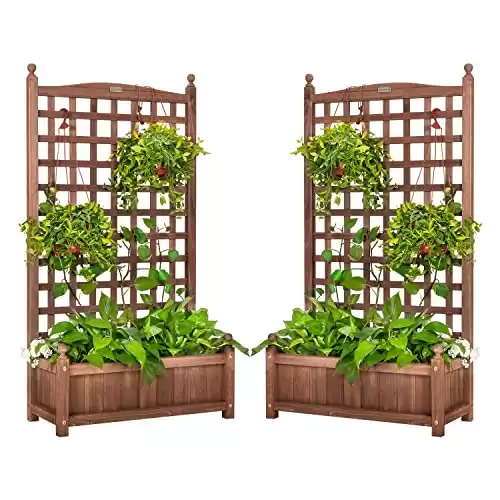 Here's a nice solution that also allows you to grow more plants for your home – a planter with a privacy screen.
This DIY planter with a privacy screen is made with cedar which is easy to work with yet ideal for withstanding outdoor conditions. Wheel casters are also installed so that you can place your privacy screen anywhere and exactly where you need it.
You can put some of the houseplants that are most effective at purifying air, your favorite rose, or use it as a trellis to grow beans or tomatoes! Note that if you build this from treated timber, it is not advisable to grow to produce in it.
Do you need a mobile/temporary privacy screen for your outdoor area?
Materials:
2×4 Pressure-Treated Boards
5/4×6 Pressure-Treated Decking
1×6 Cedar Trim5/4×6 Cedar Decking
1×3 Cedar Trim
1⅝" Stainless-Steel Trim-head Screws
3″-diameter casters
¼ x 1½" Galvanized Hex-Head Machine Bolts (with Washers and Nuts)
⅜ x 4″ Galvanized Carriage Bolts (with Washers and Nuts)
Teak Oil
4 – 50 lbs bag of ¾" Crushed Stone
Landscape Fabric
Tools:
Miter Saw
Jigsaw
Wood Clamps
Drill
Socket Wrench
Combination Square
Click on any image to start the lightbox display. Use your Esc key to close the lightbox.

Thanks to This Old House for this great project. You can get step-by-step instructions here…