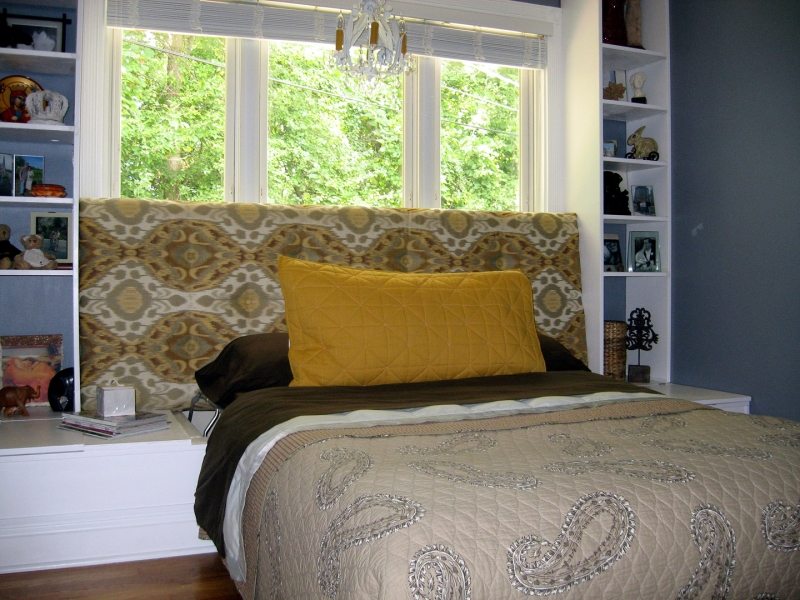 We cannot avoid unexpected events in our lives. These events challenge us and force us to innovate. When we choose to ignore the challenge, we deny ourselves the opportunity to learn, have fun, and be creative!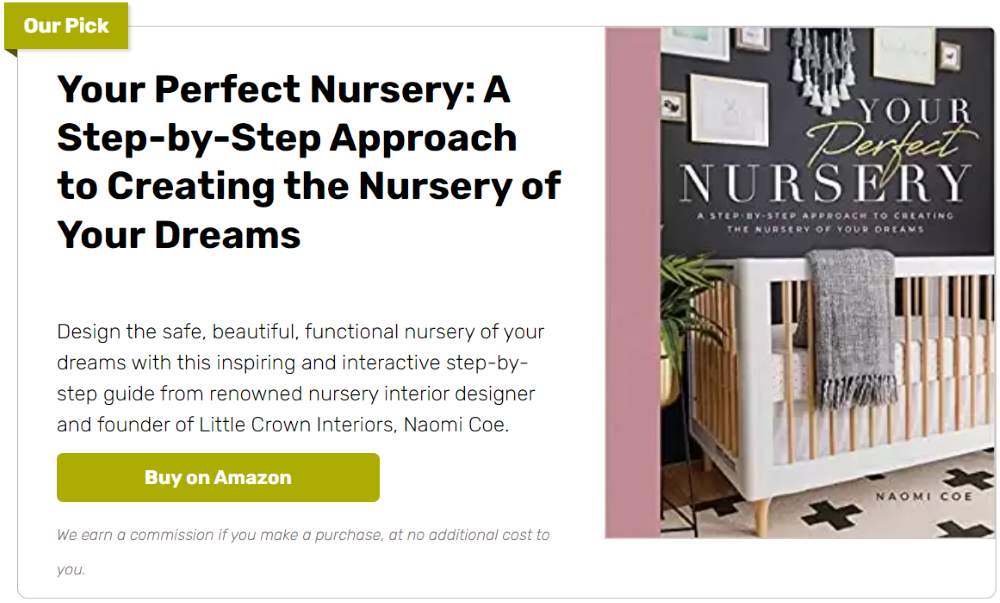 This makeover started almost a year ago and was completed last fall, but I just came around to putting it down in writing. I think it's a DIY story well worth telling!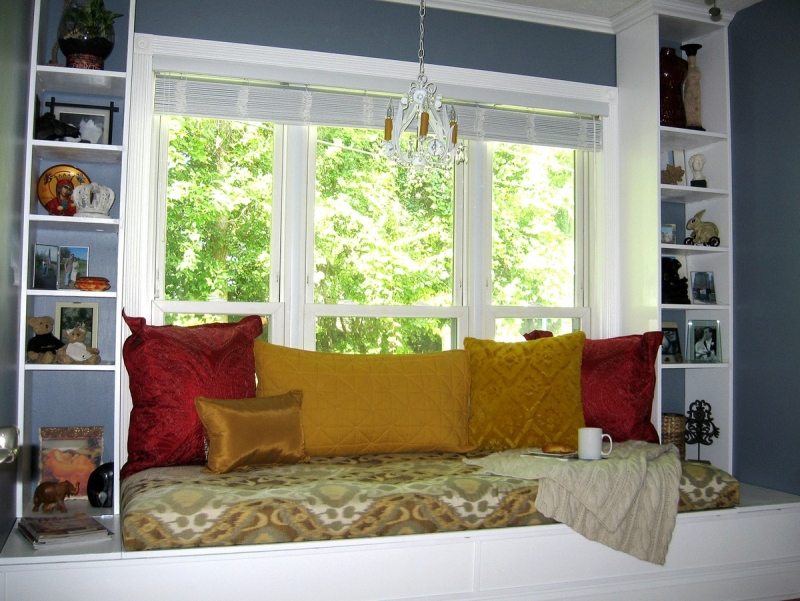 Click on any image to start the lightbox display. Use your Esc key to close the lightbox.

Now everyone needs a 'before' photo… :)
I finally had had enough of the dark office/ 2nd guest room, so we decided to give it a makeover (and by 'we', I mean I decided ;)). I had the brilliant idea to salvage the pullout mechanism from an old sleeper sofa and turn it into a bench, which can be tucked away when not needed, but can become a bed when guests are in town. Ha! How's that for a challenge for my husband?! But he rolled his sleeves and started building. For the next couple of months, the garage was turned into a workroom.
The old pull-out sofa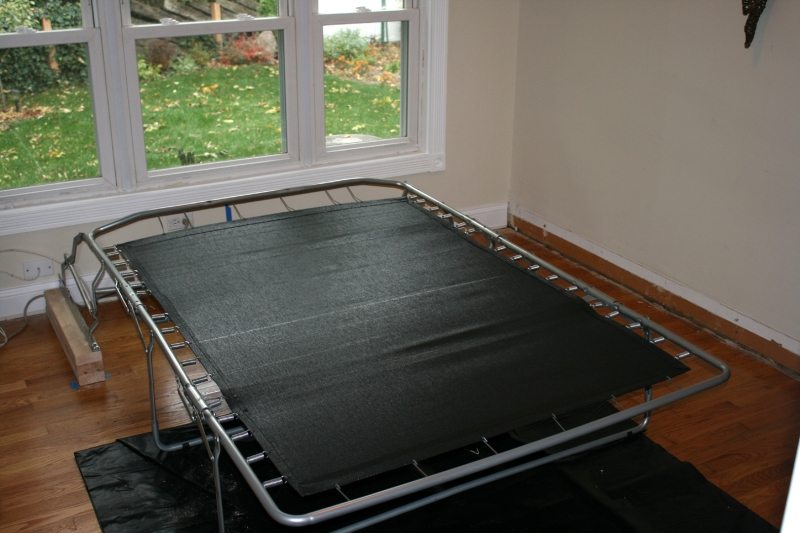 The folding mechanism from the sofa bed
And a materials photo :)
We started by building the bench, a large box that would hold the pull-out mechanism and have extra storage on the sides. Next came the two shelving towers, we built them onsite by framing the picture window. Everything was finished with crown molding and painted crisp white.
I was thrilled my vision was quickly becoming a reality. Seeing the progress, I was inspired to paint and decided on the upholstery for the bench.
My secret to making tufting easy? Pegboard and Dove ice cream bars! Yes, I said ice cream bars :)) I always keep the little wood handles, they make the perfect pegs to wrap the thread around and secure the buttons. And the pegboard, with its many holes, makes it super easy to attach the buttons … full proof every time!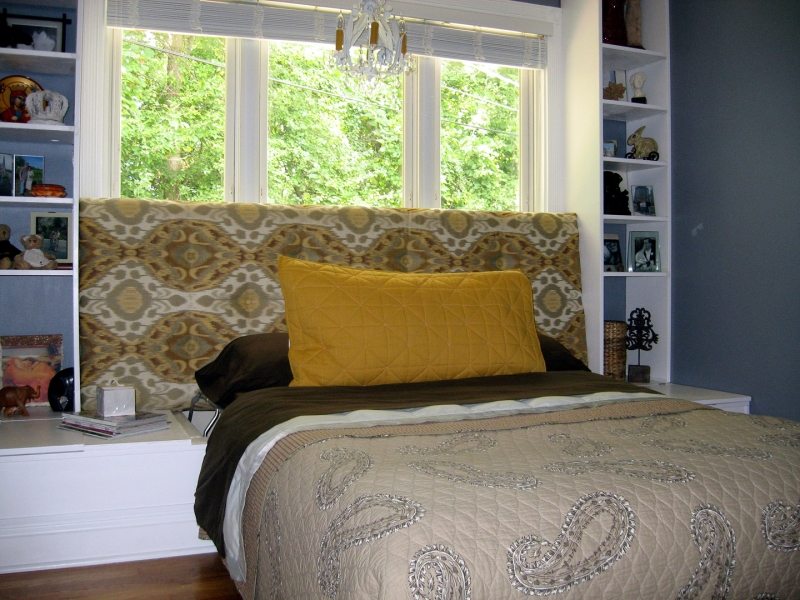 So, we thought we were done … the paint had dried, the picture window had become a cozy reading nook … the pullout bench idea worked like magic …  aaand then, SURPRISE! We found out we were pregnant!!! Ha! How's that for a challenge for me to convert the ongoing project into a nursery?!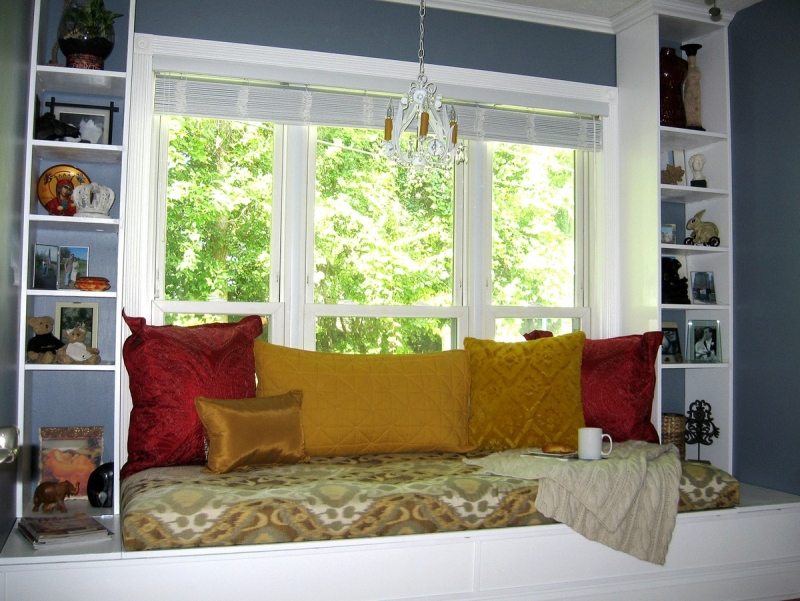 The room remained untouched for a couple of months, mainly due to an overseas trip and the lack of urgency on my end. But the bench/ pullout bed was completed and I could not have been more proud of my husband! And then as I started growing, it became clear that putting this off was not an option. We searched low and high for a narrow dresser for our little girl and when it became inevitable that cute, practical, and fitting our room does not exist, it was time for the daddy-o-to-be to save the day … yet again.
I saw an open-shelve dresser online that looked like a dollhouse, so we created our version with doors (I loved the open look, but it wasn't practical with a Lil one in the room). We simply used any scrap lumber we had left and outfitted it with gold sprayed feet and handles.
Tell me this is not the cutest little girl's dresser you have ever seen?! And it can become a playhouse one day … lucky little peanut!
The rest of the room was girlyfied (yep, I just made a new word ;)) with fuchsia and yellow accents, a princess chandelier, and a branch mobile with hand-stitched birdies.
As I am writing this, Elsa is turning 9 months (oh my, how time flies!). Our sweet little peanut is a happy babbling machine, pulling herself on anything she can get a hold of and trying to walk … by now it feels like there have always been three of us! Those pillows and stuffed animals are no longer neatly staged for a photo op. They spend more time on the floor, acting as wrestling partners for the Lil one, and I wouldn't have it any other way!
I hope this project will inspire you to create your own version, and if you do, I hope you will share your experience!
Sonia :)
Ever since we moved to the Northern suburbs of Chicago 4 years ago and purchased our first home, we have embraced our DIY skills. It is so rewarding to see an idea come to life and to be able to say 'we did it'.
My hubby is a sommelier (a.k.a cork dork, as he calls himself), we love to cook and wine and dine our friends at home. Life is busy with full-time jobs and a happy, full of curiosity and life, Lil 9-month-old girl (and we would not want it any other way!).
I also enjoy making wire jewelry and one day, when we figure out how to balance work and life again, I hope to start making and selling my creations again. Until then, my creativity will be directed to DIY projects throughout the house (I feel bad for my hubby already ;))