Here's a clever project that can cook your food in an emergency situation when no alternative fuel is available. But why wait? You can build one just for the fun of seeing how it works. It's a great project to do with the kids as it really highlights the power of our sun!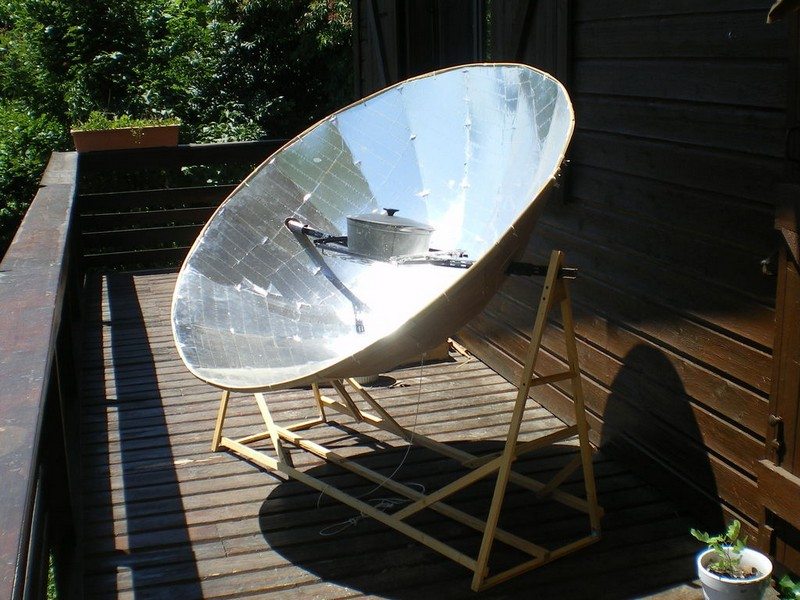 It's an oven that makes use of solar energy — the cleanest, most abundant renewable (and free) energy source that we have. :) This oven can give you a litre of boiling water within 20 minutes. You can cook a full meal in 45 to 60 minutes on good day!
What do you think?
Materials:
5mm thick plywood
1″ thick timber
Plastic cable ties
Nuts and bolts
Screws
Rope
2 rolls of adhesive aluminum tape
Bamboo pole
Pot holder setup
Tools:
Cordless drill
Welding tools
Knife
Hammer
Steps:
The idea is that if the parabola is cut symmetrically along 8 radial directions and flattened out, then it would appear like an 16-petalled flower. So once you have the petals made of any flexible material you can bend them in the shape of a parabola.
I used 5 mm thick plywood. I think you can use a thinner plywood, but then you'll need to add a stronger structure to stiffen the parabola. Have a look here, they use a metallic structure to keep everything stiff.
I used this publication to calculate the dimensions of the petals. I had to tweak it a little bit to have something i could actually use.
Here is a google spreadsheet with everything you need (you can download it to modify it).
Once you've cut the petals, drill holes every 20 cm along the sides of the petals so that you attach them together with the plastic cable ties.
The discs will force the bottom of the parabola to be plane. Without them, it's just impossible to bend the plywood !
Continued Page 2
Cut two discs of 20 cm out of plywood. Divide them like a pie in 16 equal parts and drill holes 2 cm from the outside of the discs.
Drill a hole of the same width 8 cm from the base of each the petal.
Sandwich the petals between the two discs using bolts.
I've used plastic cable tie to hold the plywood together. I've found it easier to go gradually from the center to the edges of the parabola as shown in the pictures. You can also circle the parabola with a rope, it will help.