Last Updated on
Who needs a fortune to have a pool at home when you can DIY one at a cheaper cost? All you need is to get straw bales (and a good amount of space), and you can build your own swimming pool together with family or friends…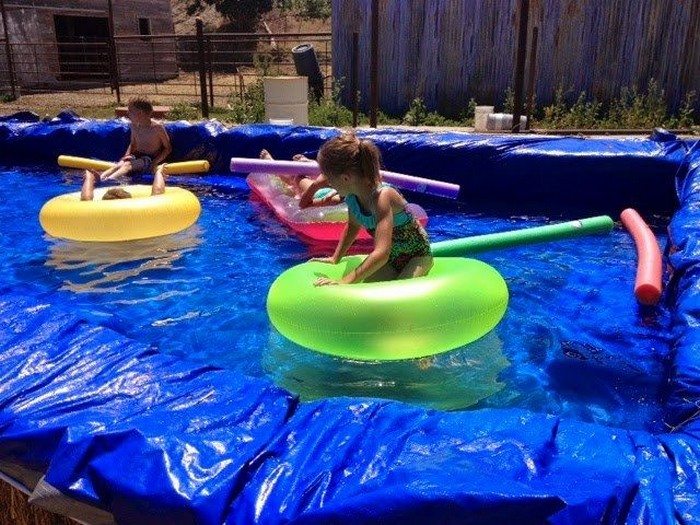 And we think the kids (and kids at heart) will like this pool idea better!
No mini excavator and no sweat needed to dig any hole, because you don't need to! This is what we love about a straw bale pool. It's easy as 1-2-3; arrange straw bales, cover with tarpaulin, and fill with water!
Now that obviously implies that it's a temporary pool. Meaning you can take it out after and make use of your space for other purposes. :)
But  you can also build this in a more permanent way if you want to. This is where you'll need an excavator, but it should be still cheaper than the standard backyard pool!
The best advantage with straw bale pools as against a regular pool is that it's safer for small kids to have fun around. The kids will love that they can go from end to end without having to worry about drowning. And they're softer, too!
Do you have access to straw bales? :)
Basic Materials:
Straw Bales
Ratchet Strap / Rope
Blue Tarpaulin
Weights such as water gallon containers
Materials for a More Permanent Build:
Bamboo Poles
Cedar Boards (for boxing the pool)
Sand
Thick Sheets
Floor Membrane
530 Gal/hour Pool Filter
Tools:
Mini Excavator
Sledge Hammer
Drill
Click on any image to start lightbox display. Use your Esc key to close the lightbox.

Thanks to Dannyl3oy for the images. You can get step-by-step instructions here…