Building the Smoker: The next 2 courses have been set, completing the side for the smoker. Again, every 2 courses of block laid, the cavities were poured using hydraulic cement at all the rebar locations. I will wait to install the second lentel until after I have set all the firebrick inside.
Firebrick Set: I went to my local building supplier and purchased standard size firebrick and used those for the floor of the firepit. Then I purchased 1 1/4″ thick firebrick for the walls of the firepit. Here's a view showing the opening to the smoker. you can also see that I installed a solid 1/2″ rod through the block as well. I then welded a solid steel plate to the rod to act as a damper for the opening to the smoker.
Note: I used 3 lbs of FireClay to an 80 lbs bag of premix mortar to set the firebrick. I dry mixed the fireclay and premixed in a mixing tub and then dumped it all in a clean plastic garbage can that had a well-fitting lid.
Lentil for the opening over the firepit door: Same as the other lentel, using to pieces of 1 1/4″ angle, firebrick sandwiched between them at the bottom with wire mesh and rebar hung in the form.
Laying up the first red brick: Feeling good this day I managed to lay up a good deal of the red brick I had purchased at my local building supplier. The days have been rather hot and the old dude is showing his age, LOL.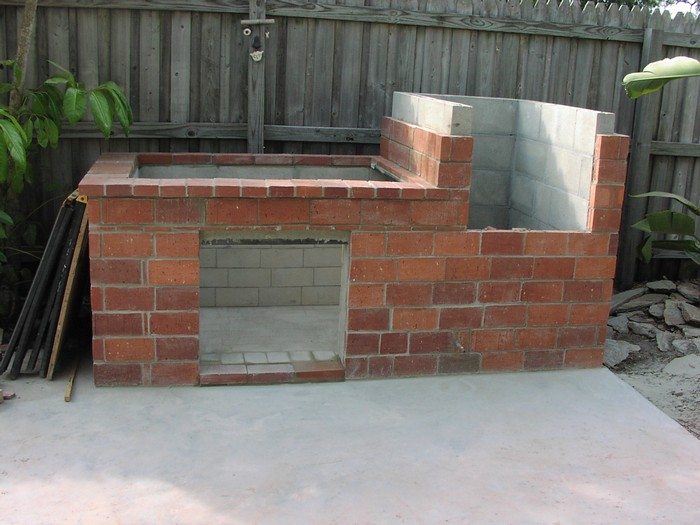 More brick: With some more brick, more angle to support the firepit opening, and another rather hot day I manage to set a few more bricks.
Concrete Lid: I made a concrete lid 2″ thick with an opening for the chimney. I used wire mesh and 1/2″ rebar for the reinforcement, then with the help of my son and a friend of his, we installed the lid, mortaring it in place with a slight drain to the back.
Note: I made a wooden box 2 inches deep, tied the wire mesh and rebar together making sure it stayed supported in the center of the form. I then mixed up three 50 lbs bags of hydraulic cement and pour the form. After screeding the form I then covered it with plastic and let cure for 3 days before removing anything.
Finishing up the top: Laying more brick getting the top finished.
Continued Page 3…