Research shows that being outdoors is good for you. Eating outdoors is even better. It lowers the heart rate and blood pressure and encourages much-needed relaxation.
If you and your family enjoy outdoor gatherings, then this permanent barbecue setup might interest you!
This brick barbecue consists of a grill and a smoker. The grill comes in two levels that you can both slide back and forth, which gives you more appropriate settings for cooking different kinds of food!
If you're an experienced builder you can easily do this project. However, it requires some welding skills and a few not-so-common tools. If you don't know anything about welding or lack the needed tools to build your brick barbecue, then it's the perfect opportunity to ask help and have fun building with friends!
Do you want to have a brick barbecue in your backyard?
Materials:
Concrete Mix
Hydraulic Cement
Cement Blocks
Standard Size Firebricks (for the floor of the firepit)
1 1/4″ thick Firebricks (for walls)
Solid Steel Plate (damper for the opening to the smoker)
3 lbs of Fire Clay
80 lbs bag of Premix Mortar
Plywood
1/2″ Rebar
Plastic Garbage Can
Mixing Tub
Wire Mesh
Plastic Cover
Smoker Door and Grill
Stainless Steel Spring Handles
Weld-on Hinges
2 pcs Car Scissor Jacks
1 55 gal Drum (used but clean)
3/4″ Square Tubing
1/8″ Steel Rod
1 1/4″ Black Pipe
Oven Racks
Temperature Gauge
Tools:
Welding Machine
Wood Clamps
Carpenter's Level
Shovel
Wheelbarrow
Reciprocating Saw
Measuring Tape
Steps:
Pouring the Concrete Walk: Seeing how we wanted to pour some concrete for a new patio/walk, why not build a new BBQ from brick. Soooo we got to work and included some rebar where the BBQ would go.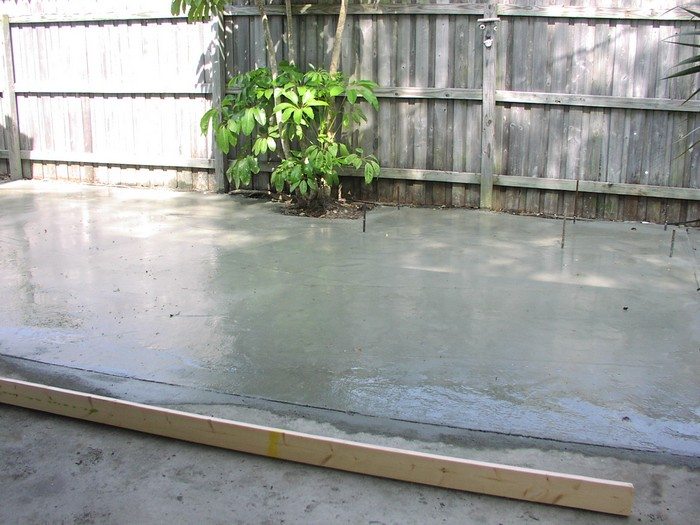 Concrete walk poured: Even though I measured the location of the rebar time and time again, I still got a little nervous, LOL. Too late now!
The next day after the pour: Showing again the locations of the rebar. I wanted to make sure I had reenforcement in certain areas.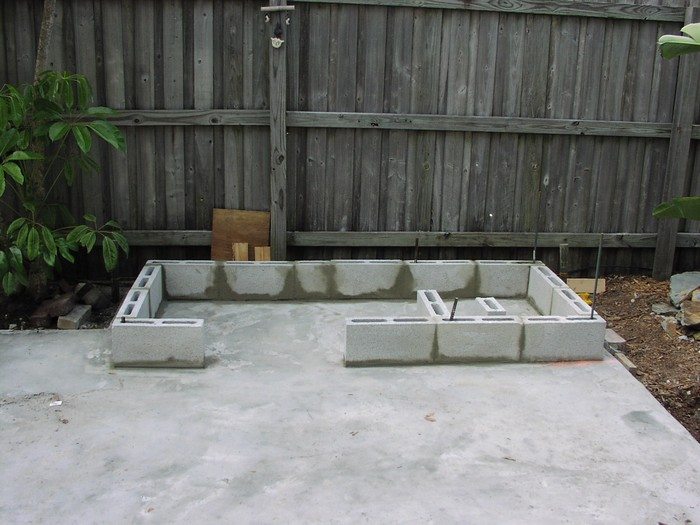 First Course: Using 4″ partition block, I set the first course trying to keep things straight, plumb, and level as I could.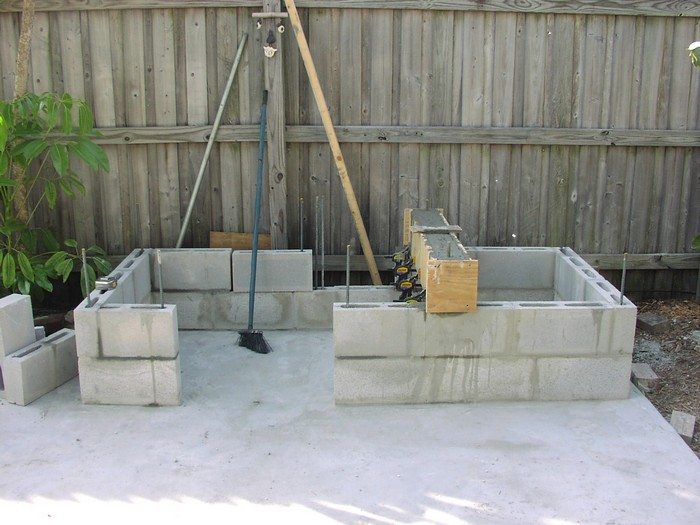 2nd Course: With the 2nd course almost finished and my son wanting to contribute to the project, we made up a form for the lentil. I constructed the lentil with two pieces of 1 1/2″ angle that supported and cradled firebrick. We then made the plywood form and hung 1/2″ rebar lengthwise and tied that into the vertical rebar. We then poured it using hydraulic cement until the cavities of the first and second courses were filled and the form as well, making sure all the air bubbles were out.
3rd Course: The lentil looked like it turned out fine, we ended up with a rock-solid structure that included the first and second course of block.
Note: All rebar locations were filled with hydraulic cement every second course.
4th Course: 4th-course set, for the most part, still trying to keep things straight level and plumb.
Continued Page 2…