Last Updated on
Then install! Get someone to help with this step – I did it myself with the help of a 6′ length of 2×8 and a one-handed clamp, but it was unnecessarily awkward. You're going to attach the frame to the walls of the room using lag screws. Mark the studs – you want to attach it twice at the head and twice on the side. Get the frame the right height and level in both directions. Drill a hole through the frame deep into the wall with a long bit, then put in the lag screw (use a washer). Repeat for the other holes. Use angled deck screws to ensure the frame can't slide out of the brackets you cut for it in the bookcase/ladder.
Measure the plywood base for the mattress and cut to fit. Screw it to the frame.
The bed has a piece of 2×4 that joined up to the other bookcase. Utilitarian, but easy and with a nice miter and rounded edges (I used a roundover bit in my router), it looks good.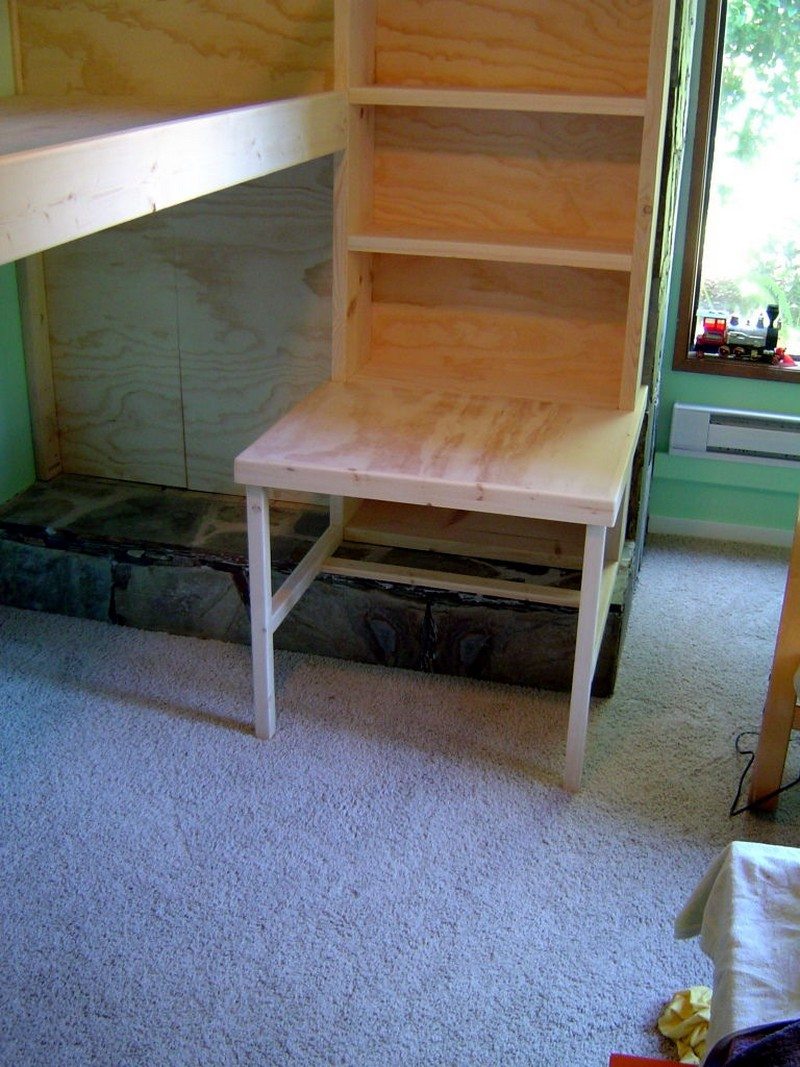 The extra bookcase was made with 2x10s to accommodate bigger books. It's super easy to make – it went together so quickly that I forgot to take any in-progress photos. All simple butt joints joined with deck screws. The desk was made from a piece of plywood, and some 2×2 for legs/cross braces and 1×3's for the sides to stiffen it. The 1×3's are mitered to make it look a bit slicker.
What can you use the space for under the bed? Well, it's good for general storage, but in the case of my son's room, he doesn't have a wardrobe. So I added a clothes rail so he can hang clothes under the bed.
Really easy to do with this design – drill a hole for one end, and drive a screw into the other end of a dowel. I used an old curtain rail for the job. I'll add another one if he needs it.
Who doesn't want a secret space in their room? This one was easy to make, because we were covering up an open fireplace (which is perfectly functional, but which we never use – the room is way too small to justify it).
All I had to do was make one of the plywood panels removable. You lift the panel up and over a strip of wood to remove it and reveal the space.
Add bedding, books and happy occupants… And you're done!
Building this clever loft bed would only cost you around $150. Even if you're short on cash to buy new timber, this shouldn't keep you from building one. There's always scrap timber you can get for free. You just have to search for them. Craigslist is a good place to start.
Could this be your next project?
Thanks to makendo for this great tutorial!