It seems like everyone is getting smarter and smarter each day. Of course, we have to thank our educational system for that and all the other factors contributing to our intelligence. However, it's frustrating to know that some people use their intellect in a wicked way.
Our Pick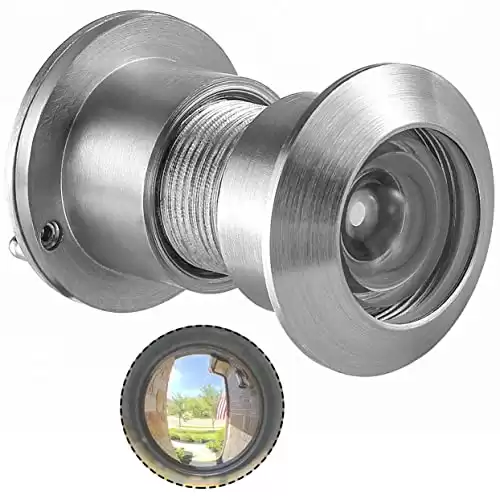 Did you know that door peepholes expose you to a security risk? There are actually people who have thought of using these peepholes to intrude on another person's privacy. They do it by placing a tiny camera on the peephole. Before you know it, they already know what's going on inside the room or house.
A friend of mine had first-hand experience with this. It was nasty. Because I was afraid I'd experience the same, I immediately looked for ideas on how we can cover our door peephole. The most ideal one we've found was this barn door cover which still allows us to use the peephole when needed. It's a no-sweat DIY, and it assures you that the cover stays in place even after you've shut your door.
Materials:
(9) Large popsicle sticks
​Craft Glue
​Thick Metal Hanger
Duct tape
Rubber door stop
Sugru Moldable Glue (pick a color that would complement your door)
Wood stain
(2) Lego gray half pin with stud
(2) Lego black tile 1×4
(2) Lego black wheel spoked small
Tools:
Scissors
Gloves (when staining or handling sugru)
Click on any image to start the lightbox display. Use your Esc key to close the lightbox.
Watch the video below to learn how to DIY a barn door peephole cover…