As working parents, it's important that we spend quality time with the family. For us, our weekends are reserved solely for the kids. We spend each week differently: a trip to the mall, a movie date, or a day at the park.
There's one activity though that's been an all-time favorite. We call it the DIY Weekend. We look for simple do-it-yourself projects and work on them. It's actually very productive.
Our Pick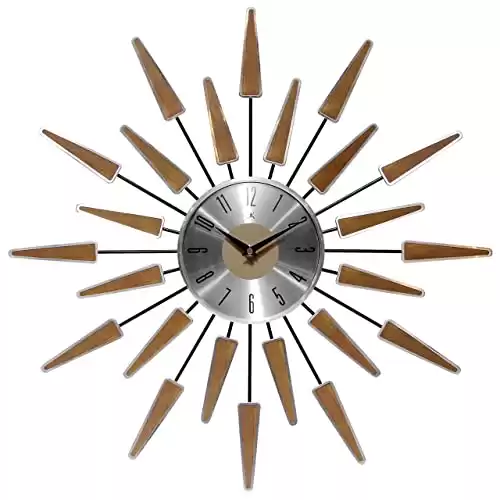 Wall Clock 24 inch Satellite Starburst Midcentury Modern
The Satellite starburst wall clock is a valuable piece of home decor for anyone who loves mid-century decor. The Satellite sunburst wall clock is the piece that your mid-century home needs.
Buy on Amazon
We earn a commission if you make a purchase, at no additional cost to you.
12/01/2022 10:20 am GMT
Just last week, our wall clock ran out of batteries so I kept it off the wall first. My daughter had this idea that we perk it up a little bit before putting it back. Luckily, we found this DIY sunburst pencil clock which my daughter adored. We did it over the weekend and she said it's one of the best projects ever.
One look at the photos and you'd think this project would be time-consuming. I must say it's enjoyable – a perfect bonding activity with the kids. So what are you waiting for? The clock's ticking!
What you'll need to make this sunburst pencil clock…
Materials:
Cardboard
Super glue
Sharpened pencils
Elmer's craft glue
Clock
Tools:
Scissors
Pencil
Gardening shears
Click on any image to start the lightbox display. Use your Esc key to close the lightbox.
Thanks to hometalk for this great project. You can get step-by-step instructions here…