While sleep is a luxury for adults, toddlers do not think of it that way. It most likely is the last item on their to-do list. If you're having this problem, you are not alone. But fear not, there's a solution.
Our Pick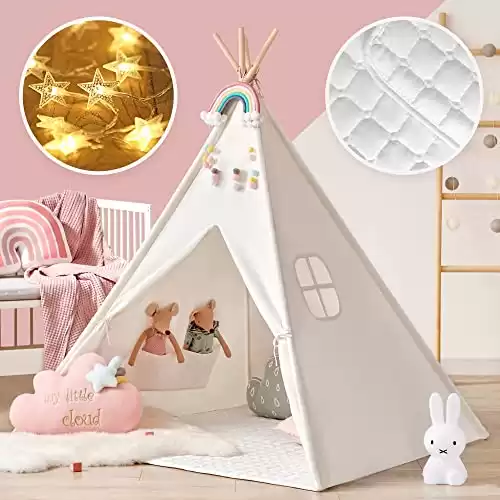 A teepee bed is a child's dream come true. With this, you can easily lure your toddler into sleeping. It's actually a fun bed that doesn't feel like a bed at all.
But wait – Getting a bed is expensive. Well, you don't have to worry anymore; you can easily make one. And it's not just any bed – it's a teepee bed!
What you'll need to build a teepee bed…
Materials:
Your choice of wood cut to the desired size
4 castors
screws
L brackets (vertical and horizontal)
wood filler
Enamel paint (color of your choice)
Primer
Clear polyacrylic
Steel wool
Wood glue
2 mattresses
2 slatted bed bases
80 grit, 220 grit, and 320 grit sandpaper
Tools:
Circular saw
Jigsaw
Screwdriver
Drill
Vise grips
Dremel with a surface grinding bit
Chisel
Hammer
Click on any image to start the lightbox display. Use your Esc key to close the lightbox.
Thanks to Hello Bowsers for this great project. You can get step-by-step instructions here…