Kitchen gardens are gaining popularity as more people now appreciate the value of eating organic food. Besides fresh is always best. In fact, there's a premium for food prepared with only the freshest ingredients. And what better way to get them than to grow your own herbs and vegetables in your own backyard?
Growing a kitchen garden can be simple and easy given the right mindset. It doesn't require a large patch of land, or any special tools or skills.  You can have a kitchen garden whether you have experience in gardening or have limited space for it.
The first thing you need when you begin your kitchen garden is patience. A close second is knowledge of the basics of gardening, such as preparing your garden, seed starting, and transplanting. And these are what this page is all about (and a lot more)!
If you are new to gardening, this well-written step-by-step tutorial can definitely give you the confidence you need to start and maintain a kitchen garden. It will show you how simple gardening is. It's also very informative that even experienced gardeners could still learn a few new things from it.
Now since this tutorial is made for beginners, it focuses on two of the easiest plants to grow – tomatoes and chilies…
Are you ready to try your hand at gardening? Have fun learning from this great tutorial!
Click on any image to start the lightbox display. Use your Esc key to close the lightbox.

Tools:
Medium-sized Spade
Small-sized Spade
Small Crow Bar
Hand Rake
Trowel
Watering Can
Steps:
Seeds: First thing you need to start your vegetable garden is seeds. You can find agriculture shops selling seeds almost everywhere. You can also order seeds from online stores like Amazon and eBay. You can also collect your own seeds from the vegetables in your kitchen.
For tomato seeds, just cut a fully ripe tomato and collect the seeds from the fruits. You can collect seeds of your favorite variety from almost all store-bought tomatoes.
For chilies, just break open a few completely dried red chilies and collect the seeds that fall out of them.
After planting, store your extra seeds separately for next season. You can write the name of the seed variety on a piece of paper and put it along with the seeds. This will help you identify your seeds in the future.
Sow seeds in baskets: Plants like tomatoes and chilies can be transplanted by growing the seedlings separately.
Use baskets with a lot of holes or openings as shown in the picture. Line the inside with old plastic sheets. This will allow the baskets to retain the soil and at the same time provide proper drainage of excess water.
Mix farm-yard manure or vermicompost with equal amounts of sand and normal garden soil.
Fill the baskets with soil mix to about 1 or 1-1/2 inches below the rim of the baskets.
Sow your seeds by spreading them evenly on the soil mixture.
Cover the seeds with a thin layer of soil and water lightly using a watering can.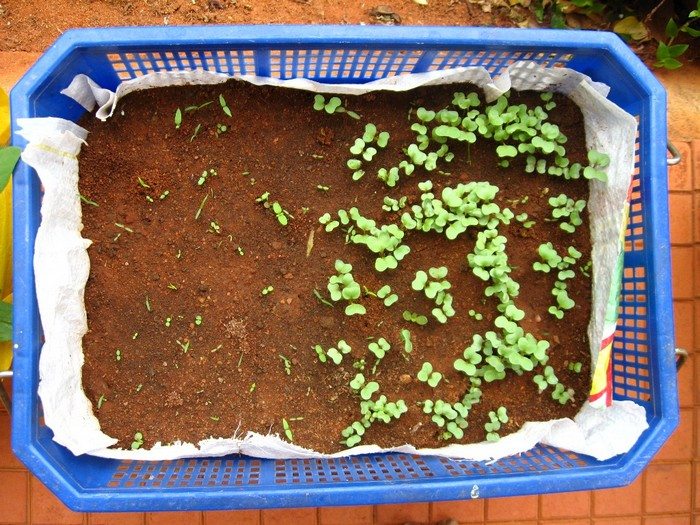 You can combine seeds like tomatoes and chilies and sow them together in a single container. Here, in a blue-colored basket, I have sown tomato seeds in one half and chili seeds in another half. It may take about 10 to 15 days for the seeds to sprout The sixth picture shows that the tomato seeds have sprouted earlier than the chili seeds. Water them regularly so that the soil is just moist, not wet. Watering 2 to 3 times a day in small quantities keeps the soil moist and the seedlings healthy.
Continued Page 2…