It's the simplest of sleep-inducing, calming remedies – something we all instinctively do: rocking a baby gently to sleep.
Long after we've grown out of childhood, we can still be deeply relaxed by rocking motion. Think of the peaceful, soothing glide of a porch swing, or enjoying a late afternoon breeze on a rocking chair.
If you've ever been on a small boat in a gentle swell, you'll know how easy it is to nod off after a few minutes of gentle swaying.
If you'd like to recreate that feeling on dry land, any time of day or night, this rocking hammock is your project!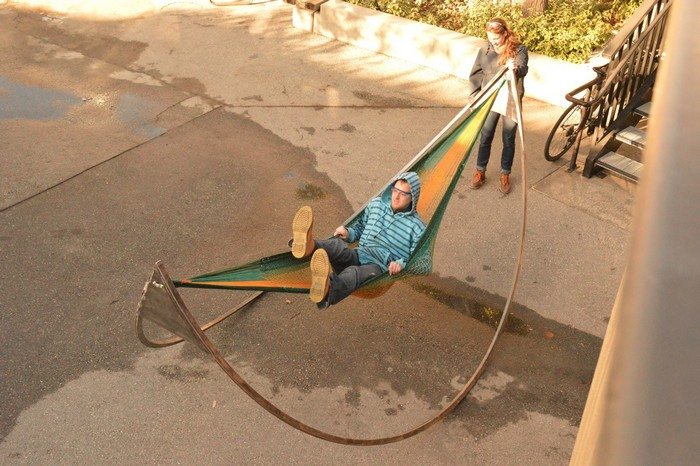 This hammock stand was made to recreate the feeling of relaxing in the middle of a calm sea. It needs some special tools and skills to build, but the whole project consists of just a couple of steps.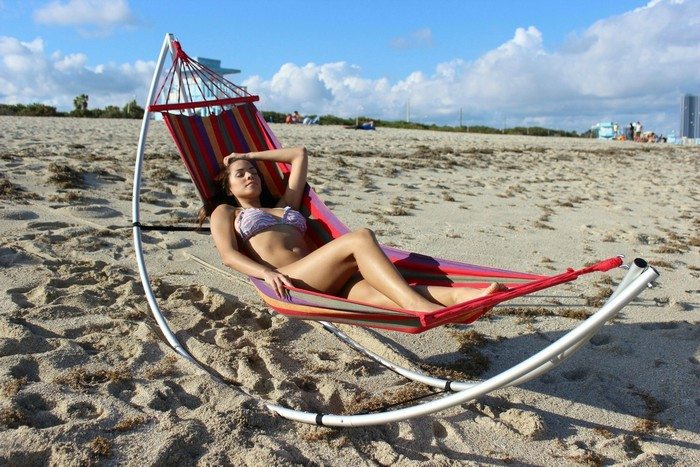 If you're used to working with metals, this should be a fun project to do. But if not, and if you don't have a friend who can help, we have more rocking hammock ideas for you below which you can try doing instead!
Just imagine being rocked to sleep by a cool rocking hammock in your yard! Is this going to be the next addition to your home? :)
Materials:
2 – 20′ long, 2″ x 1.5″ Steel Tube (with a wall thickness of at least .12″)
1 – 3′ x 4′ sheet of Steel (.06″ thick)
Hammock with Rope
Tools:
Tube Rolling Machine
Shear
Sheet Metal Puncher
Welding Machine
Click on any image to start lightbox display. Use your Esc key to close the lightbox.

Thanks to RyanW9 for this great project. You can get step-by-step instructions here…