The simplest sleep-inducing, calming remedy – something we all instinctively do: rocking a baby gently to sleep.
Even well into adulthood, the gentle rocking motion continues to evoke a sense of deep relaxation. The serene and calming sway of a porch swing or the tranquil pleasure of lounging on a rocking hammock during a leisurely afternoon breeze remains a cherished and timeless experience.
If you've experienced the soothing sensation of nodding off on a small boat in a gentle swell, you know the calmness it brings after just a few minutes of swaying. Now, with this rocking hammock project, you can recreate that blissful feeling on solid ground, day or night, and indulge in relaxation whenever you desire.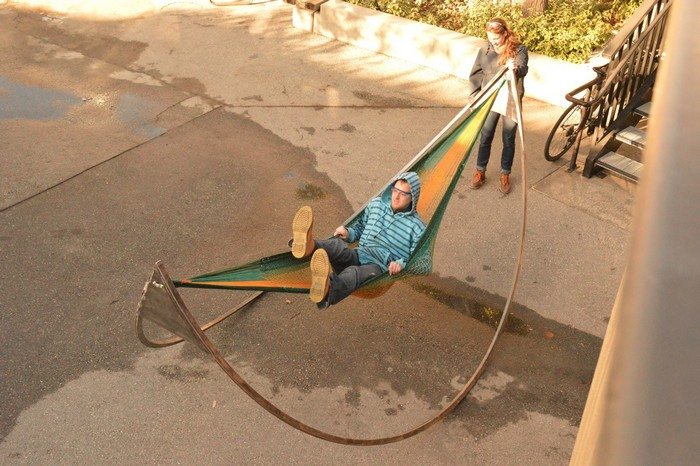 This hammock stand was made to recreate the feeling of relaxing in the middle of a calm sea. It needs some special tools and skills to build, but the whole project consists of just a couple of steps.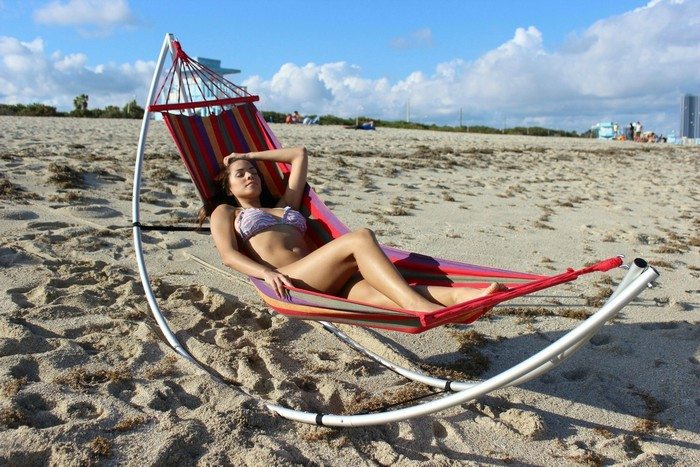 If you have expertise in metalwork, you'll really enjoy this project. But fret not if you lack experience in working with metals or don't have a friend to lend a hand; there are alternatives available! 
This guide has some brilliant rocking hammock ideas to explore instead. These alternatives offer various options for crafting a relaxing hammock that suits your skill level and preferences.
Just imagine being rocked to sleep by a cool rocking hammock in your yard!
Is this going to be the next addition to your home? :)
Building Your Own Rocking Hammock – What You Should Know!
If you envision a serene sanctuary to unwind and sway in absolute comfort, this DIY project is tailor-made for you. This guide will teach you how to make your own rocking hammock, complete with easy-to-follow instructions, helpful advice, and plenty of opportunity for your own creative flair. You'll be a hammock-building pro in no time!
Do you now picture yourself peacefully swinging under a tree, on a sunny porch, or in your favourite outdoor area on a hammock?
Gather the materials and tools needed to get started.
1. Materials & Tools
2 – 20′ long, 2″ x 1.5″ Steel Tube (with a wall thickness of at least .12″)
1 – 3′ x 4′ sheet of Steel (.06″ thick)
Hammock with Rope
Tube Rolling Machine
Shear
Sheet Metal Puncher
Welding Machine
Click on any image to start lightbox display. Use your Esc key to close the lightbox.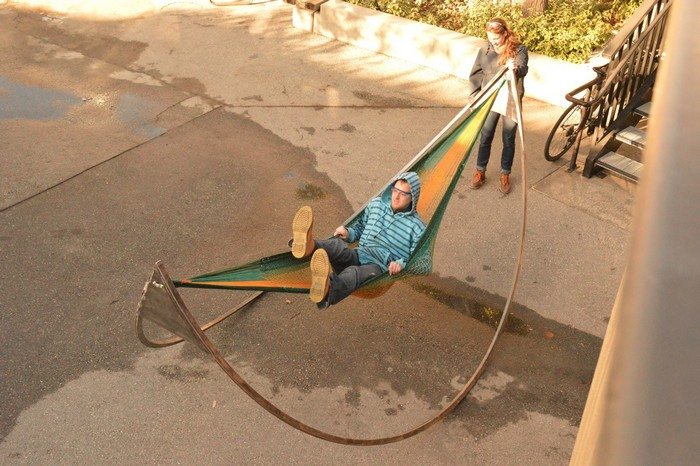 2. Steps
A big thank you to RyanW9 for sharing this wonderful project! If you're eager to embark on this exciting DIY adventure, you can find step-by-step instructions for building your own hammock right here.
RyanW9's expertise and detailed guidance will undoubtedly help you create a relaxing haven where you can sway and unwind in style.
3. Extra Tips
Here are some extra tips that will take your hammock-building project to the next level. These invaluable insights will help you enhance the comfort, durability, and overall enjoyment of your handcrafted hammock.
1. Choose High-Quality Materials: Ensuring the longevity and reliability of your hammock starts with selecting materials that are both sturdy and weather-resistant. Opt for durable fabric or canvas that can withstand the elements, including UV rays, moisture, and potential mould or mildew.
These weather-resistant materials will preserve the integrity of your hammock, even when exposed to varying outdoor conditions.
2. Optimal Hanging Height: Consider the height at which you'll hang your hammock for the most comfortable experience. The perfect hanging height of your hammock should enable effortless entry and exit while ensuring a safe distance from the ground.
As a rule of thumb, aim for a height approximately 1 to 2 feet higher than your sitting height in the hammock. However, feel free to customize the height according to your individual preferences and comfort needs.
3. Test Stability and Safety: Before fully committing to your hammock setup, conduct a thorough stability and safety check. Make sure all connections are secure and that the hammock's weight capacity meets your requirements.
Double-check that the ropes, chains, or carabiners, are securely fastened and properly tightened. Loose or improperly secured connections can jeopardize the stability and safety of the hammock, posing potential risks during use.
4. Add Comfort With Pillows and Cushions: To make your hammock more comfy, add soft pillows and cushions. They will not only enhance comfort but will also make your hammock seem more lovely and friendly.
Pillows and cushions add a personalized touch, allowing you to tailor your hammock environment to match your distinct style and preferences. Make sure to opt for colours, patterns, and textures that resonate with your aesthetic, creating a harmonious and visually appealing retreat.
5. Consider a Bug Net or Canopy: If you plan on using your rocking hammock in areas with pesky insects or under direct sunlight, ensure you have a bug net or canopy for extra protection and comfort. By thoughtfully considering these accessories, you can create a serene sanctuary wherever you choose to hang your hammock, be it in your backyard, on a beach, or deep in the heart of nature.
6. Regular Maintenance: To ensure your rocking hammock stays in top-notch condition, perform regular maintenance checks. Inspect ropes, fabric, and support structures for any signs of damage, and address any issues promptly. 
Additionally, thoroughly examine the support structures, such as wooden beams or metal stands, for stability and structural integrity. Look for any signs of cracks, warping, or rust, as these issues can compromise the safety and functionality of your hammock.
7. Personalize With Colors and Patterns: Infuse your personality into the rocking hammock by choosing fabric colours and patterns that resonate with your style. Whether you prefer bold and vibrant or soothing and subtle, make it uniquely yours.
Embrace your personal preferences and let your imagination guide you as you select colours and patterns that resonate with your soul. By curating a hammock that aligns with your unique style, you create a haven that is not only comfortable but also a delightful extension of your personality.
By incorporating these extra tips into your hammock-building endeavour, you'll create a one-of-a-kind rocking haven that offers ultimate comfort and joy.
And if you're feeling particularly creative and inspired, why not take on the enjoyable challenge of crafting your very own DIY porch swing, complete with convenient cup holders? This engaging project allows you to craft the ideal haven for relaxation, where you can savour your favourite beverages while gently swaying on your exquisitely designed porch swing with cup holders.
Rocking Hammock Bliss!
Through this exploration, you have delved into the craft of creating a cozy and delightful rocking hammock. You have uncovered the secrets to constructing a flawless DIY hammock that guarantees moments of tranquillity and peace.
With the right materials, proper hanging height, and attention to stability and safety, you can confidently build a sturdy and inviting rocking hammock to enjoy peaceful moments. This guide simplifies the process, making it accessible to both seasoned DIY enthusiasts and beginners alike.
Embrace the adventure and allow its gentle sway to carry you away to a realm of serenity.
Ready to savour moments of leisure in your own handcrafted haven?